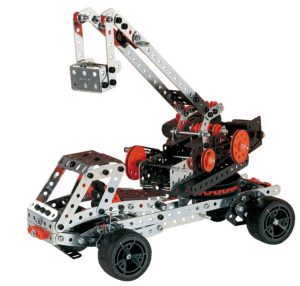 If you are a frequent visitor on the Tool Craze website, you are no doubt into building, fixing, and tinkering with things. Although you are probably not a young kid anymore, I wanted to show you guys a toy from my childhood – the Meccano Erector metal toy construction sets.
I remember playing with these back when I was about 9 and 10 years of age and I remember requesting an Erector toy set. I remember playing with Lego's when I was much younger, and while Lego's are great, I liked the added complexity and difficulty with the Erector sets because they involved actual building with actual tools and hardware. You don't get the same complexity with Lego's that are simply placed one over the other.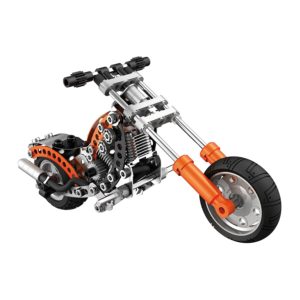 Anyone that loves to be creative and build things will surely enjoy these as I did and what interested me the most about the Erector sets was that they include tons of metal parts that you put together using real metal screws and nuts to hold things together and you use real tools to build the sets.
The sets themselves vary greatly in terms of design but the majority of them fall into making vehicles and some are making buildings. I can't remember the actual set I had as a young kid but I do remember building vehicles like 4 wheeled automobile's and a hazy memory of building what seemed to be a helicopter. Moving parts were also a huge part of the sets such as rotating wheels and my set even came with a motor to power the vehicles, pretty sweet! Whether you are still young at heart or know of someone that' still young of age, these make great gifts.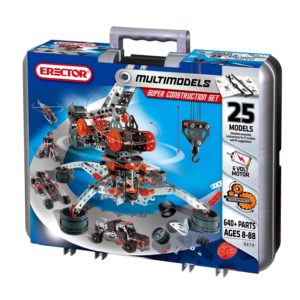 There are plenty of different sets to choose from but here's an example of just one set – the Super Construction Set. With over 640 metal parts, this set can build 25 different construcion models 1 at a time. Examples of vehicles to make are a crane, windmill, helicopter, plane, a catapult (yes seriously a catapult) and many others. A 6V motor is included to power many of the vehicle models you can create.
The Meccano-Erector 100th Anniversary Multimodel 25 Model Motorized Set unlocks endless construction possibilities with its 6V electrical motor as you build 1 of 25 motorized models!

Build a motorized crane and bring it to life with the 6V electrical motor. Play with its rotary body and extendable hook!

Made with 640+ real metal parts, the Multimodel kit utilizes 2 tools to build 25 unique quality models. Includes storage case.

The Meccano-Erector Multimodel 25 Model Set is made for children ages 8+.

Includes: 640 + parts, 6V electrical motor, 1 carrying plastic case with storage compartments, 2 real tools, 1 instruction sheet
The fun doesn't end there are as there are plenty of other sets to choose from with varying budgets.

Free 2 day shipping – Try Amazon Prime 30-Day Free Trial
DISCLOSURE:
Tool Craze does not sell this product or any product on the Tool Craze website. Tool Craze does not handle the sale of any item in any way. If you purchase something through a post on the Tool Craze site, Tool Craze may get a small share of the sale. Please refer to the About section for more info.