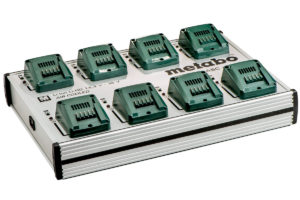 Cody Robertson spotted a new charger posted on the Metabo instagram page where they showcased a new Metabo ASC Multi 8 Charger and what's interesting about it is that it can not only hold up to 8 batteries at a time, but it can charge all 8 at the same time!
Very few power tool battery chargers can charge more than two batteries and most of them can only charge one at a time while the other waits it's turn. There's even fewer on the market that can charge two or three batteries at the same time so that's what's interesting about Metabo's model is the insane ability to charge 8 batteries at the same time.
To make the charger even more interesting is that it can charge lithium batteries ranging from 14.4 volts all the way up to 36 volt batteries. This includes their Li-ion and their newer Li-HD batteries. It also features built in air cooling like Makita's chargers for what Metabo calls "fast" charging. However this 8 bay charger isn't a fast charger as it takes 30 minutes to charge 1.5ah batteries and 80 minutes for a 4.0ah battery. These are respectable charge times and similar to many brands stock chargers but not the fastest like Makita's chargers.
Most power tool chargers on the market, at least all the ones I've seen feature plastic housing however Metabo's ASC multi 8 charger features aluminum housing and it's wide flat shape reminds me of an aluminum suitcase. The charger even comes with a carry handle so you can carry like a suitcase to your next job.
I haven't seen any large retailers carrying this new charger at the time of writing this article but I did find a listing on Ebay from a trusted seller that's offering the new charger for a whopping $999! I had an idea this new charger wouldn't be cheap but boy howdy, DANG!! That's a lot of cash for a charger!



Free 2 day shipping – Try Amazon Prime 30-Day Free Trial

DISCLOSURE:
Tool Craze does not sell this product or any product on the Tool Craze website. Tool Craze does not handle the sale of any item in any way. If you purchase something through a post on the Tool Craze site, Tool Craze may get a small share of the sale. Please refer to the About section for more info.
Fast, parallel charging of up to eight Li-ion and LiHD slide-on battery packs from 14.4 – 36 volts; no time loss when charging multiple batteries at once
Patented "AIR COOLED" charging technology for all individual battery packs for fast, safe charging
Robust aluminium housing with hook for space-saving wall mounting. With carry handle for mobile use
With a lead (680 watts) for 8 full-power charging stations with process-controlled charging management for each individual battery bay
Side on/off switch for the entire desktop charger
Charge rate: each 3.0 A  Charge time: approx. 30 minutes at 1.5 Ah; approx. 80 minutes at 4.0 Ah
Space-saving and tidy solution, ideal for medium-sized and large industrial companies and large trade companies.
Easy maintenance, requiring only annual BGVa3 test for lead cable, rather than 8 tests