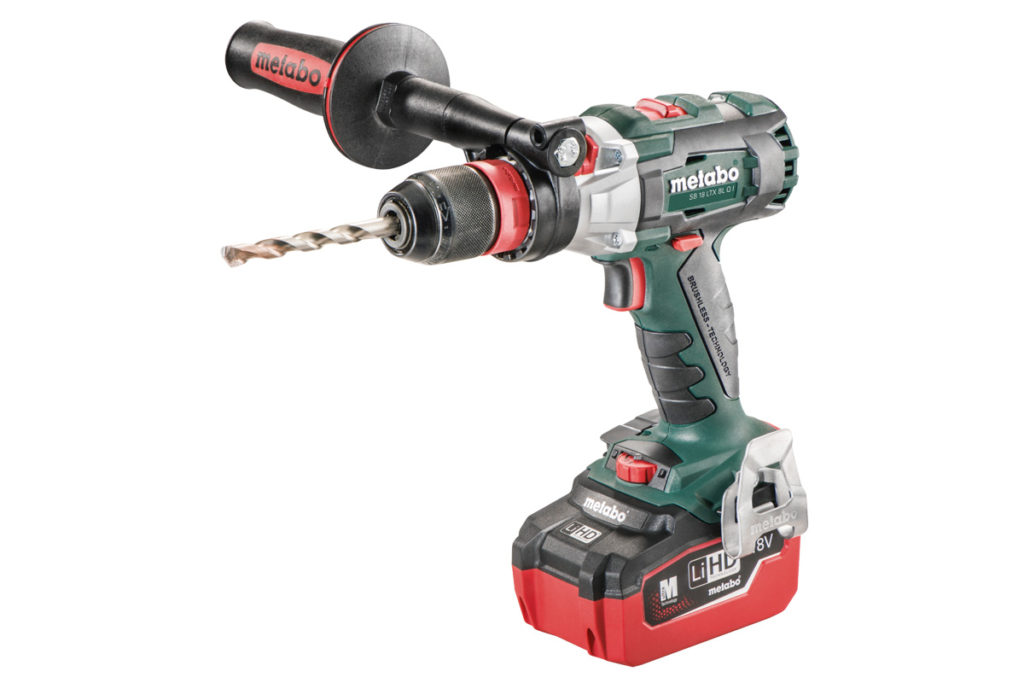 A big thanks to Facebook follower Bernd Bernd for sharing the news of a new Metabo high torque brushless drill SB 18 LTX BL QI.
Not to be left out, Metabo also enters the 1000+ in-lbs high torque drill club with their own brushless powerhouse hammer drill, the Metabo SB 18 LTX BL QI with 120 newton meters of torque which translates to about 1062 in-lbs of torque. This puts this new torque monster brushless hammer drill from Metabo with the likes of Makita's XPH07 with 1089 in-lbs, the Hitachi DV18DBXL/JX with 1,200 in-lbs torque, Milwaukee 2704 with 1,200 in-lbs torque, and Dewalt's latest DCD996.
Specifications:
Type of battery pack Li-Ion

Battery pack voltage 

18 V

Capacity of the battery pack 

5.5 Ah

Max. Torque soft 60 Nm

Max. Torque hard 120 Nm/1062 in-lbs

Adjustable torque 

1 – 20 Nm

Drilling diameter concrete

16 mm

Drilling diameter steel 

13 mm

Drilling diameter softwood 

65 mm

Idling speed 

0 – 600/0 – 2050 / min

Chuck capacity 1.5 – 13 mm

Weight (with battery pack) 

2.7 kg (5.9 lbs)
Description:
Brushless impact drill with maximum performance for heavy applications
Metabo Quick system: Quick change of tool holder and insert tools for flexible working
Selectable impulse mode for unscrewing tight screws and drilling on smooth surfaces
Unique Metabo brushless motor for fast work progress and high efficiency in drilling and screwdriving
Precision Stop: electronic torque coupling with increased precision for precise, delicate work
High-performance impact mechanism for the best results
Spindle with hexagon recess for screwdriver bits for working without chuck
Collar (Ø 43 mm) for flexible application
Integrated working light for illuminating the work site
Robust aluminum die-cast gear housing for optimum heat dissipation and durability
fixable With handy belt hook and bit depot, on the right or left
LiHD battery pack for ultimate performance and extremely long running times at minimum temperature development
Battery packs with capacity display for checking the charge status
Ultra-M technology for highest performance, gentle charging, optimum energy utilization and long service life
3 years battery pack warranty by Ultra-M technology
This new model looks to be an update to the current/previous SB 18 LTX BL Q but with loads more torque. It brings over many of it's features as well as the removable 1/2″ metal chuck so it can be used as a screwdriver, and also shares it's pulse mode where it gives short pulses of rotation in the special pulse mode. Also worth noting are it's included LiHD Metabo batteries that are said to provide noticeable longer runtime than their current Li-ion batteries.
Although it does not offer class leading torque, putting out 120 Nm/1,062 in-lbs is impressive nontheless and should offer performance similar to that of the current high torque monsters. I am glad with the progress brushless motors are providing with each new model of cordless power tool coming out more powerful than the previous model.
For more info, check out the source material from Metabo.com , this info was found on the Metabo German homepage and no word is available on when or if this new drill will make it's way here to north america.