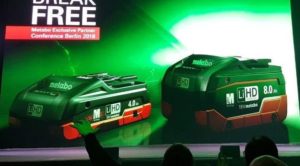 This is late breaking news from several Metabo social media sites Facebook and Instagram where they announce new 4 ah and 8 ah LiHD batteries. Metabo says these new LiHD batteries are using the larger and newer 21700 cells.
Most will probably gravitate their interest to the 8.0 ah battery since it is the larger capacity model. This model uses 10 cells and is a fatpack battery but what makes the 4.0 ah battery equally interesting is that it's a compact 5 cell slimpack battery. 4.0 ah is the highest capacity for a slimpack 5 cell battery at the moment.
This news is very soon after we learned that Bosch had ProCore 4.0, 6.0 and 12.0 batteries in the works. Although Metabo didn't announce a 12.0 battery with this announcement, I don't see why they couldn't make a 12.0 ah battery using the same cells but with 15 of them as Bosch is doing with their 12.0 ah battery. Maybe Metabo has a 12.0 in the works?
Right now this is only an announcement confirming they have these but we don't know when and where they will be available.
Big thanks to Cody Robertson for spotting this news!


Free 2 day shipping – Try Amazon Prime 30-Day Free Trial

DISCLOSURE:
Tool Craze does not sell this product or any product on the Tool Craze website. Tool Craze does not handle the sale of any item in any way. If you purchase something through a post on the Tool Craze site, Tool Craze may get a small share of the sale. Please refer to the About section for more info.