Metabo has released a new Power 160-5 18 LTX BL OF Cordless Brushless Compressor.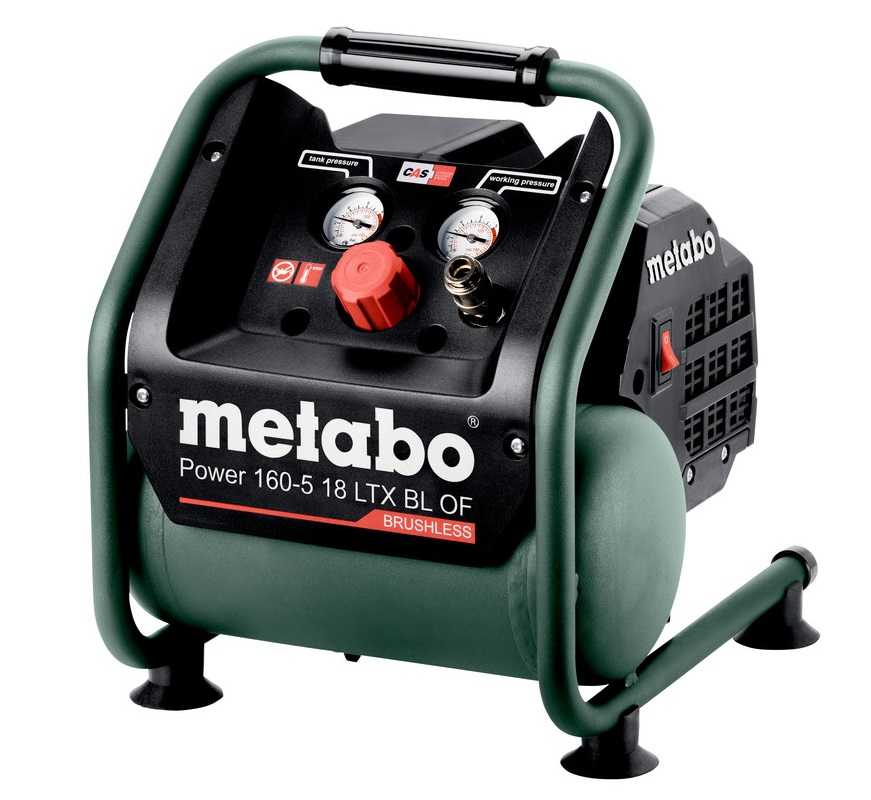 The Metabo Power 160-5 18 LTX BL OF Cordless Compressor runs on their 18V lithium batteries and consists of a 1.3 gallon tank making it very compact and portable. It's also very light as you'd expect for such a small size at only 21.8 lbs (with battery). It's small size means it's in direct competition with small cordless compressors like Ryobi's and Ridgid's 18V compressors which are also puny 1 gallon air compressors. However being a Metabo tool, you can expect the quality and reliability from a Metabo tool.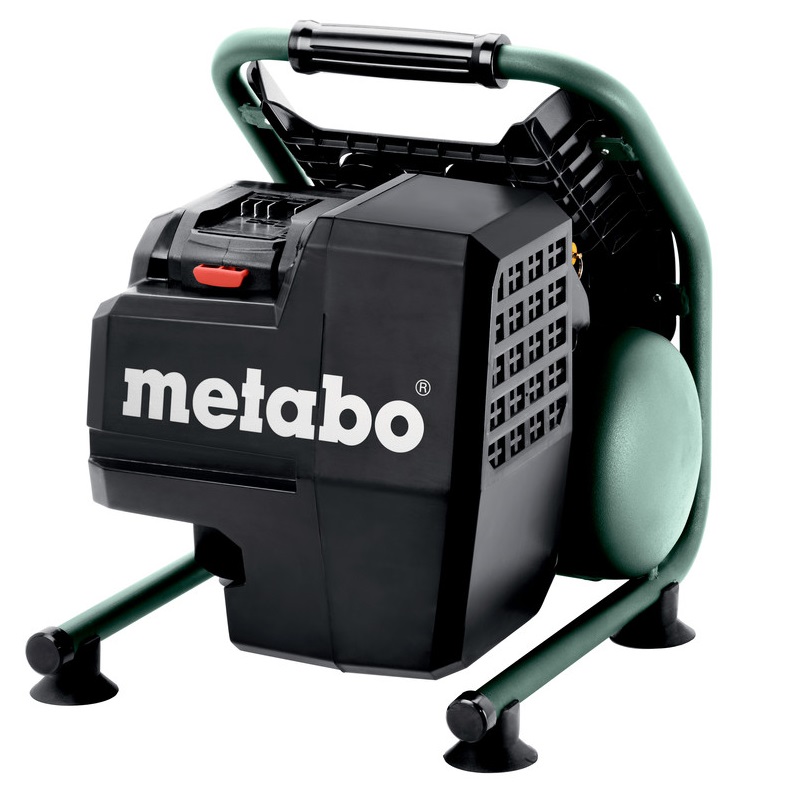 As far as features go it's an Oil-free piston compressor with brushless motor and with a roll cage handle design (although the roll cage doesn't protect the rear section) and has twin PSI dials for tank and tool regulator pressure which is controlled by a regulator knob and a single hose coupler. Dials and controls are protected by a plastic front face. Max pressure is 116 PSI which should be enough for light duty brad and finish nailers and for filling tires on the go. What's also interesting about his cordless compressor is that you can store a second battery pack on the rear bottom of the unit. It says you can store it there to work without interruption but doesn't state if the second battery is electronically connected or not but the fact that it states working without interruption makes me think it is electronically connected so the user hopefully wouldn't need to stop and swap batteries during work.
A big thanks to Cody Robertson for spotting!
Light and powerful cordless compressor with brushless motor for use in interior development and on construction sites
Oil-free piston compressor: simple transportation and reduced service requirements
Instrument panel with easy to read manometers for tank- and working pressure
Operating pressure can be regulated according to application by means of a pressure reducer and manometer
Fittings and control elements protected in tubular frames and clearly visible
Second battery pack can be stored directly at the compressor for work progress without interruption
Battery voltage 18 V
Suction rate 120 l/min / 4.2 cfmFilling capacity
60 l/min / 2.1 cfm
Effective delivery volume (at 80% max. pressure) 45 l/min / 1.6 cfm
Maximum pressure 8 bar / 116 psi
Rated input power 0.7 kW / 0.9 HP
Maximum speed 2760 rpm
Tank capacity 5 l / 1.3 gal
Sound pressure level (LpA) 69.4 dB(A)
Sound power level (LwA) 93 dB(A)
Dimensions 340 x 315 x 380 mm / 13 3/8 x 12 13/32 x 14 31/32 "
Weight (including battery pack) 9.9 kg
Noise emission Sound pressure level 69.4 dB(A)
Sound power level (LwA) 93 dB(A)




Free 2 day shipping – Try Amazon Prime 30-Day Free Trial

DISCLOSURE:
Tool Craze does not sell this product or any product on the Tool Craze website. Tool Craze does not handle the sale of any item in any way. If you purchase something through a post on the Tool Craze site, Tool Craze may get a small share of the sale. Please refer to the About section for more info.