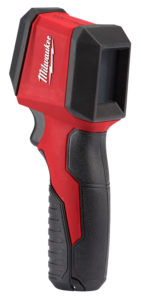 Here's another new Milwaukee tool that was previewed at this years new tool symposium, the Milwaukee 102×77 Spot Infrared Imager. Unlike the current Milwaukee M12 thermal imager, the Milwaukee 102×77 Spot Infrared Imager doesn't require M12 power tool batteries as it uses 9V batteries and it doesn't cost a small fortune either with it's $299 price point.
Features quick list:
Simply point, pull and detect
DUAL SENSE Pixels are ultra-responsive, adjusting to eliminate blurring or hot and cold details
Measure temps: 14 – 646 degrees F
Available: Late July 2017
MSRP: $299
DISCLOSURE:
Tool Craze does not sell this product or any product on the Tool Craze website. Tool Craze does not handle the sale of any item in any way. If you purchase something through a post on the Tool Craze site, Tool Craze may get a small share of the sale. Please refer to the About section for more info.


Official Press Release below:
Milwaukee® 102×77 Spot Infrared Imager Delivers Fastest Scanning & Instant Images
MILWAUKEE, WI – Milwaukee Tool continues to deliver productivity-enhancing solutions for the trades with the new 102×77 Spot Infrared Imager. With instant start-up for scanning large areas quickly, a high resolution image on screen, and precise single spot measurement, the new imager is ideal for fast and accurate troubleshooting.
"Traditionally, when a service professional is troubleshooting a problem area they've had to use either temp guns or infrared cameras, but neither option is ideal. Temp guns do not provide an image, and infrared cameras have been at restrictively high price points with additional features unnecessary for identifying the problem," said Paige Bovard, Group Manager for Milwaukee Tool. "The new 102×77 Spot Infrared Imager provides the best of both worlds, pairing the scanning advantages of high resolution infrared imaging with the simplicity of a temp gun."
Designed for the professional tradesman, the 102×77 Spot Infrared Imager gives users unmatched visibility to maintenance issues so they can quickly diagnosis the problem. Exclusive DUAL SENSE™ Pixel Technology allows the imager to individually optimize pixels to eliminate the blurring of hot and cold details in crowded areas. Equipped with 56:1 single-spot performance, a 15-second image hold, and an infrared range of 14° to 646°F, users are able to scan, target, and receive one simple on-screen temperature reading from a long distance or up close for greater detail.
Backed by a 5-year warranty, the 102×77 Spot Infrared Imager confirms Milwaukee's continued commitment to delivering solutions that save time, increase productivity, and address frequent user frustrations.
Specifications:
102×77 Spot Infrared Imager (2257-20)
Temperature Range: 14° – 646°F
Color Palette: Iron Bow
Emissivity: Fixed at .95
Runtime on 9V Alkaline Battery: 4+ hours
Includes 2257-20 and (1) 9V Battery.
Milwaukee® Infrared Solutions
 

10:1 Infrared Temp-Gun™ (2267-20)

102×77 Spot Infrared Imager

(2257-20)

M12™ 102×77 Infrared Camera

(2258-21)

Temp Range

-22° – 752°F

14° – 646°F

14° – 646°F

Visual Image?

No

Yes

Yes

Software?

No

No

Yes

Downloadable Images?

No

No

Yes

Best Used To

Measure

Troubleshoot

Track & Service
About Milwaukee Tool
Since the company began in 1924, Milwaukee Tool has led the industry in both durability and performance by providing the best in professional, heavy-duty tools and accessories. With an unwavering commitment to the trades, Milwaukee continues to lead with a focus on providing innovative, trade-specific solutions.  Whether it is through their leadership in LITHIUM-ION technology, as seen in the M12™, M18™ & M28™ Systems, time-saving accessories or innovative hand tool products,  Milwaukee is dedicated to delivering a steady stream of advanced solutions for the trades that offer increased productivity and unmatched durability. Milwaukee Tool is a Brookfield, Wisconsin-based subsidiary of Techtronic Industries Co. Ltd. (TTI) (HKEx stock code: 669, ADR symbol: TTNDY). For more information on the full line of Milwaukee® products, please call 1-800-SAWDUST or visit www.milwaukeetool.com.