4/27/2020 Update
Last week I wrote about Milwaukee accessories (blades) spotted on the Lowe's website. The next day I received an email from Milwaukee informing me that Lowe's is not an authorized distributor of Milwaukee Tool products and that they suggest customers visit https://www.milwaukeetool.com/Buy-Now to see a list of authorized distributors.
That day was April 24th and the Milwaukee accessories were still listed on the Lowe's website, now with pics as pictures weren't available on the 23rd. I looked again on Monday 27th and now the Milwaukee accessories are now gone on the Lowe's website, how strange!
Original Article 4/23/2020 Old Outdated News
While Milwaukee tools aren't exactly exclusive to the Home Depot stores as Milwaukee tools are also sold at places like Ohio Power Tools, Acme Tools, Tool Nut and others, Home Depot's rival store Lowe's has not been known to carry their power tools or power tool accessories. We have some interesting news today as Milwaukee accessories have been spotted on the Lowe's site.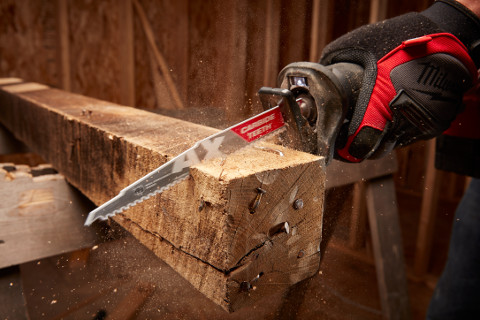 So far the Milwaukee accessories in question are all blades for saws. You'll find reciprocating saw blades, jigsaw blades and circular saw blades from them. The only Milwaukee tools you can find at Lowe's are the Milwaukee branded hand trucks which aren't the same brand as Milwaukee Tool.
What's strange is that while you can find Milwaukee Tool accessories on Lowe's, they don't show any pictures in their listings. And it's not hard to include images, trust me, adding pictures to articles on this blog is something I do regularly and it's extremely easy so I'm not sure why they don't have any pics up yet. The blades are available to purchase online and ship to home or local store.
I wonder if Lowe's will carry other Milwaukee accessories and if they will include power tools as well? It would be strange to see Milwaukee power tools at Lowe's but it would not be a bad thing for them. What do you guys think?
A big thanks to Cody Robertson for spotting!
DISCLOSURE:
Tool Craze does not sell this product or any product on the Tool Craze website. Tool Craze does not handle the sale of any item in any way. If you purchase something through a link on the Tool Craze site, Tool Craze may get a small share of the sale. Please refer to the About section for more info.