Milwaukee has announced that they are adding Bolt sun protection as an optional accessory to their hard hats and helmet line. They are expected to launch this month May 2022.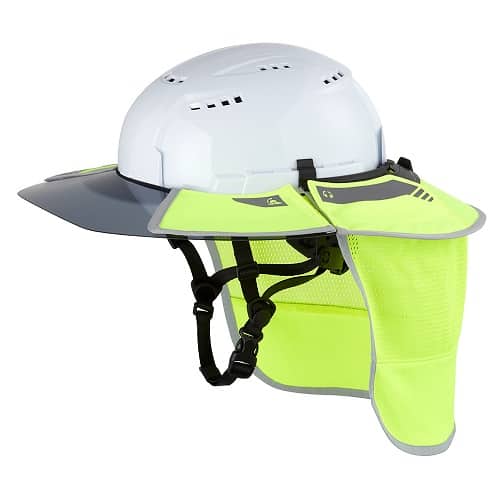 These Bolt sun protection accessories "bolt" onto Milwaukee hard hats and helmets via their "BOLT" accessory mounts. The Bolt sun protection includes a sun visor that provides 360 degree coverage around the helmet to protect the user from harmful sun rays. There's a clear but tinted front section which Milwaukee says helps reduce glare and increase visibility and the rest has solid fabric sections that help block the sun by providing shade. Milwaukee says these solid sections of the visor are rated 50+ UPF rating which is said to help block out 98% of UV radiation. They also have a sunshade which is essentially a fabric cloth that covers the rear neck area of the user to help keep users cool and is a breathable mesh that dries fast and is antimicrobial to prevent odor and bacteria build up.
You have three options to choose from with a standalone Bolt visor, a standalone Bolt sunshade, or a combination of the two. The standalone sunshade has a reinforced band that provides built in wind stability and also has a zipper to all the sunshade to be easily detached when not needed or for washing.
Milwaukee BOLT™ Sun Protection Lineup
BOLT Visor & Sunshade                        48-73-1072 – $39.97
BOLT Visor                                               48-73-1073 – $34.97
BOLT Sunshade                                       48-73-1070 – $24.97


DISCLOSURE:
Tool Craze does not sell this product or any product on the Tool Craze website. Tool Craze does not handle the sale of any item in any way. Tool Craze is an OhioPowerTool affiliate and an Amazon Associate and places affiliate links including those from other retailers Tool Craze is an affiliate partner with. If you purchase something through a link on the Tool Craze site, Tool Craze may get a share of the sale. Please refer to the About section for more info. Tool Craze cannot guarantee the accuracy of the information/specifications/features of any tool listed in this article. Please do your full research before buying any products.