MILWAUKEE, WI- Milwaukee Tool continues to deliver unprecedented innovation for plumbing and HVAC professionals with the introduction of the Cheater™ Pipe Wrench – the first adaptable pipe wrench in the industry. Through its new-to-world, 3-length adaptable design, the Cheater™ gives users ultimate versatility on jobs that previously required multiple sizes of traditional pipe wrenches. The Cheater™ is joined by a full line-up of entirely new steel and aluminum pipe wrenches.
"There's no category of tool that's more core to the plumber's arsenal than the pipe wrench, so it might come as a surprise that this product space has largely been untouched when it comes to thoughtful innovation. This lack of innovation in the market has resulted in pipe wrenches that fail to satisfy an array of user needs –from lack of versatility and grip, to insufficient leverage and uncomfortable handles," said Brian Barbour, Product Manager for Milwaukee Tool. "Through many discussions with our users and listening to their needs, we knew we had to provide a solution that was dramatically disruptive to this space. We've now fully redesigned the traditional pipe wrench to make it more efficient than it's ever been before."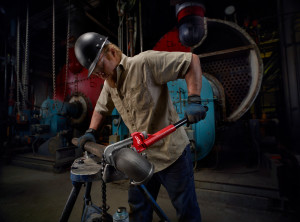 The Cheater™ comes with two interchangeable handles which allow it to operate in three lengths: 1) 10" length for access in tight spaces 2) 18" length for general purpose use 3) 24" length for additional reach and maximum leverage. The reduced weight of the Cheater™ in 24" mode, when compared to like-sized competitive Aluminum and Steel traditional pipe wrenches, puts less strain on the user and maximizes their productivity.
Due to its Overbite Jaw™ with additional teeth, the Cheater™ delivers the largest grip surface, keeping the material centered in the jaws even in challenging pipe and fitting configurations. The Cheater™ features the slim jaw profile of a traditional 14" pipe wrench, and the jaw capacity of a traditional 18" wrench.
The Cheater™ also features the industry's first dual coil spring design, located in the body of the wrench, maximizing its durability and longer tool life. An ergonomic handle design ensures a more comfortable fit in the hand even during heavy force. Lanyard holes are integrated into the handles, helping to make the Cheater™ compatible with today's growing safety requirements on the jobsite.
Also available will be a range of Milwaukee® straight pipe wrenches in both steel and aluminum in 10", 12", 14", 18", and 24" sizes (24" is aluminum only). These pipe wrenches will also feature the Overbite Jaw™, the dual coil spring design and ergonomic handles delivering best-in-class performance and maximizing user productivity.
Available starting in April of 2016, the new pipe wrenches are a true testament to Milwaukee's focus on the user and investment in solutions that offer industry-leading reliability, performance and ergonomics.
Milwaukee Pipe Wrench Offering:
48-22-7110: 10" Steel Pipe Wrench – Ships June 15th
48-22-7112: 12" Steel Pipe Wrench – Ships June 15th
48-22-7114: 14" Steel Pipe Wrench – Ships April 1st
48-22-7118: 18" Steel Pipe Wrench – Ships April 1st
48-22-7210: 10" Aluminum Pipe Wrench – Ships June 15th
48-22-7212: 12" Aluminum Pipe Wrench – Ships June 15th
48-22-7214: 14" Aluminum Pipe Wrench – Ships June 15th
48-22-7218: 18" Aluminum Pipe Wrench – Ships June 15th
48-22-7224: 24" Aluminum Pipe Wrench – Ships June 15th
48-22-7314: Cheater Pipe Wrench – Ships April 1st
MSRP: $99.99 (48-22-7314)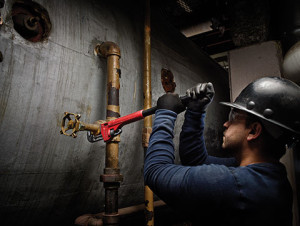 About Milwaukee Tool
Since the company began in 1924, Milwaukee Tool has led the industry in both durability and performance by providing the best in professional, heavy-duty tools and accessories. With an unwavering commitment to the trades, Milwaukee continues to lead with a focus on providing innovative, trade-specific solutions.  Whether it is through their leadership in LITHIUM-ION technology, as seen in the M12™, M18™ & M28™ Systems, time-saving accessories or innovative hand tool products,  Milwaukee is dedicated to delivering a steady stream of advanced solutions for the trades that offer increased productivity and unmatched durability. Milwaukee Tool is a Brookfield, Wisconsin-based subsidiary of Techtronic Industries Co. Ltd. (TTI) (HKEx stock code: 669, ADR symbol: TTNDY). For more information on the full line of Milwaukee® products, please call 1-800-SAWDUST or visit www.milwaukeetool.com.