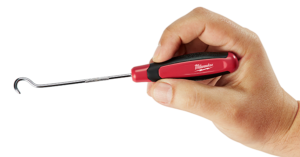 From removing and installing O-rings, cleaning out carburetors and scribing, to aftermarket installs and anywhere in between, hook & pick sets have long held a place in the mechanic's tool arsenal. Electricians and plumbers have also turned to the tool for scraping grout, positioning wiring, and more. Unfortunately, though, these tools often fail to withstand regular use.
Until now.
Milwaukee Tool is pleased to announce a hook & pick set that is up to 50% more durable than other leading hook & pick sets. This is due to an all-metal core which defends against the shank being pulled out of the handle – a common failure of these types of tools. The shank of the Milwaukee® Hook & Pick Set is chrome-plated for resistance to corrosion and abrasion. In addition, a comfort grip allows for increased control and more comfort during longer jobs.
For further utility, the Set is comes in a plastic storage tray that can be kept as a long-term storage solution. The Hook & Pick Set has a Lifetime Guarantee.


Model Number: 48-22-9215
MSRP: $16.99
Availability: June 2017