December 7, 2017
Comments Off

on Milwaukee Introduces Line of Low Voltage/Voice/Data/Video Hand Tools for VDV Professionals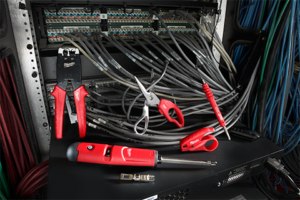 Milwaukee Tool is excited to introduce the latest in Low Voltage Voice/Data/Video (VDV) Hand Tools!
Due to the massive growth in cloud computing, smart technology and the Internet of Things, Voice/Data/Video (VDV) is the fastest growing segment of the electrical industry. VDV applications enable the world to connect to the internet. The new Milwaukee Low Voltage Voice/Data/Video (VDV) tools consists of (5) core hand tools that will allow electricians to cut, strip, and terminate CAT3-CAT6 Ethernet cabling more efficiently and effectively.
The Punchdown Tool w/Extended Blade features two new-to-world innovations – an Integrated LED Light and an Extended Reach Punchdown Blade.
Another new-to-world innovation is the 4-in-1 Multi Pick Tool. The tool frees up precious space in a user's tool pouch as it integrates 4 key precision tools, a wire pick, spudger, 1/8" slotted screwdriver, and Phillips #0 screwdriver, into one convenient multi-tool.
Featuring Bolt Lock, the blades on the Electrician Snips will not loosen.
The in-line head design and parallel crimping action on the Ratcheting Modular Crimper offers consistent and accurate crimps.
The design of the UTP Stripper allows users to comfortably strip the outer jacket of Ethernet cabling with one hand.
Available: January 2018
Full Press Release Below:
MILWAUKEE, WI- Milwaukee Tool continues to deliver productivity-enhancing solutions for electricians with the introduction of 5 new tools specifically designed for Voice/Data/Video (VDV) applications: a Punchdown Tool, Ratcheting Modular Crimper, Electrician Snips, 4in1 Multi-Pick Tool, and UTP Stripper. The new line of tools allow users to cut, prep, strip, and terminate with more consistency and accuracy, while also consolidating the amount of tools needed to bring to the job.
"As technology evolves and advancements within new and remodeled construction continue to take shape, electricians are increasingly tasked with installing and maintaining VDV communication lines. Due to this, VDV is now one of the fastest-growing segments within the electrical industry," said Brian Doyle, Product Manager for Milwaukee Tool. "Milwaukee® has long been known for our attention to user needs and delivering new and innovative solutions for electricians. We're very excited to continue delivering on our commitment to electricians with a core set of tools that address the specific needs of VDV applications, enabling users to get the job done more productively than ever before."
Punchdown Tool
Unlike other punchdown tools on the market, the Milwaukee® Punchdown Tool makes it easy to see and reach Cat 5 and Cat 6 wires for a more productive user experience. An integrated LED light on the Punchdown Tool ensures users can see into patch panels when terminating wires. A new-to-world extended reach 110 blade* also makes it easier to navigate these crowded panels, and an ergonomic grip improves comfort throughout the entire application.
Ratcheting Modular Crimper
Designed for installing RJ11 and RJ45 modular jacks, the new Ratcheting Modular Crimper delivers consistent and accurate crimps through a unique parallel-crimp design that allows the user to apply force evenly throughout the crimp. An in-line design head also provides improved visibility and easy access for jack removal.
Electrician's Snips
Current VDV snips available on the market have bolts that easily loosen, leading to sloppy cuts, and grips that are typically uncomfortable for extended periods of time. Milwaukee's new Electrician's Snips feature an enhanced bolt lock design which prevents the blades from loosening, ensuring consistent and accurate cuts on Ethernet cable. All-metal handles and comfortable grips give maximum comfort and leverage, and a wire gullet prevents the blades from walking during a cut.
4in1 Multi-Pick Tool
The Milwaukee® Multi-Pick Tool takes several key precision tools and integrates them into one essential solution, minimizing the number of tools users need to bring to the jobsite. The tool features a double-ended precision screwdriver with Phillips and slotted heads along with a wire pick and spudger.
UTP Stripper
The UTP Stripper offers a spring-loaded design and an adjustable blade height, allowing for consistent work. An optimized finger loop enables efficient and comfortable one-handed wire stripping.
Milwaukee Tool brings a new approach to Hand Tools, paying attention to the little details that make a big difference. Since Milwaukee first launched its Hand Tools expansion in 2010, they've developed more than 600 application-specific solutions for the trades. The introduction of these new VDV tools is a testament to their continued commitment to best-in-class durability and developing game-changing Hand Tool solutions professionals truly want and need to perform their job productively.
*Blades also sold separately (48-22-2166)
Milwaukee® VDV Tools
Punchdown Tool with Extended Blade (48-22-2165) – $79.99
Multi-Pick Tool (48-22-2145) – $14.99
Electrician Snips (48-22-4045) – $24.99
Ratcheting Modular Crimper (48-22-3075) – $69.99
UTP Stripper (48-22-3065) – $14.99
110/66 Punchdown Blade (48-22-2167) – $14.99
Extended Punchdown Blade (110) (48-22-2166) – $24.99
About Milwaukee Tool
Since the company began in 1924, Milwaukee Tool has led the industry in both durability and performance by providing the best in professional, heavy-duty tools and accessories. With an unwavering commitment to the trades, Milwaukee continues to lead with a focus on providing innovative, trade-specific solutions.  Whether it is through their leadership in LITHIUM-ION technology, as seen in the M12™, M18™ & M28™ Systems, time-saving accessories or innovative hand tool products,  Milwaukee is dedicated to delivering a steady stream of advanced solutions for the trades that offer increased productivity and unmatched durability. Milwaukee Tool is a Brookfield, Wisconsin-based subsidiary of Techtronic Industries Co. Ltd. (TTI) (HKEx stock code: 669, ADR symbol: TTNDY). For more information on the full line of Milwaukee® products, please call 1-800-SAWDUST or visit www.milwaukeetool.com.
DISCLOSURE:
Tool Craze does not sell this product or any product on the Tool Craze website. Tool Craze does not handle the sale of any item in any way. If you purchase something through a post on the Tool Craze site, Tool Craze may get a small share of the sale. Please refer to the About section for more info.