Looking for another way to be OSHA compliant? Milwaukee is adding a Dust Box to their M12 Universal HAMMERVAC Dust Extractor and M18 Dedicated HAMMERVAC! Simply clean the filter with the press of a button!
Launch date May 2018.
M12 Hammervac Dust Box 49-90-2340 $49.99
M18 Hammervac Dust Box 49-90-2342

Full Press Release Below:
MILWAUKEE, WI –Milwaukee Tool is excited to build upon its current M12™ Universal HAMMERVAC™ Dust Extractor and M18™ Dedicated HAMMERVAC™ designs with an updated dust box. Both HAMMERVAC™ units utilize a replaceable HEPA filter for efficient debris filtration. An updated dust box will allow users to easily clean the filter with the press of a button, making these tools Occupational Safety and Health Administration (OSHA) compliant solutions through Table 1 Requirements*.
Per HEPA standards, the certified HEPA filter removes 99.97% of particles greater than 0.3 µm. However, the M12™ Universal HAMMERVAC™ and M18™ Dedicated HAMMERVAC™ feature unique replaceable filters so users can replace the filter independently of the dust box to cost-effectively maintain suction efficiency. By pressing a button twice on the side of the unit this filter cleans itself every time users empty the dust box.
Compatible with all major power tool brands of SDS Plus Rotary Hammers and AC/DC Hammer Drills, the M12™ Universal HAMMERVAC™ is the only tool of its kind and comes with three sizes of side handle collars that the user can adjust to fit the tool securely. The M18™ Dedicated HAMMERVAC™ features an in-line design engineered to connect directly to, and be powered by, the M18 FUEL™ 1" and 1-8" SDS Plus Rotary Hammers.
Milwaukee® is committed to improving productivity by providing performance-driven and trade-focused solutions so users can perform an entire day's work. As the new OSHA® regulation on respirable crystalline silica dust** continues to create the framework for a safer jobsite, Milwaukee Tool is dedicated to continuing to expand its Dust Extraction System.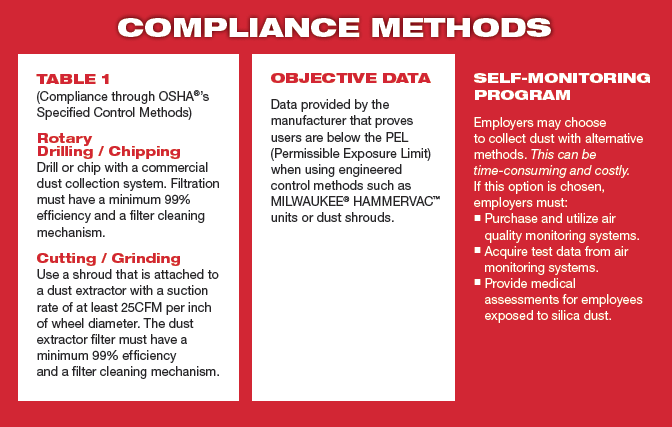 * In order to be compliant with the new regulation* companies prove they are under the PEL by following Table 1 standards, demonstrating objective data, or conducting their own self-monitoring programs, as laid out by OSHA.
** According to OSHA, over two million construction workers a year are exposed to crystalline silica dust. Found in materials like concrete, tile, rock, stone and brick, exposure to silica dust can be a major cause of a fatal lung cancer known as silicosis. The new OSHA regulation on respirable crystalline silica dust (29 CFR 1926.1153) started to be enforced for the construction trades on September 23, 2017. This regulation reduces the Permissible Exposure Limit (PEL) to 50 µg/m3 over an 8-hour period and will affect jobsite nationwide.



DISCLOSURE:
Tool Craze does not sell this product or any product on the Tool Craze website. Tool Craze does not handle the sale of any item in any way. If you purchase something through a post on the Tool Craze site, Tool Craze may get a small share of the sale. Please refer to the About section for more info.