Milwaukee Tool continues to enhance their line of twist-drilling accessories with the next generation of their Red Helix Cobalt Drill Bits. Engineered for extreme durability and longer life in hard metal applications, these new bits provide up to 15X life versus black oxide drill bits.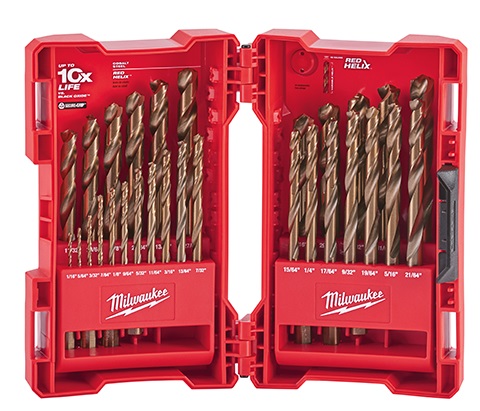 Much like their predecessors, the next generation of Red Helix Cobalt Drill Bits are designed with a Variable Helix that includes an aggressive 35° helix angle that varies along the flute, ending at 15° to limit heat build-up.
However, new to this next generation of the drill bits are two things: a Quad Edge Tip and Enhanced Tapered Web. The Quad Edge Tip decreases heat buildup and enables users to drill faster. A 135° split point tip delivers a precision start and prevents walking for fast, accurate holes in hard metal, PVC and wood. The drill bits' Enhanced Tapered Web™ strengthens the core to increase overall flute durability.
The next generation of Milwaukee's Red Helix Cobalt Drill Bits will be available in sizes ranging from 1/16" to ½", as well as in sets. The drill bits will be available for purchase at select distributors in October 2019.
Red Helix™ Cobalt 1/16", 5/32", 3/32", 7/64", 1/8" 9/64", 5/32", 11/64", 3/16", 13/64", 7/32", 15/64",1/4", 17/64", 9/32", 19/64", 5/16", 21/64", 11/32", 23/64", 3/8", 25/64" 13/64", 27/64", 7/16", 29/64", 15/32", 31/64", ½"
Red Helix™ Cobalt 15 Piece Drill Bit Set                                           48-89-2331
Red Helix™ Cobalt 23 Piece Drill Bit Set                                           48-89-2332
Red Helix™ Cobalt 29 Piece Drill Bit Set                                           48-89-2338



DISCLOSURE:
Tool Craze does not sell this product or any product on the Tool Craze website. Tool Craze does not handle the sale of any item in any way. If you purchase something through a post on the Tool Craze site, Tool Craze may get a small share of the sale. Please refer to the About section for more info.