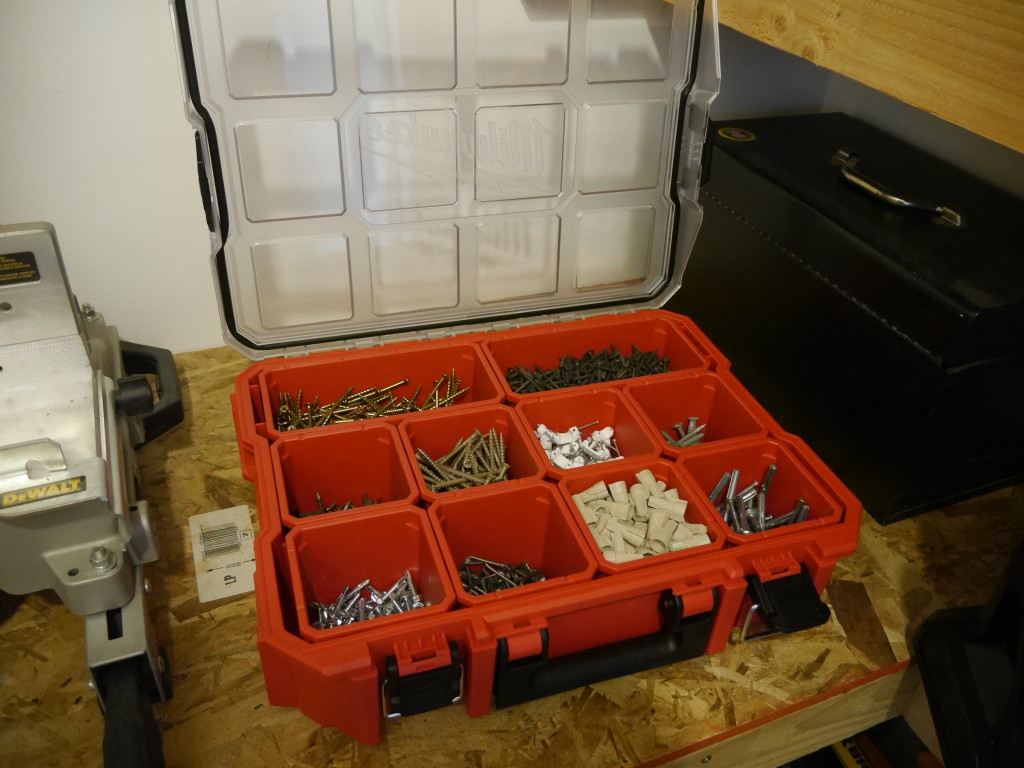 Back in the end of April I wrote about Milwaukee's new upcoming storage solution for small parts storage the Milwaukee jobsite organizer 48-22-8030 and now I've been able to play around with one to get a hands on review. This jobsite organizer is very similar to other common organizers with the standard clear lid to view inside contents, comes with multiple small storage bins which can be used for all sorts of small parts such as screws, nails, nuts, your bottle cap collection, etc, and has a carrying handle on the side to be carried suit case style. Those are the core features and it expands on that with a weather resistant seal on the outer perimeter underneath the lead to keep out moisture and dust to keep the contents inside safe from the elements.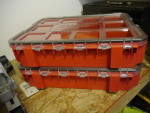 Milwaukee currently doesn't have an official modular storage tool box system similar to the like's of Bosch L-Boxx, DeWalt T-Stak's or Tough boxes, Ridgid 22″ Pro Tool Storage system, or Makita's latest modular tool box system – but for the moment being this is as close as it gets to modular storage as these independent jobsite organizers are stackable and interlock with each other if you have 2 or more. If your Milwaukee jobsite organizer ever feels lonely, pair it with another. The interlocking feature makes it very convenient to carry 2 at a time when they're both locked together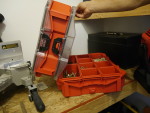 making it as easy as carrying a single one. It would be a pain if after locking 2 organizers you would need to unlock the two to open the lid of the bottom organizer, but Milwaukee thought ahead with the ability to open the bottom organizer even when locked to one above it. The way the interlocking feature works is each organizer has a tab on the left and right side attached to the lid and it flips up to lock onto another organizer that's stacked on top.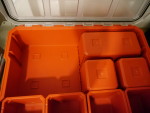 The storage bins come out so you can take them wherever you're working and it comes with a total of 10 bins of which 8 are the small 4″x4″ bins and 2 are the larger wider 8″x4″ bins and all are 3-7/8″ deep. Each bin has a square recess on the bottom to go over the matching square shape on the bottom of the storage organizer to keep each bin from sliding around. The lid is recessed where it comes into contact with each bin to keep bin contents from spilling out inside the organizer and keeps a tight seal when the lid is closed.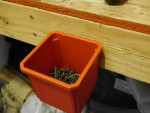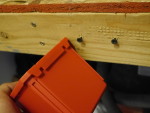 Milwaukee wouldn't be Milwaukee if they didn't throw some sort of spin on this product and they did it again with a feature that I found to be very useful. This feature is located on all the bins and are 2 slots on the backside lip of the bin so you can wall mount each bin. I thought this was a great idea so you can keep the bins out in the shop where they're easily accessible while mounted on the wall and unmount easily when you want to transport the bins with the organizer. Milwaukee also took out all the guesswork out of figuring out the spacing for the screws or nails for wall mounting as they added 2 markers above the screw slots on the lip of the bins so you can easily mark out where to put your screws down on the wall. All that's needed is to place the bin on the wall, mark a line over each marker, fasten a screw over each mark and mount your bin.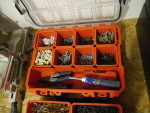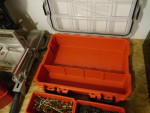 I've seen similar organizers that only use bins and some that use removable walls to make compartments for a custom fit. We already covered the fact that this organizer uses and comes with bins to store small parts and when all the bins are removed you're left with open space. This space is divided by a wall near the handle and divides the interior space into a 1/3 section and a 2/3 section. This gives you the ability to use the organizer as a tool storage with 2 separate compartments or customize the interior space with bins and use the one of the open divided compartments for smaller tools such as hand tools or the other way around and fill the smaller 1/3 section and use the 2/3 section for a small portable power tool such as a cordless drill.
Overall I like Milwaukee's storage organizer and what stands out to me is the ability to stack and lock with other units and the wall mountable bins are very useful.  As for build quality, it looks well built and molded in a way with side ridges for added strength. There is a bit of a flex on long panels and the lid and makes me believe this aids in impact resistance but time will tell how well it holds up.
These are priced at $24.97 USD and are available now


SPECIFICATIONS
Length 14″
Width 18″
Height 5″
Weight 6.1 lbs
Limited Lifetime Warranty
Stackable and lockable
Weather resistant seal underneath lid
Mountable bins
No travel bins seals