I already reviewed the original Milwaukee M18 cordless 2 gallon wet dry vacuum 0880-20 years ago but since Milwaukee redesigned that vacuum in 2018, I decided to take a look at any changes made to the "new" vac and compare them to the original model and see if any changes were worth getting over the original. This will be my honest review of the 2018 version of the Milwaukee M18 2 Gallon Wet Dry Vacuum 0880-20.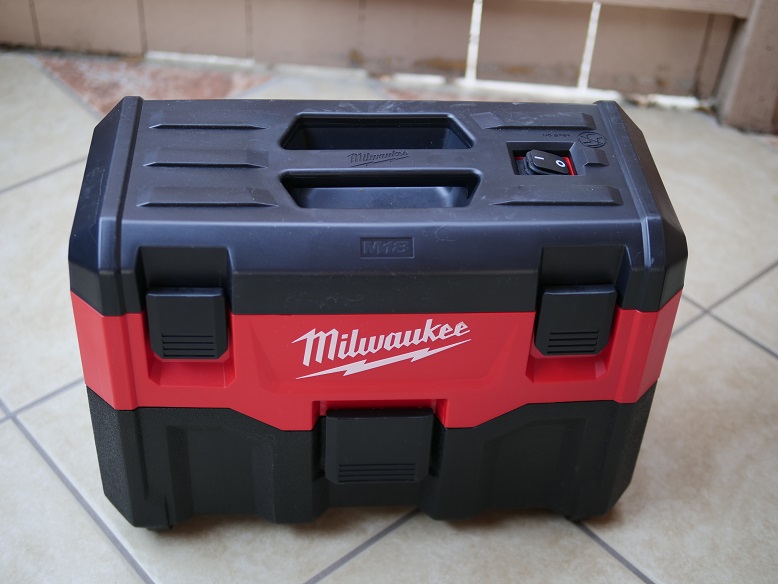 Ethics Disclosure:
I personally purchased the Milwaukee M18 2 Gallon Wet Dry Vacuum 0880-20 2018 Version and the original model with my own money. As with all my reviews, I am not paid, sponsored, or obligated to give a positive review. This review is my opinion of the product based on my usage and knowledge and my review will reflect what I like and dislike about the product. I will do my best to provide you with an unbiased review.
Manufacturer Specs:
Includes one 0880-20 M18 lithium-ion cordless wet/dry vacuum, filter, wireless vinyl hose, crevice tool and wide utility nozzle
Powerful 2.8 Amp motor for strong suction and air flow
45 CFM suction power (Cubic Feet per Minute)
Wet/dry application with the same filter
9.4 lbs. weight
Compatible only with Milwaukee M18 18-Volt slide-on, REDLITHIUM batteries
Tool box style for effortless transport and storage
Built-in blower port to enable the vacuum to function as a blower
1-1/4 in. hose that accommodates standard vacuum attachments
Onboard accessory and hose storage
Compatible with all M18 batteries and M18 chargers
5-year manufacturer warranty


My Thoughts:
I'm not sure when the original Milwaukee M18 2 Gallon Wet Dry Vacuum 0880-20 came out but I bought the original model in 2015 and even then it had already been a few years on the market. Back then it was a great small portable and cordless vacuum with a surprising amount of huevos for it's size. It's 2 gallon rated tank gave it just enough capacity for quick pickups here and there and made it a valuable power tool when doing anything handy around the house or the jobsite. It's flat topped tool box design was and still is great as you could easily stack the vac during storage and made for a great sitting surface on the job when taking a lunch break. It had a top lid that housed the battery and stored the two included attachments while the left side of the vac had a built in bucket that was used to store the hose when not in use. Well, sort of, as only part of the hose squeezed into the bucket while the rest of it dangled around. There were very few faults with the original model, maybe the bucket could've been larger and deeper. Also the hose end wasn't exactly up to the standard 1-1/4″ universal spec other vacs used, meaning standard 1-1/4″ attachments didn't fit the hose. For the longest time, the largest batteries on the M18 system were the XC 10 cell packs which fit perfectly underneath the lid but it wasn't until they released the 15 cell HD 9.0 batteries that the battery compartment started to show it's age as a 9.0 battery didn't exactly fit perfectly and required the top lid to flex in order to close properly due to the 9.0's larger size. It still worked back then but in 2018 when the new high output HD 12.0's came out that used larger cells, the original M18 2 gallon vac could no longer close it's lid with a 12.0 battery because it was not designed for extra large future batteries.
The larger 12.0 batteries not allowing the lid to close at all posed a problem for the little vac. Milwaukee likely had plans to develop the large 12.0 battery well before the 2018 year started and noticed they needed to update several of their tools to fit the larger battery. Among several tools including one of the rover lights, the 0880-20 M18 2 gallon wet dry vac was one of those needing the update so they hurried to update the vac early 2018 before the large 12.0 batteries were released later that same year.
The 2018 revised model can now fit all current battery sizes just fine including the huge 12.0 battery. But that's not the only update the vacuum got under the hood as they also redesigned the attachment compartments underneath the top lid and now fit better and don't slide around like they did on the original model as they gave each vacuum attachment it's own form fitting deep compartment. Long gone are the struggles I had with the previous model and having to place the wide nozzle just right for the lid to close. If it wasn't placed just right, the lid wouldn't close and I'd have to slide it the right spot. Finding the sweet spot was not easy at times since there are no markings. The 2018 model fixes this issue.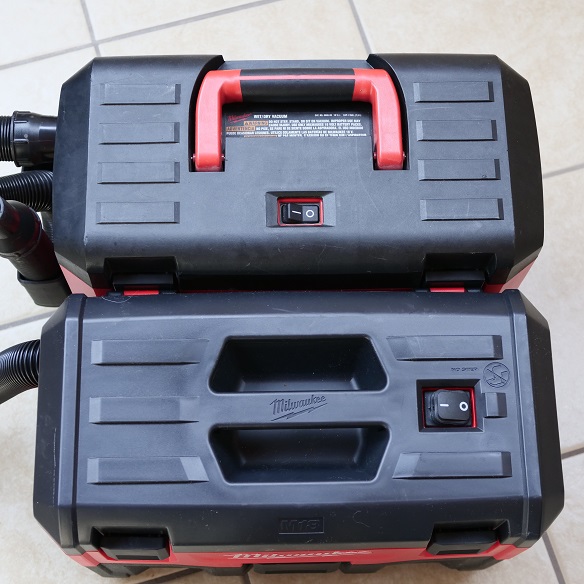 They also removed the exterior side bucket from the original and now features hose storage underneath the upper lid. The vac is now more compact now that the side bucket has been removed even though the main body is the same size. Everything is stored inside the upper lid with battery, hose, attachments and all. The only downside I can think of to the hose being stored underneath the lid is that the user has to take an extra step  by having to open the lid each time to access the hose. But this isn't an issue at all to me but am just sharing what I've heard others murmur about. To make everything fit underneath the hood, they did have to redesign the upper lid by removing the flip out hinged handle in favor of a built in fixed handle. This was also probably done to cut costs. Milwaukee was also able to cut costs by getting rid of the old V18 battery port which was found on the original model. I can't say I miss this at all since I've never owned V18 tools or batteries and I doubt there are many people left that still do so I find this to be a good move on their part to cut cost so they don't have to raise the price of the vac as it's still the same $99 price as it was many years ago.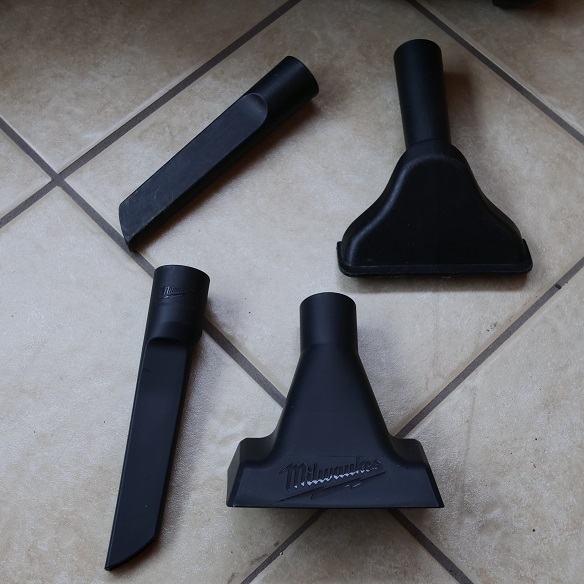 Next on the revisions list are the hose end that's now a true 1-1/4″ universal size and so are the included attachments. This means that the included hose and attachments are cross compatible with other 1-1/4″ vac accessories on the market. This is a big deal to me as I've always wanted to use extensions on the original without them slipping out. The included attachments have also been revised with minor cosmetic changes, mostly to make them look "modern" but the wide nozzle is wider than the previous.
So far all the new revisions are looking to be worthwhile improvements over the original model. But keep in mind that this "new" model, isn't a new model at all. It shares the same 0880-20 model number as before so it's not a Gen 2 version. It's performance stats are equal as the original model so we shouldn't expect any differences in performance. According to Milwaukee the 2018 revised model features the same 45 CFM suction rating but that didn't stop me from comparing it's performance to the original model.
Both versions of the vacuum feature a blower port which allows the hose to be used to blow air for clearing messes quicker than they could be sucked up or swept.
Performance compared to the original model:
I only ran two simple tests to compare performance with a dry suction saw dust test and a wet suction water test in which both models were fitted with a 9.0ah battery and each test had the same amount of material to suck up to keep things equal. As I ran each vac through the tests, individually they seemed to perform the same. No surprise there. But luckily I filmed each test run so I could put them side by side so we could notice any differences, even if slight.
My findings concluded that dry suction was about the same, maybe a smidge faster on the newer model when picking up sawdust but honestly that could just have been done by my technique, but again, the difference was so slight I'd still be inclined to call it a tie. Wet suction was a different story. While they seemed to perform the same individually, the side by side test showed that the original model was indeed noticeably faster. It wasn't night and day but you can easily see the difference. I'm not sure why this is but at least the newer model isn't that far behind the original when it comes to wet suction.
I also noticed that the revised 2018 model was also slightly quieter than the original so I double checked with my decibel meter to confirm and it is indeed quieter by about 5 decibels. The original model operates at 89-90 decibels while the 2018 model operates at 84-85 decibels. Both were tested at 5 feet. Again, not a night and day difference but a difference I appreciate as vacuums tend to get loud and any decrease in noise is greatly appreciated even if just by a little. The revised vac is still loud but not as loud as before.
I didn't do any comprehensive tests to the 2018 vacuum's blower function but at a quick glance, it's blower performance seemed equal to the original.
Anyone considering this vac has to keep in mind that as powerful as it is for it's size, its not going to keep up with larger vacuums, especially those that have cords. It's best suited for wet pickup and for picking up small messes such as sawdust, woodchips, small bits and pieces, very small screws and nails. It's not very good at vacuuming upholstery so don't try using it for vacuuming your car as you'll get very frustrated. For it's intended use, it's a very capable and powerful vac for it's size and with great wet suction to boot.
Conclusion:
Should owners of the original vac rush out and get the new revised model? Unless you wan't better underhood storage I'd say stick with the original as it's still a great vac today. But if you own 12.0ah batteries and plan to use them on the vacuum, an upgrade sounds like a good idea. I still wouldn't call the updated model an upgrade but instead would call it the same old great vac with revised updates that address the originals flaws. Consider it a 1.1 model with the original being the 1.0 model.
Personally I really appreciate the revised underhood storage for hose and attachments and it's deep pockets for each attachment are a nice upgrade since the original gave me a hassle at times to find the sweet spot when storing the wide nozzle. I wish performance had improved but then again, it's a revision and not an upgrade so expect similar performance with slightly decreased water suction although not far behind the original. Dry suction stays about the same but they managed to make it about 5 decibels quieter which is always nice.
Long story short its still the same great performing vac as the original with revisions to make it better including better onboard storage and can now fit all current M18 batteries no matter how big.
Pros:
improved interior storage for hose and accessories
fits 9.0 and 12.0 batteries perfectly
5 decibels quieter than original
hose and attachments are 1-1/4″ standard size
flat top square toolbox design is great for storage and for sitting on (do not stand on)
blower port is handy
Cons:
revision doesn't increase performance
slight decrease in wet suction (although still good)


DISCLOSURE:
Tool Craze does not sell this product or any product on the Tool Craze website. Tool Craze does not handle the sale of any item in any way. If you purchase something through a post on the Tool Craze site, Tool Craze may get a small share of the sale. Please refer to the About section for more info.