Announced today is the Milwaukee M18 Force Logic 6T Latched Linear Utility Crimper 2979-22. This provides linemen an easy way to make crimps. Let's check it out.
Disclosure: This is tool news. Tool Craze cannot guarantee the accuracy of the information of any tool listed in this article. Manufacturer marketing claims may not always meet expectations. Tool Craze is not responsible if products do not live up to claimed expectations. Please do your full research before buying any products. Tool Craze is an Amazon Associate. Also an affiliate with the Home Depot, Acme Tools, Ohio Power Tool, Tool Nut. As well as an affiliate with Lowe's, Ebay, and Walmart and places affiliate links to these retailers. If you purchase through a link on this site, we may get a share of the sale.
Milwaukee M18 Force Logic 6T Latched Linear Utility Crimper 2979-22 – Features

Milwaukee's latest M18 6T utility crimper is said to optimized for both overhead and underground distribution applications.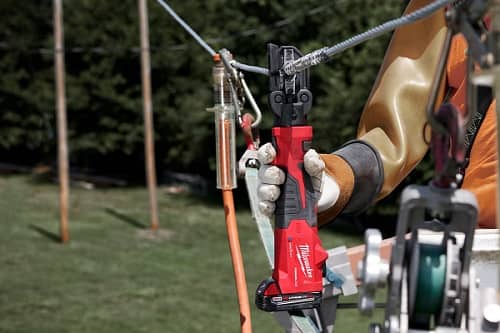 This crimper features a latched head. It easily opens and secures around wire and is able to rotate 340 degrees for max control in any orientation.
"We are committed to designing solutions for the unique challenges of the power utility industry," said Troy Marks, Group Product Marketing Manager for Milwaukee Tool. "The latched linear style utilizes linear pressure to create the most uniform crimp appearance, allowing for an even distribution of the crimped material. By ensuring smooth and even crimps, users are able to more easily apply protective wrap over the outside of the connector, ultimately improving isolation from the elements. This style also easily opens and secures, giving the user added confidence knowing only the intended wire gets crimped."

Milwaukee Tool
It features an enlarged trigger and dual electronic release buttons that offer both left and right handed users easy operability. Milwaukee says their crimper is lighter weight and more balanced than the competition which helps reduce operator fatigue.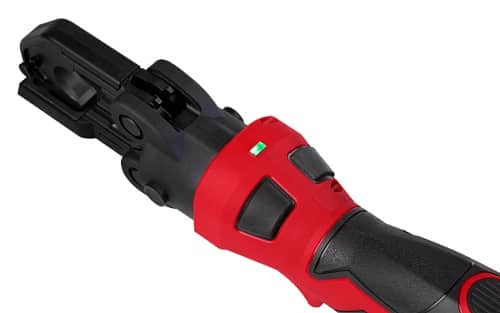 It features PFM which stands for predictive force monitoring. This ensures full pressure is applied on every cycle for consistent crimps says Milwaukee. A green LED verifies that full pressure is reached. Onboard electronics check the battery before every crimp to make sure there's enough battery power left to complete the crimp. This is to avoid the tool running out of juice before the crimp is completed.
You know this is a quality tool because Milwaukee has sealed the internal electronics to keep dirt and moisture out. Its high speed hydraulic system is optimized for consistent performance in temps as low as -4 degrees F to 140 degrees F.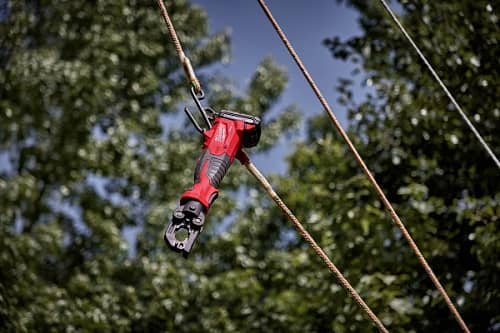 A large tether ring is included on the back.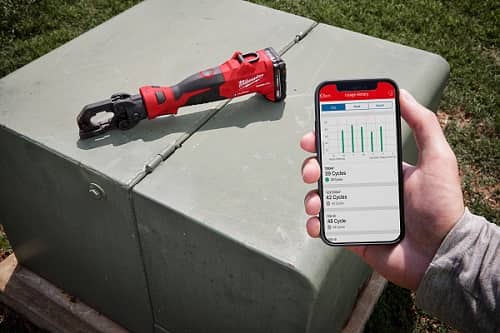 This crimper is compatible with ONE-KEY. This allows users to sync the tool wirelessly with their mobile device or desktop. You can upload data and history to create custom reports to track the pressure and timing of each crimp. To identify where and when the tool was last seen, and to track usage and service intervals to maximize uptime and keep inventory.
Milwaukee M18 Force Logic 6T Latched Linear Utility Crimper 2979-22 – Pricing & Availability
It will be available April 2023 and will be priced at $2999 MSRP as a kit. The kit includes the crimper tool, two 2.0ah batteries, charger, and tool bag as shown below.
Milwaukee M18 Force Logic 6T Latched Linear Utility Crimper 2979-22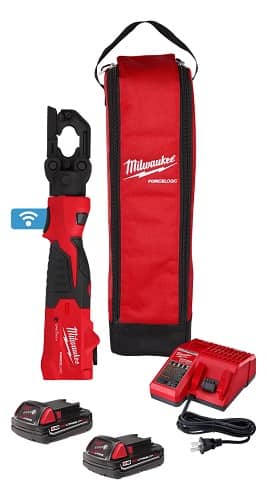 Style: Latched Linear
Output Force: 6 Tons
Length: 17-1/4"
Height: 3-3/4"
Weight w/o Battery: 6.3 lbs
Head Rotation: 340°
Full Pressure Indicator: Yes
Adaptive Pressure Control: PFM™
ONE KEY™ Enabled: Yes
Kit Includes: M18™ FORCE LOGIC™ 6T Latched Linear Crimper (2979-20), (2) M18™ REDLITHIUM™ CP2.0 Batteries (48-11-1820), (1) M18™ & M12™Multi-Voltage Charger (48-59-1812), (1) 6T Crimper & Cutter Bag (48-22-8277)


DISCLOSURE:
Tool Craze does not sell this product or any product on the Tool Craze website. Also Tool Craze does not handle the sale of any item in any way. Please refer to the About section for more info.