Milwaukee introduces new cordless drywall installation solutions with a new M18 Cut-Out Tool and a new M18 Fuel Drywall Screw Gun. With the announcement of the M18 FUEL Drywall Screw Gun and the M18 Cut Out Tool, Milwaukee is now able to arm interior contractors with fully cordless solutions to help them tackle the work they do every day.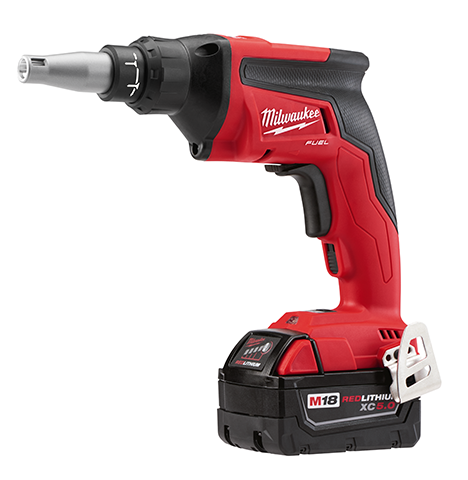 Milwaukee M18 Fuel Drywall Screw Gun
Drives screws faster than corded at 4,500 RPMs
3X longer run-time than leading cordless models
Auto Start Mode automatically starts motor on contact with drywall, resulting in no motor noise in-between screws
Can fasten up to (64) 4×8 and 5/8" thick sheets of work on a full charge with 5.0 battery or up to (27) 4×8 and 5/8" sheets with 2.0 battery
Length 9″
Weighs only 3.4lbs with battery
incudes belt clip

MILWAUKEE-2866-20 – $149.00
from: Acme Tools


MILWAUKEE-2866-22CT – $229.00
from: Acme Tools


MILWAUKEE-2896-22CT – $329.00
from: Acme Tools
One interesting feature included in the M18 Fuel drywall screw gun is the Auto Start Mode that when selected activates the motor only when the screw makes contact with drywall. This will result in noise reduction as the motor is not constantly running and also result in better runtime than compared to not in the Auto Start Mode. This mode appears to be similar to the excellent push  drive mode on the Makita 18V brushless drywall screwdriver.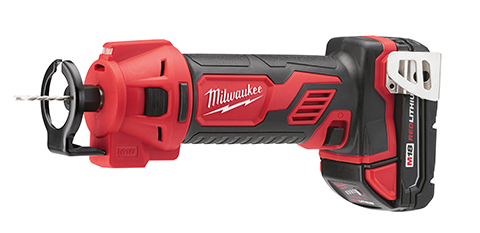 Milwaukee M18 Cut-Out Tool
cuts up to 25% faster than leading corded and cordless competitors
capable of cutting up to 50 outlet boxes per 1.5Ah battery
2.1 lbs weight
length of 8.9″ (10.3″ with battery)
and a slim handle, it is the most compact in the industry

MILWAUKEE-2627-20 – $99.00
from: Acme Tools


MILWAUKEE-2627-22CT – $199.00
from: Acme Tools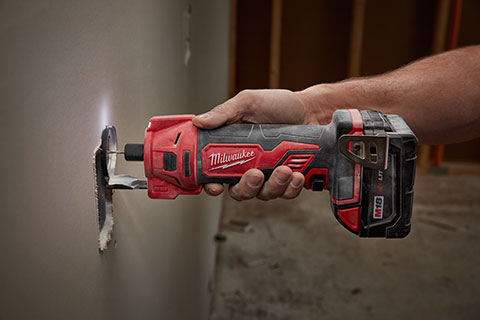 The M18 Cut-Out Tool features a brushed motor which is the norm as other brands use brushed motors on their cordless cut out tools and the M18 Fuel Drywall screw gun features a brushless motor for greater efficiency and runtime.
These two cordless  Milwaukee 18 drywall tools will be available October 2016 and priced at MSRP: $229 (Drywall Screw Gun) $199 (Cut Out Tool) as kits.