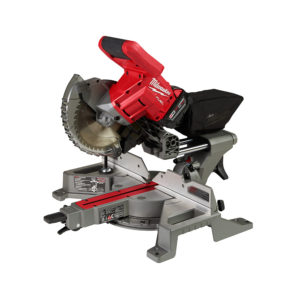 Milwaukee is getting ready to launch a new cordless miter saw. The Milwaukee M18 Fuel 7-1/4″ Miter Saw 2733-21 will launch soon in September 2017.
Blade Diameter                                               7-1/4"
No Load RPM                                                 5,000
Arbor Size                                                       5/8"
Bevel                                                               Dual
Slide                                                                Yes
Weight                                                             28 lbs
Vertical Capacity Base Against Fence           3-1/2"
Vertical Capacity Nested Crown                    3-5/8"
45° Bevel Capacity                                         3/4"
90° Cross Cut Capacity                                  2"
90° Cross Cut Capacity (max width)              2×8
45° Miter Cut Capacity (max height)              2"
45° Miter Cut Capacity (max width)               2×6
Max Bevel Angle (L/R)                                   48/48
Max Miter Angle (L/R)                                                48/48
What sets this model apart from the current Milwaukee M18 Fuel 10″ miter saw is the smaller 7-1/4″ blade that makes the new saw very portable and lightweight coming in at only 28 lbs. Milwaukee states this is the lightest weight cordless miter saw. This is not true as TTI's own Ridgid 18V 7-1/4″ miter saw weighs in at an even lower 24 lbs. Other competitors similar miter saws don't fall that far behind such as Dewalt's 20V miter saw is 3.6 lbs heavier at 31.6 lbs and Makita's X2 brushless miter saw not even a full pound heavier at 28.9 lbs and that's with 2 batteries!
Performance wise Milwaukee claims that their 7-1/4″ M18 miter saw has best in class power with it's 5,000 RPM no load speed. This is drastically higher RPM's than Dewalt's 20V miter saw although Makita's X2 miter saw goes up to 5,700 RPM but in either case, no load Max RPM's are not an ideal determining factor for peak performance and torque.
Moving on to it's features, the Milwaukee M18 Fuel 7-1/4 inch miter saw is a sliding miter saw and is also dual bevel. The double bevel feature gives it the ability to make beveled cuts the right and also the left side. This is a feature that I missed on my Dewalt 20V miter saw. As far as the Makita X2 miter saw, technically it can bevel to either side but not really as it only bevels 0-5 degrees to the right which isn't very practical while you have the full 0-45 degrees to the left. Just for reference Ridgid's 18v miter saw is also a dual bevel and brushless.
Milwaukee's 7-1/4 inch miter saw is a slider which adds to the length it can cut and can crosscut up to 2×8 lumber at 90 degrees. This brings it in line with Ridgid's model that can cross cut up to 7-1/4 inches and Dewalt's 20V model which can crosscut up to 8 inches although Makita's cordless models offer much wider crosscut capacities as the X2 miter saw can cross cut dimensional lumber up to 11-3/4 inches!
Vertical cut capacity is on the short side at only 3-1/2 inch against the fence or 3/5/8 inch crown nested on the fence. This is one of the drawbacks of the smaller for a miter saw 7-1/4″ blade but yet is the same vertical capacities as Dewalts 20V model. Vertical capacity is even smaller on Makita's X2 miter saw however Ridgid's 18V miter saw goes up to 4 inches in cutting height.
Runtime for Milwaukee's 7-1/4″ miter saw is very good with up to 600 cuts into 3-1/4″ base molding and up to 300 cuts into 2×4 per charge with a 5.0ah battery. Kit's will come with a 5ah battery instead of the 9.0ah battery we saw come with the 10 inch model.
Pricing is $399 for the miter saw baretool and $499 for the saw as a kit with 5ah battery and charger. This is $100 cheaper than the larger 10″ model however quite more than Dewalt's 20V model and Ridgid's model which is similarly equipped. But still lower than Makita's X2 model as that saw comes as a baretool for $539 which is more and doesn't come with batteries or charger at that price so the Milwaukee fits somewhere in between the two.
DISCLOSURE:
Tool Craze does not sell this product or any product on the Tool Craze website. Tool Craze does not handle the sale of any item in any way. If you purchase something through a post on the Tool Craze site, Tool Craze may get a small share of the sale. Please refer to the About section for more info.