Here's another tool we announced as a rumor but has finally been announced at this years NPS18 event. They announced their first ever cordless table saw – the Milwaukee M18 Fuel 8-1/4″ Table Saw !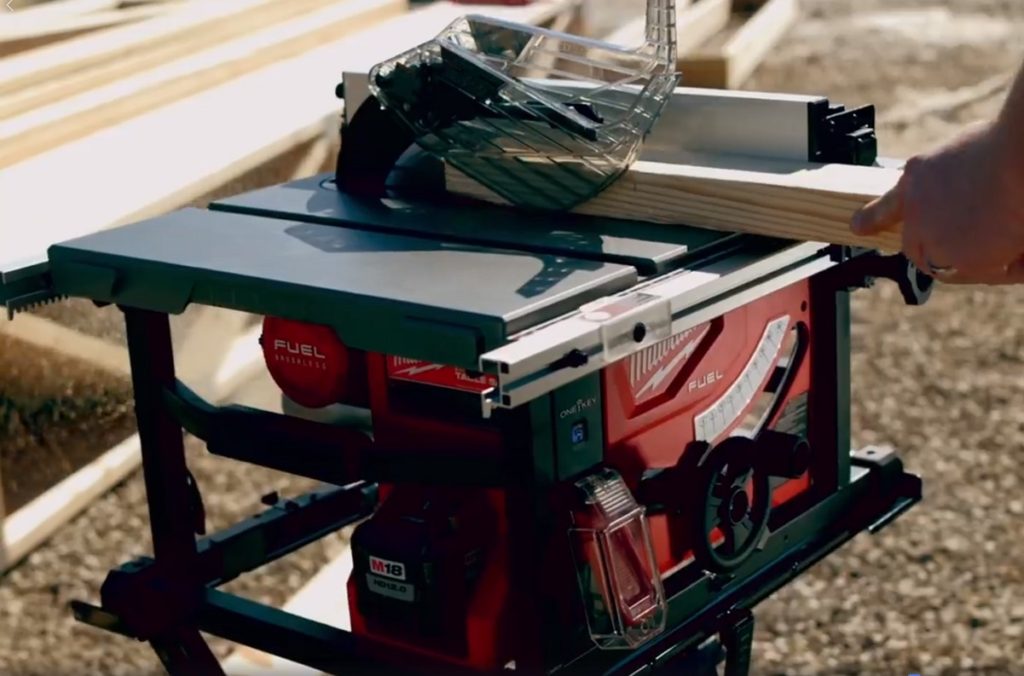 When I wrote about the cordless table saw rumor, I didn't know any details and this left me wondering what size the blade would be using and if it was running a single M18 battery or multiple batteries but we know now that it runs on a single M18 battery (works best when paired with their 12.0 ah battery) and it's running an 8-1/4 inch blade. It's not a 10 inch blade like corded table saws but still pretty impressive it's doing what it does on the 18 volt platform. Keep in mind that in order for Dewalt to run a cordless 8-1/4″ blade table saw, they needed to go 60V max (actually 54V). So it's an impressive feat Milwaukee was able to make a similar table saw with much less voltage to work from!
The Milwaukee M18 Fuel table saw looks pretty well built and well featured. It shares many of the features of the Dewalt portable table saws such as a metal roll cage frame design and my favorite feature of Dewalt saws which is their rack and pinion telescoping fence feature which is also present on this new Milwaukee M18 Fuel table saw. We also learn that the new table saw will have One Key bluetooth features as well.
Expect the Milwaukee M18 Fuel Cordless 8-1/4″ Table Saw to arrive July 2018. You can pre order via the link below in the meantime.



DISCLOSURE:
Tool Craze does not sell this product or any product on the Tool Craze website. Tool Craze does not handle the sale of any item in any way. If you purchase something through a post on the Tool Craze site, Tool Craze may get a small share of the sale. Please refer to the About section for more info.