Milwaukee announced two new cordless jigsaws with the Milwaukee M18 Fuel D-Handle jigsaw model 2731-21 and a barrel grip model coming out right after the D-Handle model.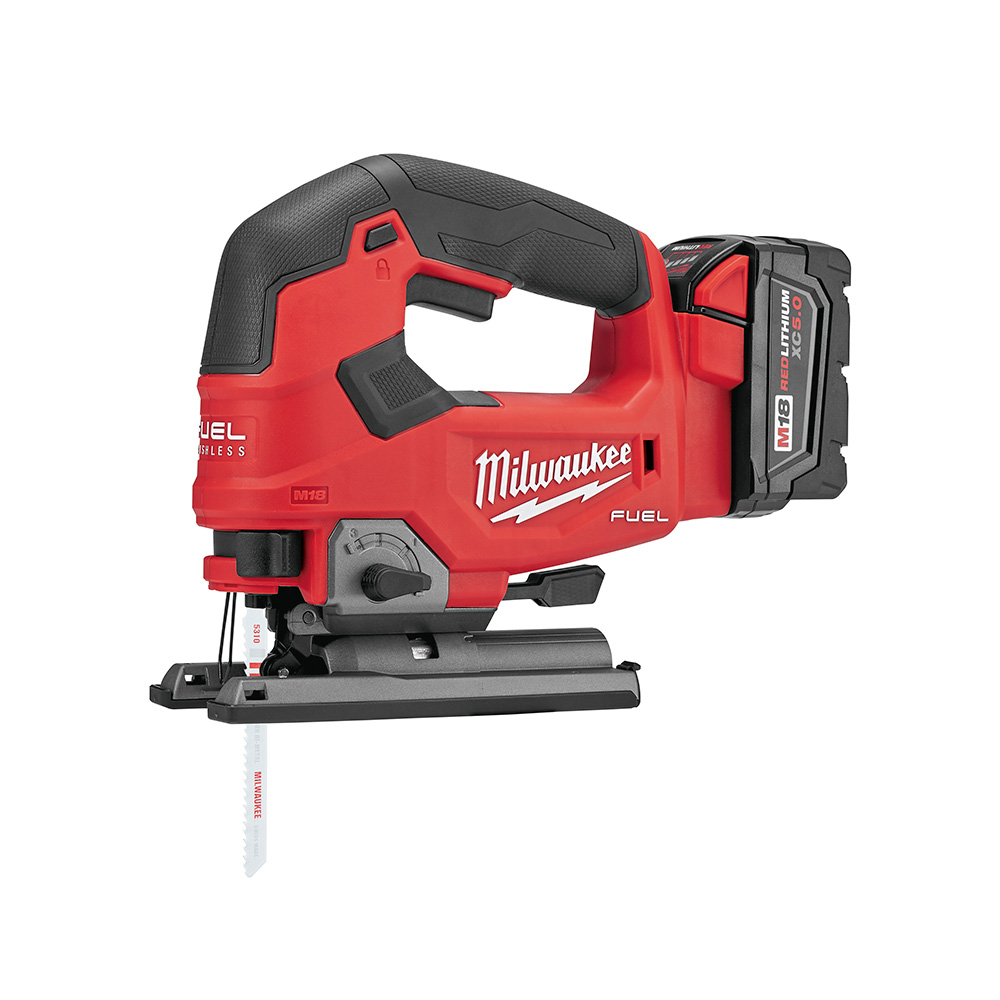 Being a Fuel branded jigsaw, these two will be step up models to the current M18 Jigsaw as Fuel offers the best of the best that Milwaukee has to offer starting with their Fuel brushless motor that offers their best performance and features in a cordless power tool.
To match the Fuel brand, these new Fuel jigsaws (according to Milwaukee) are said to offer higher sustained blade speed than 7 amp corded jigsaws for clean and controlled cuts with the power to cut hard materials with it's 3,500 SPM (strokes per minute). When it comes to jig saw performance, quality of cut is critical. Increased blade speeds aid in minimizing chipping and bucking for cleaner cuts, decreasing the overall time and cost spent sanding and reworking material. According to Milwaukee, the REDLINK PLUS Intelligence electronics communicate seamlessly with the motor to constantly monitor speed and power to maintain this consistent blade speed in tough materials, from hard woods to metal, without stalling or bogging down.
According to Milwuakee, the M18 FUEL D-Handle Jig Saw will be able to cut through up to 105 linear feet of 3/4" laminated particle board, delivering a full day's work with less trips to the charger which sounds like very good runtime, and this is with their XC 5.0 ah battery. Expect nearly twice the runtime if paired with the HD 9.0 ah battery or over twice the runtime with their new HD 12.0 ah battery.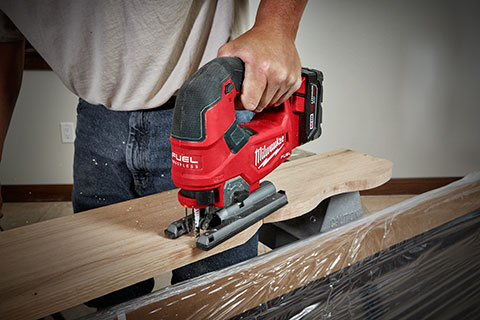 Although this is a Fuel model which is Milwaukee's best of the best features, performance and fit and finish, I noticed that this new model has a mostly plastic body whereas their current non-Fuel brushed motor model has a nice large metal plate on the front end which lets you know that it was a quality tool. However this is not present on this new Fuel model which to me feels like a downgrade at least with materials used for the body construction. Ditching the front metal plate as seen on the current model was probably done to cut costs and reduce weight however I will miss the quality build of the current non-Fuel model which is not present on this newer Fuel model.
You can expect the Milwaukee M18 Fuel D-Handle jigsaw to arrive August 2018 for $299 as a kit or $199 as a bare tool. Then later in the year, Milwaukee will also introduce the M18 FUEL™ Barrell Grip Jig Saw, which will deliver equal performance to the D-Handle Jig Saw. Engineered with the same key M18 FUEL components, the Barrell Grip also shares the same technology and upgrades as the D-Handle. Unique features will include ambidextrous on/off switches and a 6-speed dial with a specific auto-controlled start mode.



DISCLOSURE:
Tool Craze does not sell this product or any product on the Tool Craze website. Tool Craze does not handle the sale of any item in any way. If you purchase something through a post on the Tool Craze site, Tool Craze may get a small share of the sale. Please refer to the About section for more info.
Specifications
M18 FUEL™ D-Handle Kit (2737-21)
SPM: 0 – 3,500
Stroke Length: 1"
Orbital Settings: 4
Toolless Bevel with detents at 0°, 15°, 30°, and 45°
On/Off Blower
Vac Adapter
Weight: 6.4 lbs (4.8 lbs bare tool)
Warranty: 5-Year Tool, 3-Year Battery
Includes M18 FUEL™ D-Handle Jig Saw, (1) XC5.0 Battery Pack, (1) M18 & M12 Multi-Charger, Dust Tube, Shoe Guard, Anti-Splinter Guard, Dust Cover, Blade, Hex Wrench, and Contractor Bag.
*Also available as bare tool (2737-20)