August 26, 2016
Comments Off

on Milwaukee M18 Fuel Miter Saw Specs And Pricing Revealed along with release date confirmed
Lots of new tool releases this year and no doubt one of the biggest has been the revelation of the most ground breaking 18V miter saw to date, the Milwaukee M18 FUEL 10″ Dual Bevel Sliding Compound Miter Saw. I've reported on this saw before, first with it being spotted in a Russian event, and recently when it was officially confirmed to be released here in the USA, but other than the fact that it will be a 10″ sliding miter saw, uses a brushless motor, and would be a dual bevel saw, not much else was known before now. But great news is upon us as the full specifications have been revealed for this long awaited M18 miter saw.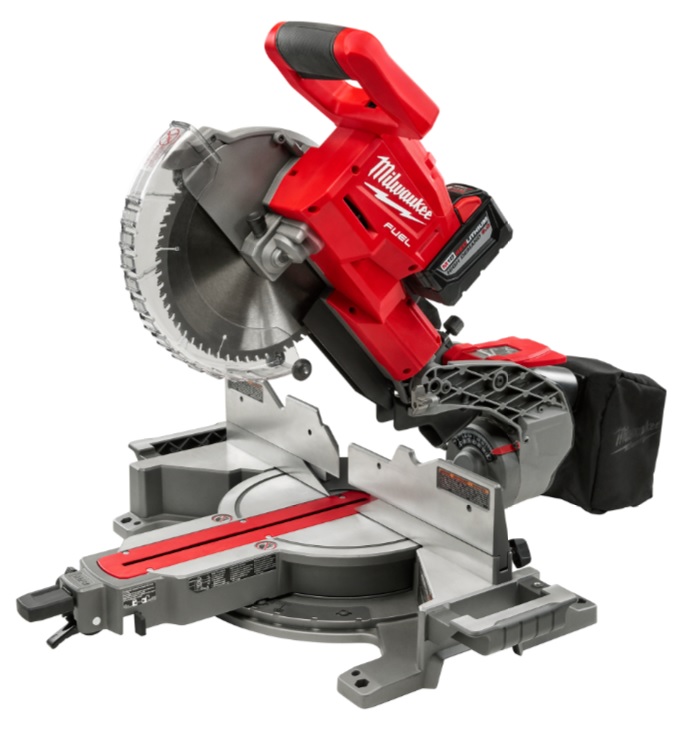 Full Specifications List
M18 FUEL™ 10" Dual Bevel Sliding Compound Miter Saw (2734-21HD)
Blade Diameter                                               10"
No Load RPM                                                 4,000
Arbor Size                                                       5/8"
Bevel                                                              Dual
Slide                                                               Yes
Weight                                                             45lbs
Vertical Capacity Base Against Fence                5-3/4"
Vertical Capacity Nested Crown                         5-1/4"
45° Bevel Capacity                                           2×12
90° Cross Cut Capacity                                     2×12
90° Cross Cut Capacity (max width)                   2×12
45° Miter Cut Capacity (max height)                   3.5"
45° Miter Cut Capacity (max width)                    2×8
Max Bevel Angle (L/R)                                     48-48
Max Miter Angle (L/R)                                      50/60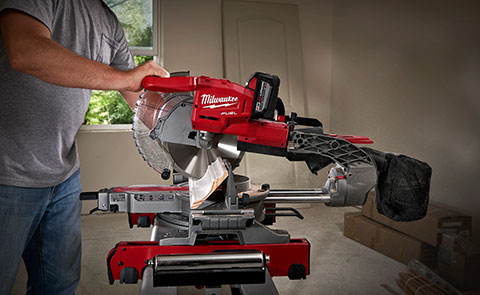 Although it's obvious this isn't a 12″ miter saw but this doesn't have any affect with it's cutting capacities as they are very close to top of the line 12″ miter saw specs with a large fence and the ability to cut up to 5-3/4″ boards against the fence and a very large horizontal cut capacity that can cut up to 2×12 lumber.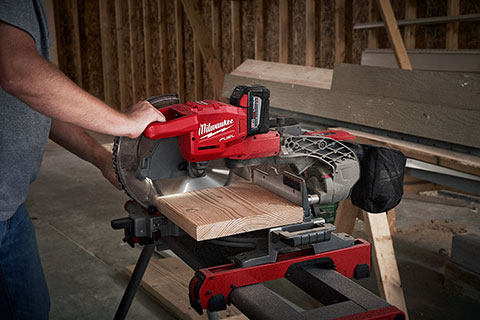 I also appreciate that Milwaukee incorporates a shadow cut line indicator that uses LED lights that cast the shadow of the blade as the cut line. This is similar to Dewalt's famous XPS LED lighting system and I have very positive experiences with this system as it's leaps and bounds better than laser sight line systems in my opinion. It's hard to see outdoors on bright sunny days but then again, so are laser systems.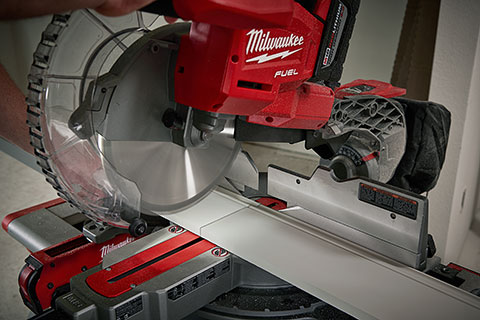 It will be sold as a bare tool or in kit form and what's highly interesting in the kit form is that this will be one of the first Milwaukee M18 power tools to include the also hugely anticipated monster capacity M18 High Demand 9.0 battery pack. The brushless fuel motor and 9.0 battery combination will give users all day power and is rated for up to 400 cuts one one charge. Kit form only comes with one battery but who needs two batteries with this kind of runtime? Of course larger capacity batteries take longer to charge and Milwaukee includes their rapid charger in the kit to help speed up charge times.
As far as the rest of the features go, both fences can be moved over which helps move either fence to the side which allows room for the motor and blade head to make bevel cuts. It uses a cam lock system to lock miter angles in place with a simple press of a button instead of a traditional knob to tighten and untighten. The cam lock system is my preferred method of locking miter angles in place and I've seen this system used on Dewalt and Ridgid miter saws.
A unique feature I've never seen before is a large handle on the back of the saw that releases the motor armature so that you can bevel the saw to either side. On all the other saws I've seen, they use a large oversided knob on the back of the saw which is hard to reach from in front of the saw, in most cases a user can reach it from the front of the saw, but it's easier to reach behind the saw to unlock the motor mount to allow the saw to bevel. On this Milwaukee saw, it appears you pull on the handle to release the motor mount to bevel the saw to either side, making things much easier (at least from what I can see). See picture below.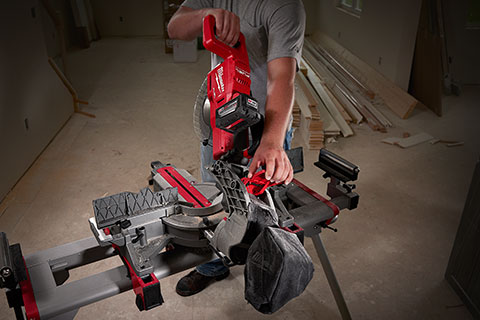 You also get 3 oversized handles to help carry the saw to it's location with 2 handle grips on either side of the base, and one large handle on the top of the saw for one handed carrying.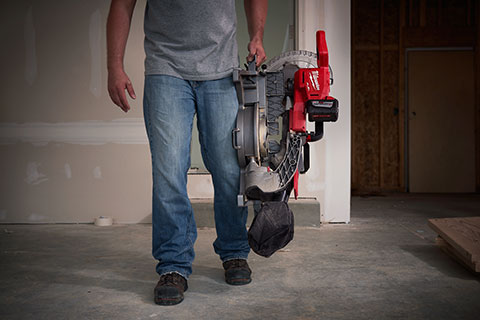 Release date is October 2016 and will be priced at $499 for the baretool and $599 as the kit.
Includes M18 FUEL™ 10" Dual Bevel Sliding Compound Miter Saw, (1) REDLITHIUM™ HIGH DEMAND™ 9.0 Compact Battery Pack, M18™ and M12™ Rapid Charger, Blade Wrench, Carbide Tipped Blade, Dust Bag and Clamp.
*Also available as bare tool (2734-20)