Last years Gen 2 M18 Fuel circular saw was among the best however I see Milwaukee were peer pressured into making a new rear handle model to fit in with the cordless worm drive style saw crowd. Milwaukee's new cordless circular saw is the Milwaukee M18 Fuel Rear Handle Circular Saw 2830-21HD or otherwise known as the 2830-20 as a baretool model.
Full disclosure:  This is not a review this is tool news. Tool Craze cannot guarantee the accuracy of the information/specifications/features of any tool listed in this article. Manufacturer marketing claims may not always meet expectations. Tool Craze is not responsible if products do not live up to claimed expectations. Please do your full research before buying any products. Tool Craze is an Amazon Associate and places paid links including those from other retailers Tool Craze is an affiliate partner with. If you purchase something through a link on the Tool Craze site, Tool Craze may get a small share of the sale.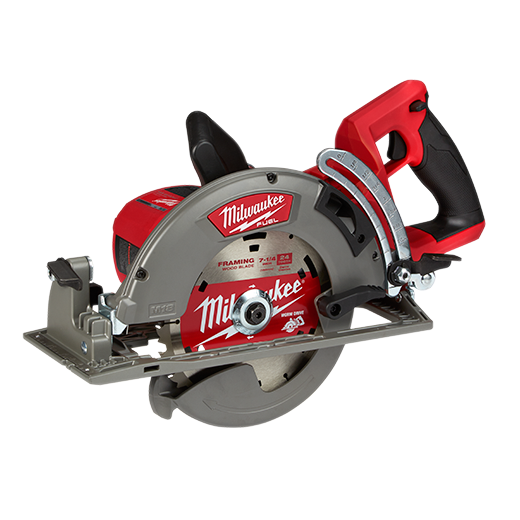 Just like Makita's and Dewalt's rear handle cordless circular saws, they appear to look like worm drive models but actually aren't since they don't have worm drive gears and drivetrain configuration so they are essentially fake worm drive models, faux, or in other words "look a likes". They are actually sidewinders with an extended rear handle and Milwaukee's latest M18 Fuel rear handle circular saw is no different.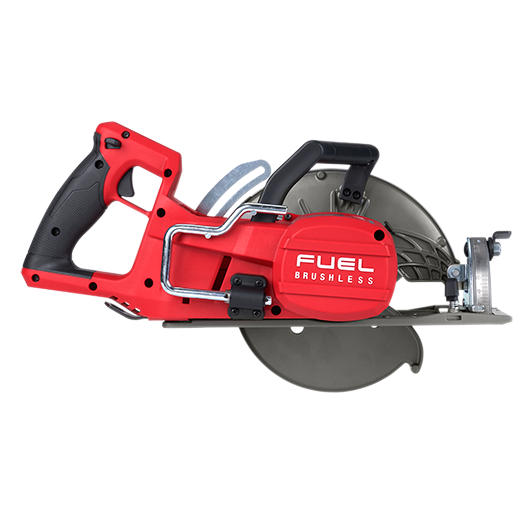 Worm drive saws are known to be stronger than a typical sidewinder and Makita's and Dewalt's cordless rear handle models have been proven to be their strongest cordless circular saws up to date and Milwaukee's rear handle model appears to be no different as Milwaukee is claiming not only the performance similar to a corded 15 amp worm drive saw, they say their cordless rear handle circular saw cuts faster than a corded worm drive saw. Impressive!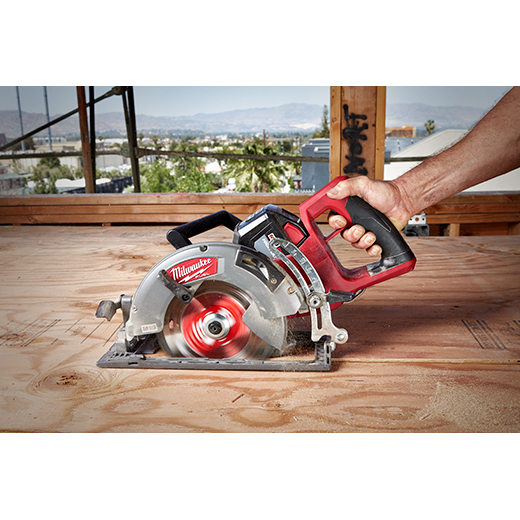 Paired with Milwaukee's high output 12.0 ah battery, the runtime is said to achieve up to 570 cuts per charge which is very solid runtime performance for a cordless circular saw. It's not as good as last years Gen 2 M18 Fuel circular saw which I tested (click here to see that review) which is rated for 750 cuts with the same battery. My guess is that Milwaukee's rear handle model was designed with raw performance first and runtime second – however 570 cuts is still very solid for cordless as was mentioned. All thanks to it's massive capacity 12.0 ah battery no doubt.
It's cut capacity is 2-1/2″ which is excellent for a cordless circular saw but average for a high end model. This means you'll be able to cut 2x lumber in one pass and are still required to make two passes on 4x lumber. Other features include an electric brake, LED worklight, magnesium shoe & guards and rafter hook.
A big benefit of it having worm drive styling is the blade being on the left side which is a huge benefit for right handed users.
Being a larger saw, it is also heavier than last years model at 13.5 lbs with battery installed or 10 lbs without. This means it's about as heavy as a corded model. This removes one of the advantages of going cordless, which is a lighter smaller tool however this is probably due to the fact that they had to incorporate a larger motor to give it corded performance.
All in all it looks like a solid top performing circular saw that appears to be aimed to outperform even last years mighty Gen 2 M18 Fuel sidewinder circular saw which was already on top in the performance charts.
Expect this new bad boy to hit stores less than a month away in July 2019 and will be priced at $269 (bare tool); $449 (kit).



DISCLOSURE:
Tool Craze does not sell this product or any product on the Tool Craze website. Tool Craze does not handle the sale of any item in any way. If you purchase something through a post on the Tool Craze site, Tool Craze may get a small share of the sale. Please refer to the About section for more info.