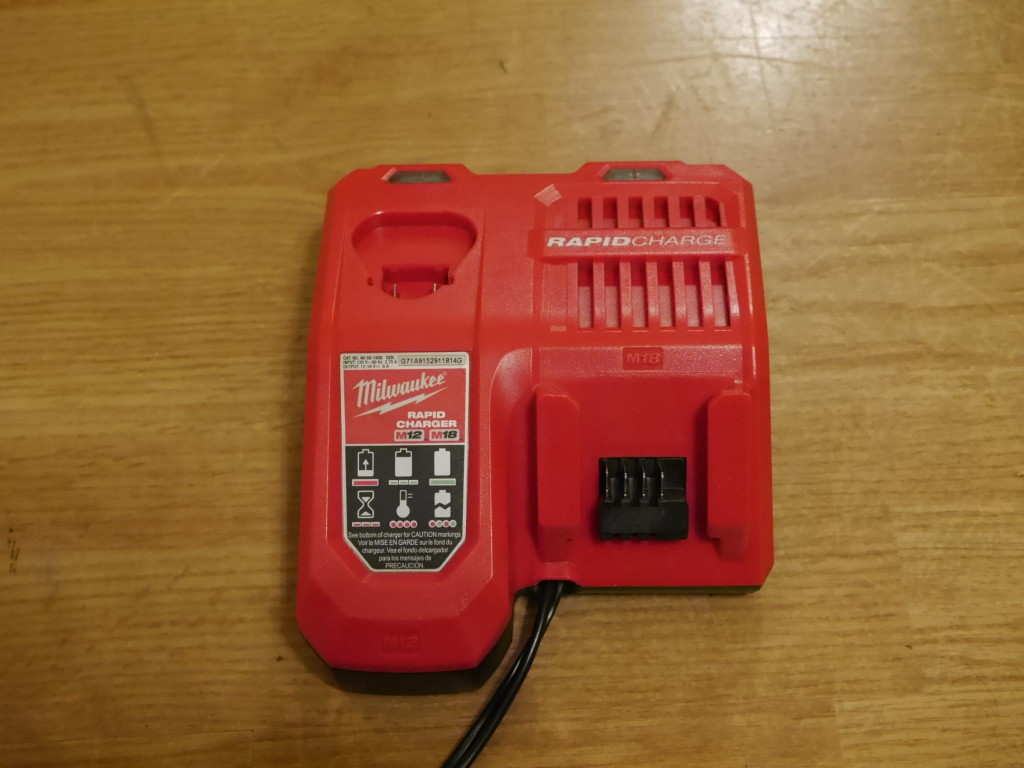 Earlier this year I got to try out the new Milwaukee Rapid Charge Station 48-59-1807 which brought about some huge advancements such as the ability to charge 6 batteries (3 at a time), could charge M18 and M12 batteries, and charge each battery up to 40% faster. I was impressed at how it could charge individual batteries faster and thought to myself, wouldn't it be awesome if Milwaukee made the current dual voltage charger with the same rapid charge ability of the Rapid Charge station? Luckily my dreams at the time came true and here we have the newest Milwaukee charger, the Milwaukee Rapid Charger 48-59-1808.
The biggest selling point of this new charger is that just like the Rapid Charge Station, it too can charge individual batteries up to 40% faster. Also, just like the dual voltage charger included in M18 power tool kits, this new charger can charge one M18 battery and one M12 battery so you can charge 2 batteries on one charger. Although just like the regular dual voltage charger, it won't charge both batteries at the same time. The way it works, is the first battery in gets charged first while the other battery waits it's turn.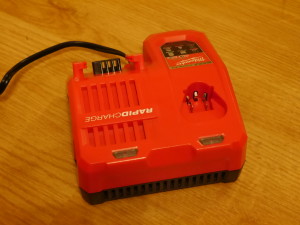 At a quick glance it looks almost identical to the original M18/M12 dual voltage charger but a closer look reveals the entire unit has received a face lift making it a bit more modern while keeping the same overall shape and function of the previous model. It works exactly the same as well and they didn't change the way the LED indicator lights function and keep the same red light to signal charging, green means it's done, and flashing red means the battery is waiting it's turn to be charged. The latest addition to this charger comes from the Rapid Charge Station with a blinking green light to let you know you have reached at least 80% charge on the battery. This is to tell you that the battery is almost done and you can remove the battery with the assurance that you have plenty of juice charged into the battery to get work done if you don't have the time to wait for a full 100% charge. One thing that didn't make it's way over from the Rapid Charge Station, is the pass through plug so this will take one socket in your power outlet without making room for a new one.
This review would be finished right here BUT I went a little further and actually charged a few batteries to see what sort of charge time improvements we're looking at to see if it's charge times are as good as the Rapid Charge Station or not. I ran the same test as I did with the Rapid Charge Station, although now I have 2 new batteries to test out, an M18 2.0 and M18 XC 3.0 which I didn't have on hand before. And because the charge times were consistent on the Rapid Charge Station, I only charged each battery once.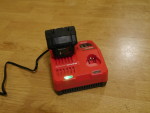 Charge times on this charger:
M18 2.0 = 34 minutes (24% faster vs 45 minutes*)
M18 XC 3.0 = 51 minutes (15% faster vs 1 hour*)
M18 XC 4.0 = 1 hour 3 minutes (30% faster vs 1 hour 30 minutes*)
M18 XC 5.0 = 55 minutes (47% faster vs 1 hour 45 minutes*)
M12 1.5 = 20 minutes (33% faster vs 30 minutes*)
M12 2.0 = 34 minutes (24% faster vs 45 minutes*)
M12 XC 4.0 = 54 minutes (40% faster vs 1 hour 30 minutes*)
Charge times on the Rapid Charge Station for comparison purposes
M18 XC 5.0 = 56 minutes (46% faster*)
M18 XC 4.0 = 1 hour 6 minutes (26% faster*)
M12 1.5 = 23 minutes (23% faster*)
M12 2.0 = 28 minutes (37% faster*)
M12 XC 4.0 = 54 minutes (40% faster*)
Disclaimer * versus regular charge times on M18 or M12 chargers
We can see that this dual voltage Rapid Charger can charge batteries just as fast as the larger Rapid Charge Station. All batteries benefit from the faster charge times ranging anywhere from 15% faster all the way up to 47% faster charge times. Interesting to note that just like my Rapid Charge Station results, the new Rapid Charger can charge M18 XC 5.0 batteries faster than the claimed up to 40% charge time from Milwaukee as I got 47% faster charge time with that battery. It's a 1% increase in charge speed over the Rapid Charge Station which really equates to one minute faster but it could be due to the battery being newer, and also dependent on remaining charge when depleted. In all honesty, before charging I made sure to fully deplete each battery until they were unable to operate.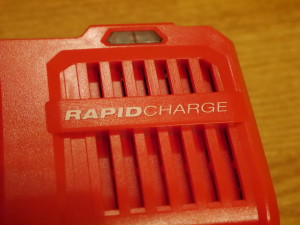 The reason the M18 XC 5.0 batteries charge much quicker than the others is because they are Rapid Charge compatible meaning the battery packs are optimized to charge faster when charged with a Rapid Charger. Rapid Charge compatible batteries have a lightning bolt symbol on the top of the pack near the terminals and at the moment, the only one I'm aware of having the lightning bolt symbol are the M18 XC 5.0 batteries.
So in conclusion, all batteries benefit from this new charger's faster charge capabilities and it's form factor and functionality is similar to that of the current regular charge speed dual voltage charger, except that it charges faster and now lets you know when your batteries are atleast 80% charged. At the moment it's not being packaged with M18 power tool kits so it doesn't appear to be replacing the current regular speed dual voltage charger and sits above that current charger in the Milwaukee charging ladder. It can only be bought separately at the moment and is priced at $79 which is a fair $20 more than the current dual voltage charger and much more affordable than the prized Rapid Charge Station.