Last year in October, Milwaukee announced their new MX Fuel power equipment lineup. The Milwaukee MX Fuel 14″ Cut Off Saw MXF314-1XC was one of those tools and Milwaukee is officially launching it. Though a cordless power tool, it's running a full size 14″ blade and with a massive 5″ cut depth. It launches May 2020 for $1999. Check out the full press release below for all the deets.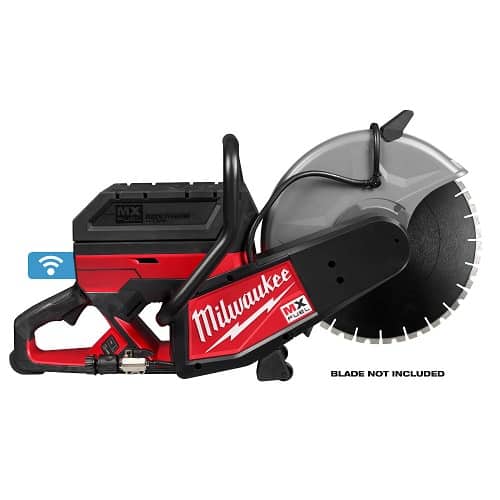 MILWAUKEE, WI- Milwaukee Tool provides the best 14" Cut-Off saw experience in the industry, and the first battery-powered solution of its kind with the introduction of the MX FUEL™ 14" Cut-Off Saw. Part of the new MX FUEL™ Equipment System*, the new saw shatters pre-conceived notions and will disrupt the light equipment market with a full 14" blade capacity, the fastest cuts from start to finish and no gas headaches, allowing users to work safer and be more productive.
"When we started looking at user frustrations on the jobsite that were beyond power tools, some of the biggest issues were around gas products – the starting, mixing gas and oil, engine maintenance, noise, the vibration – just a complete pain!" said Brian Alves, Group Product Manager for Milwaukee Tool. "And in trades like mechanical, electrical, plumbing and remodeling, when you are reaching for a Cut-Off saw, it is because you need it in a pinch…you need to cut open a slab or cut a pipe and keep moving…you don't want to mess around with getting the tool started, killing productivity in the process."
With a push button activation, users can start the MX FUEL™ 14" Cut Off Saw in seconds, getting up and running faster than ever before by eliminating the repetitive motions of pull starts. With the same cut speed as the leading 2-cycle gas saw and a full 14" blade capacity you can cut more in a single pass and there is no sacrifice of performance or capability.
With up to 50% less noise and reduced vibration for a smoother cut, the battery powered equipment also eliminates emission concerns and is safe to use both indoors and outdoors.
As an added benefit, ONE-KEY™,** provides the ability to track the saw with community tracking and alerts, complete inventory management, and industry leading smart-equipment technology to secure the user's investment.
Milwaukee Tool will remain unwavering in their commitment to delivering disruptive innovation by working alongside trade professionals to identify challenges and provide solutions that are unparalleled in enhancing jobsite safety and productivity. The future of the jobsite is cordless.
*The MX FUEL™ Equipment System: This groundbreaking cordless system revolutionizes the light equipment market by delivering the performance, run-time, and durability demanded by the trades without the hazards associated with emissions, noise, vibration, and the frustrations of gas maintenance. Each of the solutions on the MX FUEL™ System go beyond the limitations of gasoline and power-cord units and operate off one completely compatible system all on the same battery. This is Equipment Redefined.
**ONE-KEY™ is the first digital platform for tools and equipment. By integrating industry-leading tool electronics with a custom-built cloud-based program, ONE-KEY™ provides a new level of control and access to information that revolutionizes the way work gets done. The ability to customize, track, and manage through ONE-KEY™ fundamentally changes the way users interact with their tools.
Battery Type: Lithium-Ion
Battery System: MX FUEL™
Blade Diameter: 14"
Cut Depth: 5"
RPMS: 5350
Blade Arbor Size: 1"/20mm
Length: 31.73"
Width: 12"
Height: 13.93"
Weight with XC Battery: 32 lbs
Equipment Warranty: 2 Year
Battery Warranty: 2 Year
Push Button Activation: Yes
One- Key Compatible: Yes
Kit Includes: (1) Contractor Bag;  (1) Hex Key; (1) MX FUEL™ 14″ CUT-OFF SAW; (1) MX FUEL™ REDLITHIUM™ XC406 BATTERY PACK (MXFXC406); (1) Quick Connect Collar; (1) Blade Wrench; (1) MX FUEL™ CHARGER (MXFC)
*Cut-Off Saw Cart (3100) also available. MSRP is $999



DISCLOSURE:
Tool Craze does not sell this product or any product on the Tool Craze website. Tool Craze does not handle the sale of any item in any way. If you purchase something through a link on the Tool Craze site, Tool Craze may get a small share of the sale. Please refer to the About section for more info.