Last year 2019 Milwaukee announced it's new MX Fuel cordless equipment lineup and one of those tools as part of the line is the Milwaukee MX Fuel Breaker MXF368-1XC. Milwaukee has now officially announced it's launch scheduled for May 2020. Check out the full press release below for all the deets.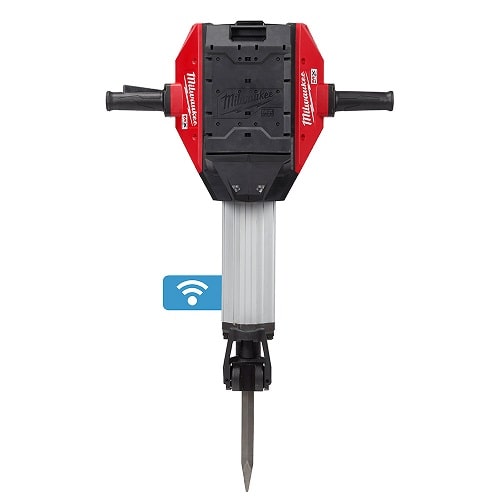 MILWAUKEE, WI- Milwaukee Tool delivers a faster, safer, easier demolition experience with the MX FUEL™ Breaker.   Part of the new MX FUEL™ Equipment System*, the breaker is the first battery-powered solution of its kind.  Providing maximum productivity, it has the lowest vibration and is lightest in its class – all while breaking over 2 tons per charge.
"No one looks forward to breaking concrete…it is one of those applications that is hard on your body, trips breakers, and is an overall headache," said Kevin Gee, Group Product Manager for Milwaukee Tool. "We set out to develop a solution and pushed cordless technology to new limits in the process. The MX FUEL Breaker is not only safer and easier to use than any corded option on the market, but also has a 35% faster demolition rate!"
With 50 ft/lbs of Impact Energy and 4.9M/s2 measured vibration, the new MX FUEL™ Breaker is up to 30% harder hitting and generates 70% lower vibration than its corded counterparts. At 63.9 lbs, it is also the lightest breaker in its class and features an ergonomic front handle making it easier to maneuver and transport throughout the jobsite.
Capable of breaking 2 tons per charge, the MX FUEL™ Breaker delivers the run-time to complete demanding applications such as breaking a trench that is 40' long, 12" wide, and 6" deep.
As an added benefit, ONE-KEY™,** provides the ability to track the breaker with community tracking and alerts, complete inventory management, and industry leading smart-equipment technology to secure the user's investment.
Milwaukee Tool will remain unwavering in their commitment to delivering disruptive innovation by working alongside trade professionals to identify challenges and provide solutions that are unparalleled in enhancing jobsite safety and productivity. The future of the jobsite is cordless.
MX FUEL™ Breaker (MXF368-1XC)
Battery Type: Lithium-Ion
Battery System: MX FUEL™
Chuck Size: 1-1/8" HEX
Impact Energy Ft per Lbs: 50 ft/lb
Blows Per Minute: 1,300
Vibration: 4.9 m/s2
Weight: 63.9 lbs
Length: 32.2"
Width: 25.1"
Height: 11.6"
Equipment Warranty: 2 Year
Battery Warranty: 2 Year
Soft Start: Yes
Push Button Activation: Yes
One- Key Compatible: Yes
Kit Includes: (1) Cart; (3) Chisels; (1) MX FUEL™ Breaker; (1) MX FUEL™ REDLITHIUM™ XC406 BATTERY PACK (MXFXC406); (1) MX FUEL™ CHARGER (MXFC)
Breaker Cart also available (3600) – $199



DISCLOSURE:
Tool Craze does not sell this product or any product on the Tool Craze website. Tool Craze does not handle the sale of any item in any way. If you purchase something through a link on the Tool Craze site, Tool Craze may get a small share of the sale. Please refer to the About section for more info.