It was 2019 last year when Milwaukee announced their new high voltage MX Fuel power equipment lineup. One of those new tools was the Milwaukee MX Fuel Handheld Core Drill MXF301-1CP MXF301-2CXS and it has now been officially announced by Milwaukee. It will launch this month May 2020. Check out the full press release below for all the deets.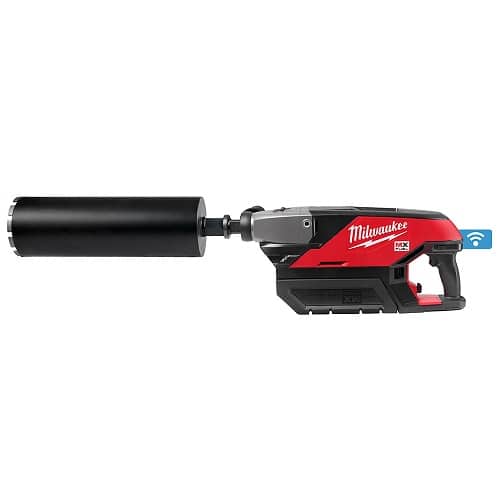 MILWAUKEE, WI- Milwaukee Tool delivers a new solution that allows users to core with more confidence with the MX FUEL™ Handheld Core Drill.   Part of the new MX FUEL™ Equipment System*, the new product delivers a safer handheld coring experience and the power to core up to 6" holes in reinforced concrete. The first battery-powered solution of its kind can be used without a nearby power source, making it the easiest coring solution anywhere without the hassle of extension cords and tripping circuit breakers.
"Drilling holes with a core drill is not something pros look forward to…many people we talked to knew someone that experienced kick back in a bind up or had put too much pressure on the tool causing the circuit breaker to trip," said Brian Alves, Group Product Manager for Milwaukee Tool. "We set out to eliminate those frustrations, delivering a solution that was not only safe and hassle free, but had the power to get the job done."
A patented clutch and AUTOSTOP™ technology deliver a safer coring experience. They provide the user with maximum control and reduce kick back during bind up situations.
With the power to core 6" holes in reinforced concrete, one of the most challenging applications, this battery-powered solution does not sacrifice capability. The time that was once spent looking for a power source or resetting circuit breakers, is now spent finishing the first hole and moving on to the next.
Designed to maximize productivity, features like the performance gauge guides users on the optimized drilling speed so they can drill faster, while the LED level helps them maintain accuracy throughout the application. Whether Handheld (MXF301-1CP) or Stand Mounted (MXF301-2CXS), the MX FUEL™ Handheld Core Drill is versatile enough for any job and is the easiest coring solution anywhere.
As an added benefit, ONE-KEY™,** provides the ability to track the saw  drill with community tracking and alerts, complete inventory management, and industry leading smart-equipment technology to secure the user's investment.
Milwaukee Tool will remain unwavering in their commitment to delivering disruptive innovation by working alongside trade professionals to identify challenges and provide solutions that are unparalleled in enhancing jobsite safety and productivity. The future of the jobsite is cordless.
*The MX FUEL™ Equipment System: This groundbreaking cordless system revolutionizes the light equipment market by delivering the performance, run-time, and durability demanded by the trades without the hazards associated with emissions, noise, vibration, and the frustrations of gas maintenance. Each of the solutions on the MX FUEL™ System go beyond the limitations of gasoline and power-cord units and operate off one completely compatible system all on the same battery. This is Equipment Redefined.
**ONE-KEY™ is the first digital platform for tools and equipment. By integrating industry-leading tool electronics with a custom-built cloud-based program, ONE-KEY™ provides a new level of control and access to information that revolutionizes the way work gets done. The ability to customize, track, and manage through ONE-KEY™ fundamentally changes the way users interact with their tools.
Battery Type: Lithium-Ion
Battery System: MX FUEL™
Bit Capacity: 6"
Spindle Sizes: 1-¼"-7 and 5/8″-11 adapter
RPMS Low/High: 790/1550
Wet Dry: Yes
Length: 21.58"
Width: 4.80"
Height: 9.29"
Weight with CP Battery: 21.58 lbs
Equipment Warranty: 2 Year
Battery Warranty: 2 Year
Push Button Activation: Yes
One- Key Compatible: Yes
Kit Includes: (1) MX FUEL™ HANDHELD CORE DRILL; (1) MX FUEL™ REDLITHIUM™ CP203 BATTERY PACK (MXFCP203); (1) MX FUEL™ CHARGER (MXFC); (1) Hard Case with Wheels; (1) Quick Connect Collar; (1) 5/8″-11 Bit Adapter; (1) Trigger Lock-On
ALSO AVAILABLE IN KIT WITH STAND: MXF301-2CXS ($3,999)
STAND SOLD SEPARATELY: 3000 ($1,499)



DISCLOSURE:
Tool Craze does not sell this product or any product on the Tool Craze website. Tool Craze does not handle the sale of any item in any way. If you purchase something through a link on the Tool Craze site, Tool Craze may get a small share of the sale. Please refer to the About section for more info.