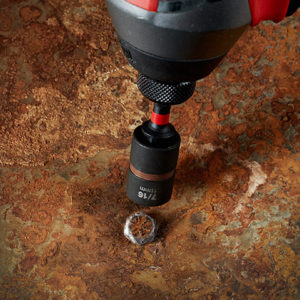 When sockets and wrenches can't remove bolts and screws that are stuck, rounded over, rusted, painted on, stripped, or damaged, professional tradesmen turn to extractor sets. Extractors are commonly used with a variety of tools including impact wrenches, impact drivers, ratchets, and breaker bars. Milwaukee Tool is proud to announce that they now offer a new SHOCKWAVE Impact Extractor Set!
Available: October 2017
MSRP: $24.99
Press Release:
Milwaukee® Introduces the SHOCKWAVE™ Impact Extractor Set
09/01/2017
MILWAUKEE, WI – Milwaukee Tool demonstrates its continued commitment to delivering productivity-enhancing accessory solutions with the introduction of the new SHOCKWAVE™ Impact Extractor Set (48-32-8000).
For a superior grip to remove damaged, stuck, or corroded fasteners the Milwaukee® SHOCKWAVE™ Impact Duty™ Extractors are engineered with an optimized geometry made from thick, hardened alloy steel that is reverse-threaded and tapered.
Unique to the SHOCKWAVE™ Impact Extractor Set are laser-etched and color-coded bands so users can more easily organize and identify the size they need for the job at hand. For added utility, the new Extractor Set comes in a flexible plastic holder which prevents against any pieces getting lost in storage bags, totes, or carts.
Included with the set are (5) Impact Duty™ extractors for fastener heads 1/4″ to 1/2" that accept 3/8" square drive tools as well as a 1/4″ to 3/8" SHOCKWAVE™ square socket adapter with up to 30X life for use in quick change impact drivers.
With its user-driven focus, Milwaukee Tool demonstrates its continued commitment to delivering innovative accessory solutions to save time and increase productivity on the jobsite. Visit www.milwaukeetool.com for full listing of new SHOCKWAVE™ accessories.
About Milwaukee Tool
Since the company began in 1924, Milwaukee Tool has led the industry in both durability and performance by providing the best in professional, heavy-duty tools and accessories. With an unwavering commitment to the trades, Milwaukee continues to lead with a focus on providing innovative, trade-specific solutions.  Whether it is through their leadership in LITHIUM-ION technology, as seen in the M12™, M18™ & M28™ Systems, time-saving accessories or innovative hand tool products,  Milwaukee is dedicated to delivering a steady stream of advanced solutions for the trades that offer increased productivity and unmatched durability. Milwaukee Tool is a Brookfield, Wisconsin-based subsidiary of Techtronic Industries Co. Ltd. (TTI) (HKEx stock code: 669, ADR symbol: TTNDY). For more information on the full line of Milwaukee® products, please call 1-800-SAWDUST or visit www.milwaukeetool.com.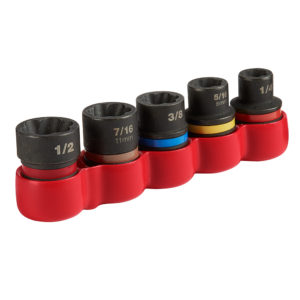 DISCLOSURE:
Tool Craze does not sell this product or any product on the Tool Craze website. Tool Craze does not handle the sale of any item in any way. If you purchase something through a post on the Tool Craze site, Tool Craze may get a small share of the sale. Please refer to the About section for more info.