New AEG / Ridgid 18V Brushless SDS+ Rotary Hammers have been spotted by readers Glenn and Milan Sláma.
Full disclosure: This is not a review, this is tool news. Tool Craze cannot guarantee the accuracy of the information/specifications/features of any tool listed in this article. Manufacturer marketing claims may not always meet expectations. Tool Craze is not responsible if products do not live up to claimed expectations. Please do your full research before buying any products. Tool Craze is an Amazon Associate and places paid links including those from other retailers that Tool Craze is an affiliate partner with. If you purchase something through a link on the Tool Craze site, Tool Craze may get a small share of the sale.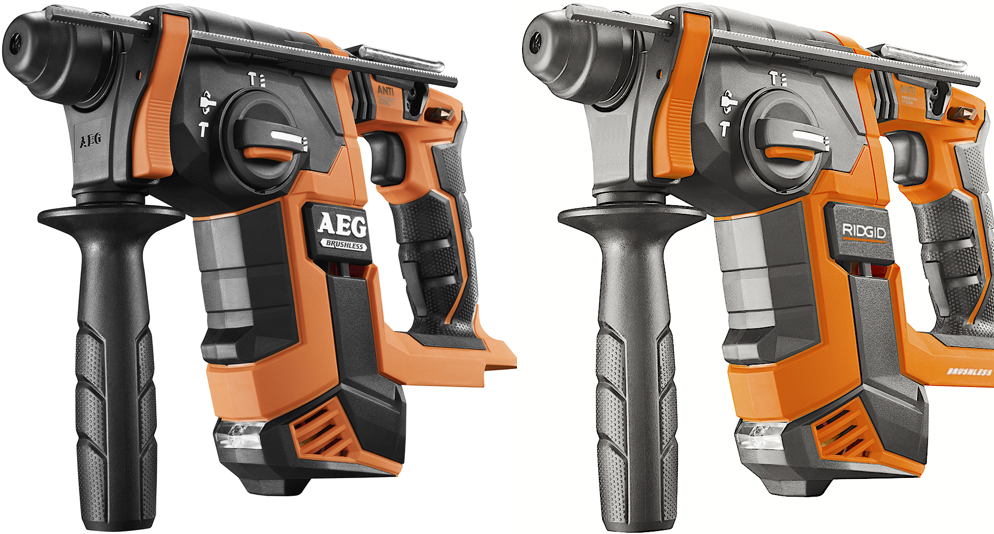 In the above pic we can see both new models from AEG and Ridgid. As you can see, both models share the same dna but have a slightly different color scheme with a darker gray on the AEG while the Ridgid has a more vibrant orange. Except for the spot where both have the brushless lettering, they are basically identical. If you didn't know already, Ridgid and AEG are basically the same, just different names in different parts of the world.
They're both brushless which is a step up from the current 7/8″ inch brushed 18V model currently on the market. It seems like many of the features from the previous model made their way to the new brushless model like the 4 mode dial, the side handle, and even the anti vibration handle suspension. What's new is an LED at the base of the tool and a rafter hook at the top rear of the tool. The new model also has user protection in case of bit jams however the brushless model uses an electronic safety clutch to protect the user.
Many specs are available from the AEG website although they don't mention the rated capacity. The previous brushed model is rated for 7/8″ and if I had to guess, I'd say the new brushless model will probably be rated for 1″. I have nothing concrete to back this up, but the usual trend is to push performance when updating tools with brushless motors.
SPECIFICATIONS (AEG Model)
| | |
| --- | --- |
| Voltage | 18V |
| Impact rate | 4800bpm |
| Tool reception | SDS+ |
| | |
| --- | --- |
| No-load speed | 0-1400/min |
| Impact energy | 2.5J |
| Weight | 2.6kg |

DISCLOSURE:
Tool Craze does not sell this product or any product on the Tool Craze website. Tool Craze does not handle the sale of any item in any way. If you purchase something through a post on the Tool Craze site, Tool Craze may get a small share of the sale. Please refer to the About section for more info.