There's a new picture floating around the net of a new Makita 40V Max battery with the XGT designation!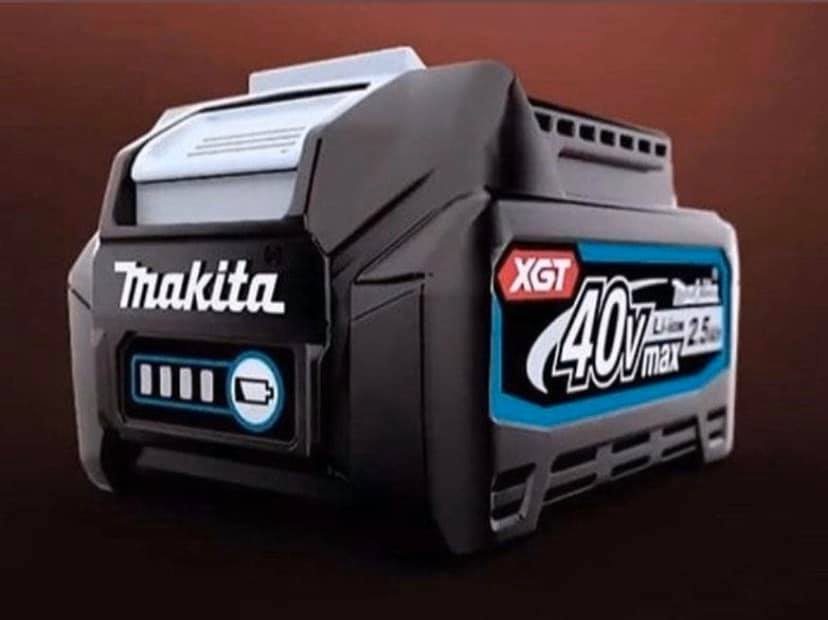 This is big news as there are currently no Makita 40V Max cordless tools at the moment so we can expect a totally new line of tools to fit the new 40V Max battery. Thanks to Glenn, we also found out that there are a total of 10 new Makita XGT 40V Max cordless power tools to go along with the new platform. These new 40V tools include a drill DF001G, hammer drill HP001G, impact driver TD001G, 28mm (1.1″) rotary hammer HR001G, 165mm (6.5″) circular saw HS001G and HS002G, 165mm (6.5″) sliding miter saw LS001G, 100mm (4″) angle grinder GA001G, 125mm (5″) angle grinder GA002G and reciprocating saw JR001G.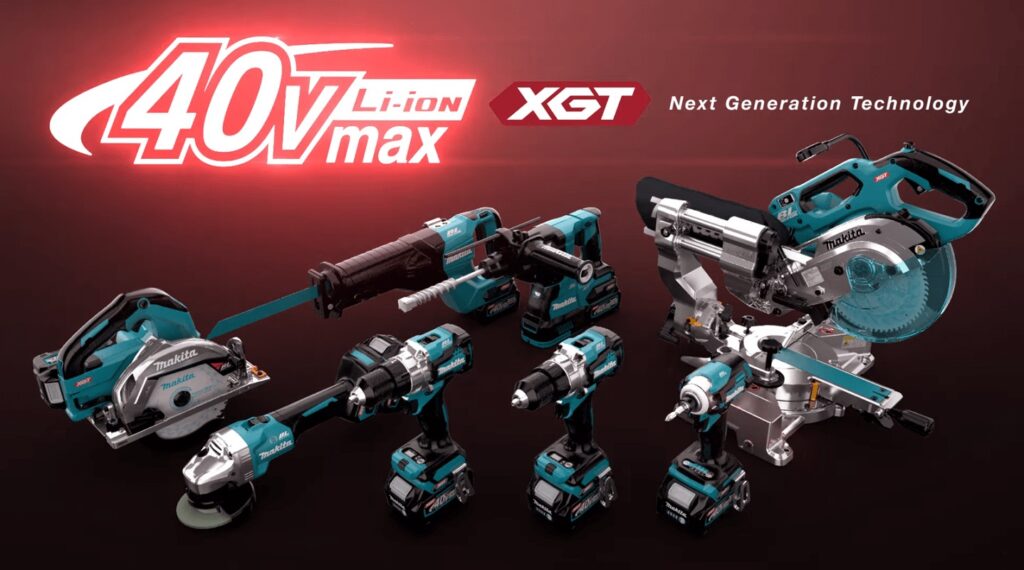 The new Makita 40V XGT lineup looks very similar to their current LXT 18V lineup with very similar looking tools. One thing that's odd is that when I think of cordless power tools that run on a higher voltage than 18V, I expect them to perform better and this is usually evident with larger performance capacities. You can clearly see more powerful tools in the Makita cordless lineup when you compare an X2 36V power tool to their regular LXT 18V power tools as the X2 power tools are always more powerful than their 18V counterparts. That isn't the case with the Makita 40V XGT lineup, at least not all of the new 40V tools have better capacities than their standard 18V tools. For example, their 40V circular saws and miter saw use 6.5″ blades, which is something you would find on a lower spec'd midrange 18V power tool. Makita's 40V angle grinders come in 4 and 5 inch models, however these are a dime a dozen in any 18 volt system, including Makita's 18V system. While all the new Makita 40V tools look great on their own, they don't appear to be designed to outperform their current 18V models which is a shame as I wouldn't expect Makita's new higher voltage lineup to match performance capacities of their current mid range 18 volt tools, I would expect them to exceed them. Such a missed opportunity unfortunately. Compare that to Metabo HPT's (Hitachi) efforts with their higher voltage multivolt tools which also run on a 10 cell 36V/40V battery pack which are actually leaps and bounds higher performance than their regular 18 volt tools. Too bad Makita didn't do the same.
The new battery looks to be a 10 cell battery pack roughly about the size of a Makita 18V 3.0 – 6.0 battery pack just how Metabo HPT (Hitachi) did with their new Multi-volt batteries however the Makita 40V battery appears to be only a single 40V voltage. Don't expect it to work on LXT 18V tools.
The new Makita 40V battery pack appears to be slightly larger than Makita's 18V 10 cell battery packs which leads me to believe they might finally be putting the spiffy new 21700 cells that are said to offer better battery performance (heat dissipation, runtime, power output). However the first Makita 40V XGT battery is 2.5 ah which is nothing to brag about. It could possibly still be using the same exact cells found in the current Makita 18V 5.0ah batteries and possibly with more spacing for better heat dissipation. I also like that they placed the fuel gauge on the front of the battery instead of the back which means that no matter which direction the battery is placed in the tool, you'll always have easy access to the fuel gauge.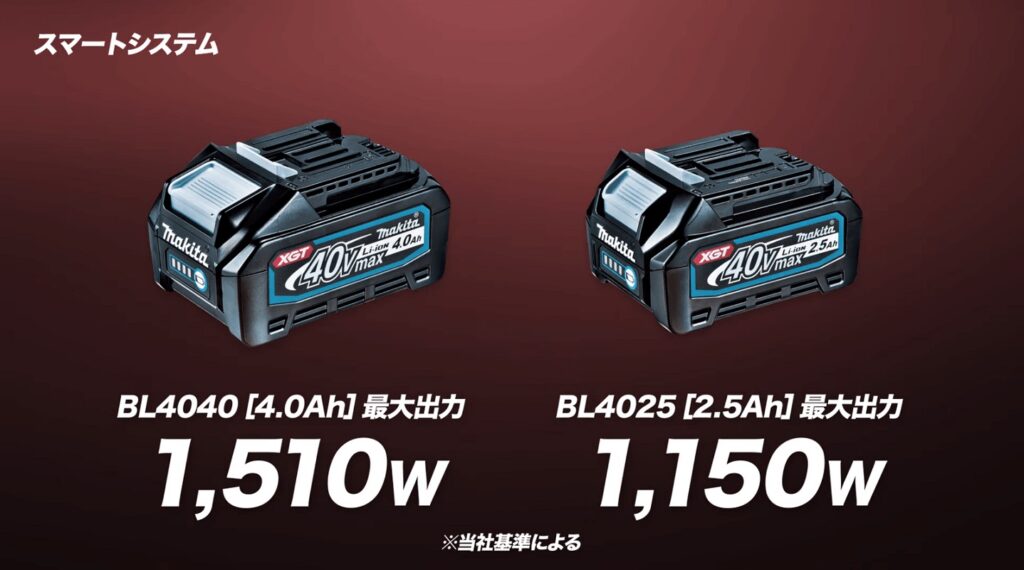 The biggest drawback to the design of the battery, is that probably the largest capacity battery pack you'll see for a good while will be the 4.0 ah at 40v. Thanks to Glenn, we also found out that in addition to the 40V 2.5 ah battery, they also have a 40V 4.0 ah battery pack as well. Also interesting to note is that the 4.0 ah battery pack is larger than the 2.5 ah battery pack which leads me to believe that the 2.5 ah battery pack is still probably using the same exact 18600 cells (or similar) found in the Makita 18V 5.0 ah batteries, while the 40V 4.0 ah battery pack might be using the larger 21700 cells, hence the larger physical size.
To make anything better than 4.0 ah at 40V using current cell tech means that they will have to double the amount of cells at 20 cells to be able to get 8.0 ah or larger at 40 volts which would be a ridiculously tall battery pack that wouldn't be practical and wouldn't make any sense.
Personally I think that Makita should have stayed with the 18V battery system and instead developed 15 cell battery packs so we could see 9.0 and 12.0 battery packs like we've seen on Milwaukee, Bosch and Dewalt. Dual 18V 12.0 ah batteries in a Makita X2 power tool would be a force to be reckoned with! But seeing as how a 15 cell battery pack would require not only a taller battery pack but also wider as well and many X2 power tools only have enough spacing for regular battery packs, a 15 cell battery pack wouldn't work on these. However I've heard that some newer X2 power tools are being designed with bigger spacing to accommodate larger future battery packs.
Last thing I wanted to mention is that a 40V max battery pack is really just another fancy marketing term for 36 volts. Makita already has 36V tools under their X2 line which uses two 18V batteries to pump out 36 volts however two separate battery packs make some tools a bit bulkier than needed. My guess is that is one of the main reasons Makita is deciding to go 40V with a single battery pack to keep the bulk and weight down to a minimum and develop new 40V tools that shouldn't be any larger than their 18V counterparts.
A big thanks to Hector Toledo for spotting and Glenn for the additional info!


Free 2 day shipping – Try Amazon Prime 30-Day Free Trial

DISCLOSURE:
Tool Craze does not sell this product or any product on the Tool Craze website. Tool Craze does not handle the sale of any item in any way. If you purchase something through a post on the Tool Craze site, Tool Craze may get a small share of the sale. Please refer to the About section for more info.