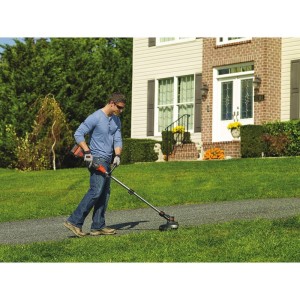 When I think of brushless motors I can think of a few power tool companies that offer brushless tools and if you had asked me a week ago if Black & Decker had any, I would have said no. They now offer a 40V Max brushless string trimmer. This isn't their first entry into outdoor power equipment and they have been in the business making electric corded and cordless outdoor power tools for many years now.
The Brushless 40V Max string trimmer has a 13″ cutting swath and uses a single line to cut. Line is fed automatically with an automatic feed system. It comes included with 0.80″ line and has a variable speed trigger to help you control power or runtime. It weighs a light 7.5 lbs and makes it easy to use as an edger with a built in metal bracket on the opposite side of the guard that you can use to slide the trimmer over a walkway or driveway to facilitate edging and the string trimmer makes it easier to edge with a rotating handle for a more comfortable position. The pole itself is telescoping so you can choose the length that fits you best. It includes the 40V Max brushless string trimmer, 1 high performance lithium ion battery although it doesn't list the amp hour capacity, and fast charger although it doesn't list how long the battery takes to charger.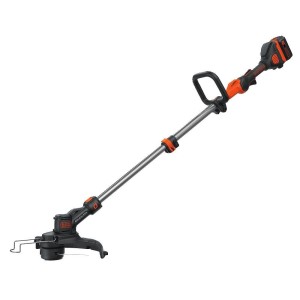 String Trimmer Specs
CUTTING SWATH 13 in
FEED SYSTEM AFS
LINE DIAMETER 0.080 in
POWER SOURCE Lithium Ion Battery
REPLACEMENT ACCESSORIES SF-080
RPM 0-7200 rpm
VOLTAGE 40 V
WEIGHT 7.4 lbs

Black and Decker also came out with a new larger capacity 40V mower. This new model ISN'T brushless and now offers a 20″ cutting deck and features autosense technology. I remember autosense technology on the Black + Decker autosense 18v drill that I reviewed last year which had a fully automatic clutch. This isn't a drill obviously, although the reference to autosense is there, it isn't described as to how it works on this mower. The cutting deck is rather large for a cordless mower, especially at this voltage and is up from the previous 40V model with a 16″ deck. The 20″ deck is said to cut up to the edge and they call this feature "EdgeMax". It's a 3 in 1 mower meaning it can mulch, side discharge, or bag pickup and includes a 15 gallon nylon bag that allows you to check fill levels. It has 6 height cut adjustments from 1-1/2″ – 4″. This new model has a variable speed motor and includes two 2.5 ah batteries and are said to offer 30-45 minute runtime. I'm assuming that is the combined runtime of both batteries while running on the lowest setting. The full charging time is not disclosed although it is said to have a 60% charge in 2 hours.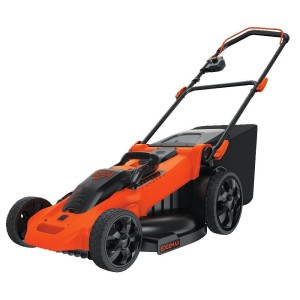 20″ Mower Specs
CHARGE TIME AT 60% 2 hrs
CUTTING HEIGHTS 1 1/2- 4 in
CUTTING PATH 20 in
HEIGHT ADJUSTMENT Yes
MULCHING CAPABILITY Yes
POWER SOURCE Battery
VOLTAGE 40V Max*
WEIGHT 43.5 lbs