A few new Hitachi products have been spotted over in Australia with a new corded brushless 1/2″ impact wrench WR16SE(H1), cordless 18V brushless portable band saw CB18DBL(H4), and 2 new cordless 18V brushless  circular saws 5″ C18DBL(H4) & 6.5″ C18DBAL. As always with tools spotted overseas, no word is known when or if these will ever arrive here in the USA.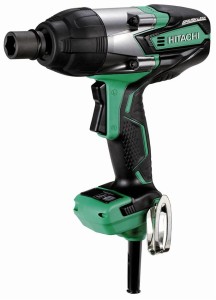 We'll start off with the new 1/2″ impact wrench WR16SE(H1). Many cordless tools are going and have gone brushless and is nothing new in the tool but what's interesting about this new 1/2″ impact wrench is that it's brushless and it's a corded model. At the moment,  brushless cordless power tools are all the rage but corded power tools usually don't come to mind when you think of brushless power tools. The thing that makes brushless power tools so special is that one thing the motors are more efficient and sip less energy than a traditional brushed motor. This efficiency is much needed in cordless power tools since battery tech is still limited when it comes to high draw power tools. A corded power tool doesn't need to sip power since it has unlimited power on tap but a corded power tool does benefit from the added lifespan of the motor since the wear and tear of carbon brush friction is gone. Power users will definitely benefit from the added lifespan. As for its performance stats, it has 360Nm of power which translates to roughly 265.5 ft lbs of max torque. It's torque output isn't the best I've seen and slightly below the average 300-400 ft lbs and well behind high performance models that are 700+ ft lbs.
This model also features 3 speeds – low, medium, and high that regulate torque, RPM, and IPM. Features an integrated belt hook, a large rocker switch, and overload protection. This model will fit users that don't need extreme power, want to forego pneumatic and cordless systems, and will be using an impact wrench day in and day out.
1/2″ Impact Wrench WR16SE(H1) Specifications:
370 watt brushless motor
360Nm (265.5 ft lbs) of max torque
No Load Speed: 1,100, 1,300, 1,400 & 1,600 (RPM)
Impact Rate: 1,300, 1,500, 1,700 & 1,900 (IPM)
Weight 2.5kg
Length: 228mm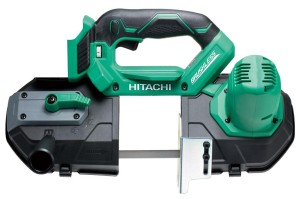 Next on the list is a new 18V brushless portable band saw. Not the largest band saw by any means with an 83mm capacity (3.26 inch) making it somewhat compact and lightweight. Besides the brushless motor it is very feature packed with a soft start feature, battery fuel gauge on tool, integrated LED light, variable speed dial, and an auto mode. The auto mode starts the saw in low speed and adjusts the cutting speed higher as needed depending on the material. This sounds like a fancy way of conserving batter power by using additional power when needed. With high draw cordless power tools such as this one, we need all the power savings we can get on top of brushless motors to maximize battery runtime.
18V brushless portable band saw CB18DBL(H4) Specifications:
Cutting Capacity: 83mm
No Load Speed: Standard mode (1-5) 80 – 195m/min / Auto mode (A) 120 – 195m/min
Blade: (L x W x T) 900 x 12.5 x 0.5
Weight: (with BSL1850) 3.6kg
Dimensions (L x W x H): 413mm x 173mm x 266mm
Battery Type: Compatible with all Hitachi 18V Slide batteries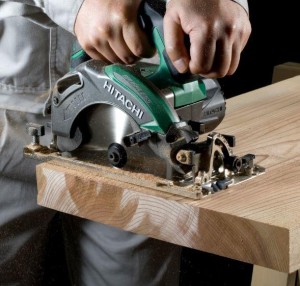 Last but not least on the list are Hitachi's new cordless 18V brushless circular saws. They came out with a 6.5″ and a 5″ compact model. The 6.5″ model is fashioned after current 6.5″ cordless circular saws and the 5″ model looks to fit into the compact cordless circular saw segment with a small lighter circular saw. Besides the size and weight factors, they're both similarly feature packed. Aside from the brushless motor, they feature 2 mode power that switches automatically. Both models start in what Hitachi calls "silent" mode in which RPM is reduced to keep the tool "silent" when cutting and when the motor needs more torque to finish the job, will switch to "power" mode which I assume means full power. Makita has done something similar to this with their cordless brushless saws and it helps conserve battery power thus extending runtime. Other features include twin LED lights, soft starting motors, electric brakes, overload protection, onboard hex key and onboard battery fuel gauge.
Cutting capacity is very good on both models with a large 2.59″ cut capacity on the 6.5″ model and 5″ model at 1.83 inches which can easily cut a 2×4 with a little bit extra. Both cutting capacities are larger than similar sized circular saws and what's extraordinary of the 6.5″ model is that it has a cutting capacity that exceeds some 7-1/4″ circular saws, that's a big feat! In other words, you're getting the cut capacity of a larger 7-1/4″ saw but with the smaller form factor of a 6.5″ circular saw.
Both using brushless motors, we should see better runtimes that similar brushed saws. I didn't notice any runtime claims for the 6.5″ model but the 5″ model is said to be able to make over 500 cuts from a single charge (Tested when using BSL1850 Cutting 70 x 35mm Radiata Pine which is smaller dimensional lumber than a 2×4).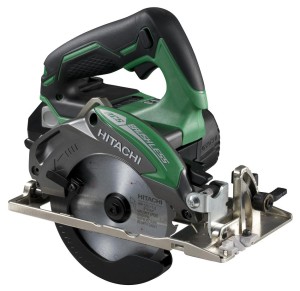 C18DBL(H4) – 18V Slide Brushless 125mm (5″)Circular Saw Specifications:
Capacity: 90° : 47mm (1.85″)/ 45° : 30mm (1.18″)
No Load Speed: Power: 5,000 (RPM) / Silent: 3,000 (RPM)
Blade: 125mm (5″- actually 4.92″)
Angle Cutting: 0 – 45°
Weight: 2.6Kg with BSL1850 Battery
Dimensions (L x W x H): 280mm x 168mm x 237mm (with BSL1850)
Battery Type: Compatible with all Hitachi 18V Slide batteries from 1.5Ah through to 5.0Ah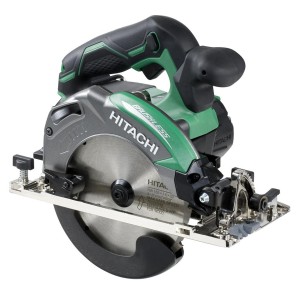 C18DBAL – 18V Slide Brushless 165mm (6.5″) Circular Saw Specifications:
Max. Cutting Depth: 90° : 66mm (2.59″)/ 45° : 45mm (1.77″)
No Load Speed: Power mode: 4,100 (RPM) / Silent mode: 2,500 (RPM)
Blade: 165mm (6.5″- actually 6.49″)
Angle Cutting: -5° to 45°
Weight: 3.2kg (with BSL1850 battery)
Dimensions (L x W x H): 294mm x 188mm x 255mm (with BSL1850)
Battery Type: Compatible with all Hitachi 18V Slide batteries