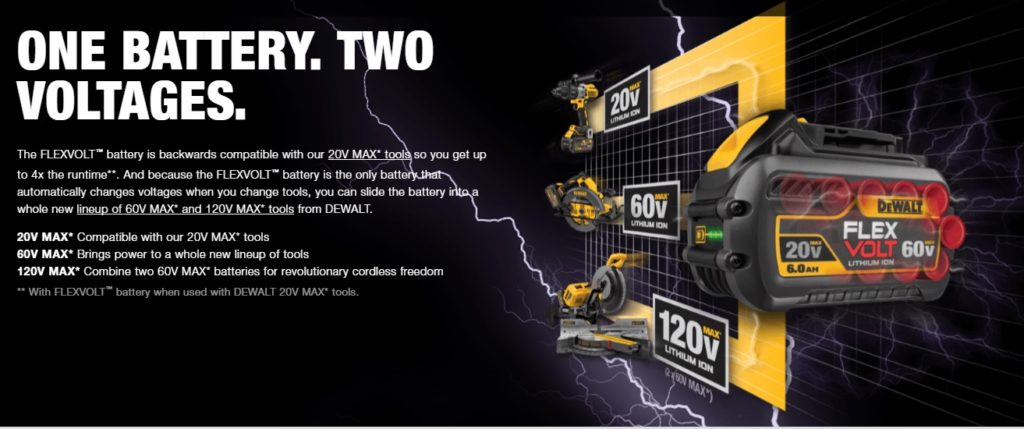 Along with the news of the new Dewalt dual voltage FLEXVOLT battery that can put out 60V Max or 20V Max when paired with existing Dewalt 20V max power tools, are 6 new Dewalt Flexvolt cordless power tools that take full advantage of the newly announced Flexvolt battery, (click here to learn more about the new Dewalt Flexvolt dual voltage battery). There will be a new cordless reciprocating saw, 7-1/4″ circular saw, 1/2″ stud and joist drill, 4-1/2″-6″ angle grinder, cordless 12″ sliding miter saw, and a cordless 8-1/4″ table saw. Actually not all of the new Flexvolt cordless power tools are 60V, and to make things more interesting, the new 12″ sliding miter saw is a 120V cordless power tool. Yes you heard right, this is a 120 Volt max power tool with a nominal voltage of 108 volts. And yes it still operates on the new Dewalt 60V Max Flexvolt batteries but this cordless power tool uses two Flexvolt batteries paired together to double their voltage to 120V Max (108 nominal voltage).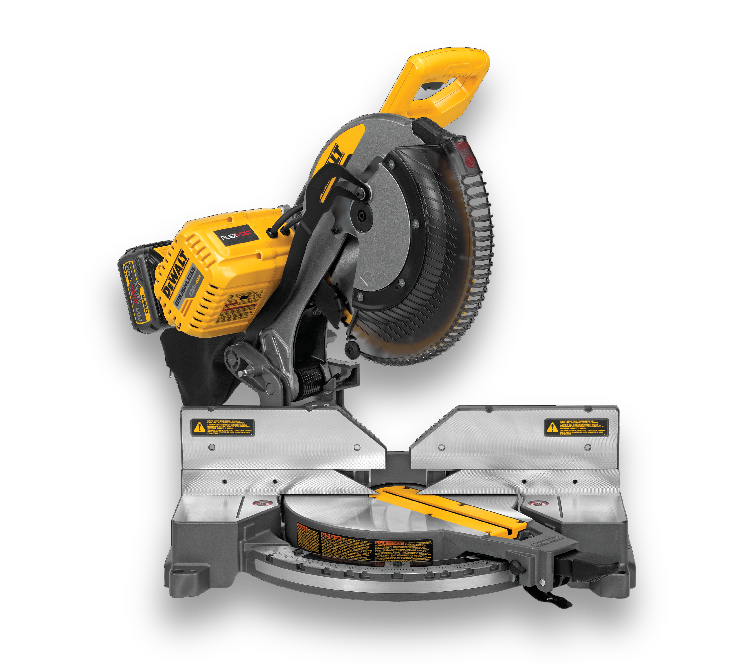 DEWALT DHS716AB Flexvolt 120V Max Fixed Miter Saw
The DEWALT DHS716AB flexible 120V max* fixed miter saw bare tool features flexvolt technology; this saw operates with the world's first battery that automatically changes voltage when you change tools. The flexible battery is backwards compatible with our 20V max* tools so you get up to 4X the runtime. (**With flexvolt 60V max* battery when used with DEWALT 20V max* tools). this is a bare tool item – battery sold separately. The miter saw Kit includes a 120V max* AC adapter that allows you to use as either corded or cordless power, delivering the ultimate flexibility. This miter saw offers extended runtime, capable of 310 cross cuts in baseboard molding along with best in Class vertical capacity against sliding fence. It also features cutline blade positioning system, which gives an adjustment free cutline indicator.
Flexible – power of corded. Freedom of cordless. The world's first battery that automatically changes voltage when you change tools

Runtime; 310 cross cuts in baseboard along with best in Class Vertical capacity against sliding fence

Cutline blade positioning system; adjustment free cutline indicator

120V AC adapter; corded or cordless power delivers ultimate flexibility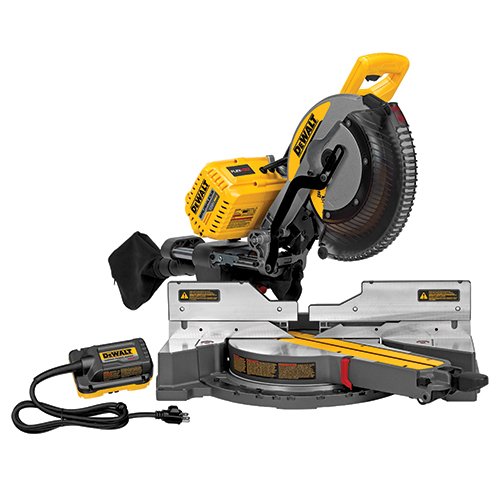 120V MAX* 12″ CORDLESS/CORDED SLIDING MITER SAW DHS790T2
Ultimate power flexibility providing the convenience of cordless with the performance of corded
A powerful 120V brushless motor provides long runtime compared to brushed motors
Integrated adjustment-free Cutline™ Blade Positioning System for accuracy and visibility
High visibility bevel scale makes bevel angle adjustments accurate and easy
horizontal capacity (baseboard lying flat): 16″
horizontal capacity (crown molding lying flat): 13-3/4″
no load speed of 3800 RPM
arbor size: 5/8″
Tall sliding fences support crown molding up to 7-1/2″ nested and base molding up to 6-3/4″ vertically against the fence
Adjustable stainless steel miter detent plate with 10 positive stops miters 60° to the right and 50° to the left providing increased capacity
UP TO 289 CUTS PER CHARGE IN 3-1/4″ BASE**
(EDIT: after posting I noticed there are two different 120V Flexvolt models, a sliding and non sliding 12″ model)The new Dewalt Flexvolt cordless power tool that seems to be getting the most attention is the new Flexvolt 120V Max 12″ sliding miter saw (also comes in a non sliding 12″ model). No wonder it is since it is the worlds first cordless 12″ miter saw. Up until now if you wanted a cordless miter saw, you'd have to settle with several 7-1/4″ or slightly larger 8-1/2″ cordless models. Milwaukee also recently announced a new M18 Fuel 10″ miter saw but it's not out yet. Dewalt has topped them all with a 12″ model. Although the new Flexvolt batteries max out at 60V max (54 nominal volts) this 120V miter saw uses two 60V max Flexvolt batteries paired to double the voltage similar to Makita's X2 power tools using double batteries. I find this to be a great idea as you don't have to purchase into another battery platform for even higher voltage power tools. I didn't find any additional info on whether this is a dual bevel miter saw but looking at the fence shape and the positioning of the motor on the left just like my Dewalt DW716 which is a dual bevel miter saw, I do believe this is a dual bevel miter saw. (EDIT) I have confirmed that it is a dual bevel saw. It's also equipped with their XPS LED lighting system that casts a shadow directly over the cut line. This system is awesome because it requires no adjustments whatsoever and the shadow that's cast is the same thickness as the blade. A brushless 120V motor will ensure great runtime as we can expect up to 289 cuts per charge.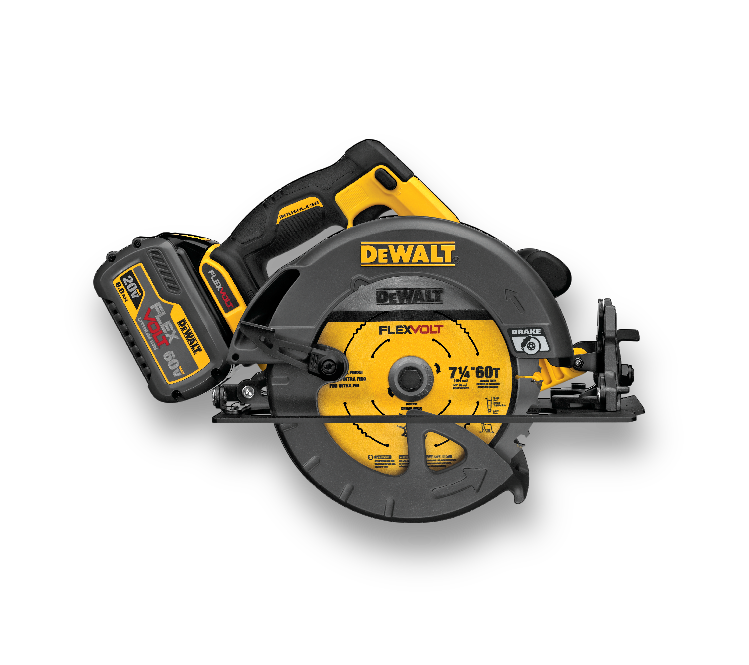 60V MAX* 7-1/4″ CIRCULAR SAW WITH BRAKE DCS575T2
Cordless convenience with the power of a corded tool
7 1/4″ full size blade for corded capacity
no load speed 5800 RPM
depth of cut at 90° 2-9/16″ in
depth of cut at 45° 1-5/8″ in
Tool weight 7.6 lbs
Electronic brake stops the blade after the trigger is released
Durable high grade aluminum shoe for accurate cuts
Versatile bevel cut capacity up to 57 degrees with stops at 22.5 and 45
LED light provides clear sight to the cutline
UP TO 339 CUTS PER CHARGE IN 2X4**
I was wondering when Dewalt was going to come out with a 20V Max brushless circular saw that used a 7-1/4″ blade. It seems that they had one in mind but decided to make it 60V Max. This model takes a single Dewalt Flexvolt battery to power it's 60V max brushless motor. Like all other cordless 7-1/4″ circular saws this model also positions the blade on the right side just like a corded model. Dewalt list an electric brake on this model which is great for stopping the blade on a dime after making a cut. This model also follows the trend of including LED lights on cordless circular saws to illuminate the cut line.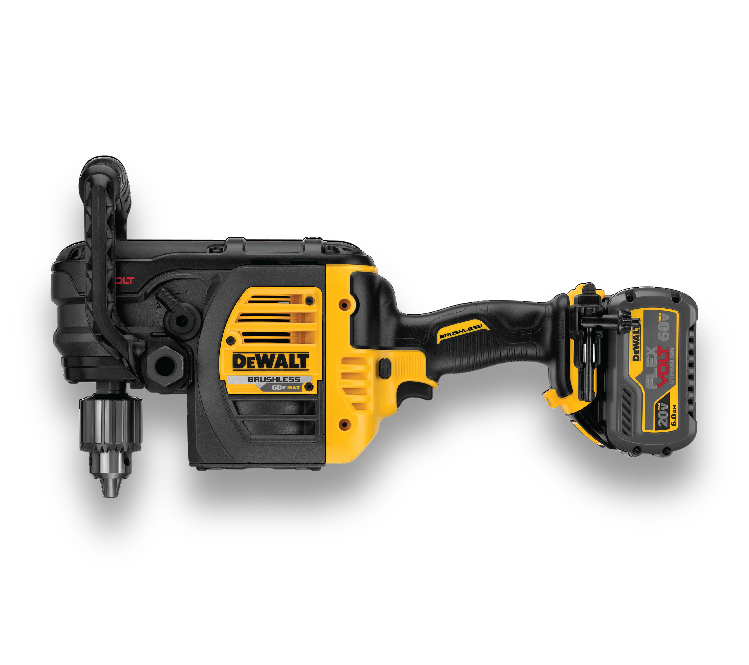 60V MAX* 1/2″ VSR STUD & JOIST DRILL DCD460T2
60V Brushless Motor for increased power and runtime
Cordless convenience with the power of a corded tool
E-Clutch® System and mechanical clutch helps keep the user in control and protects the tool
2-Speed Transmission and VSR Trigger allows user to dial in appropriate speed for application
Adjustable bail handle and 2-position side handle for leverage and control
LED light enhances visibility of work surface
UP TO 138 HOLES IN 2X10**
I've been asked if Dewalt has something similar to the Milwaukee Hole Hawg and they in fact do with two corded models, one reflecting the original shape of the Milwaukee Hole Hawg, and the other that resembles more the Milwaukee Super Hawg. But those two Dewalt models were corded but now Dewalt has a cordless solution and equivalent of the Milwaukee Hole Hawg. These types of drills are the tool of choice for electricians and plumbers that need strong power for drilling into studs to run wire or pipes.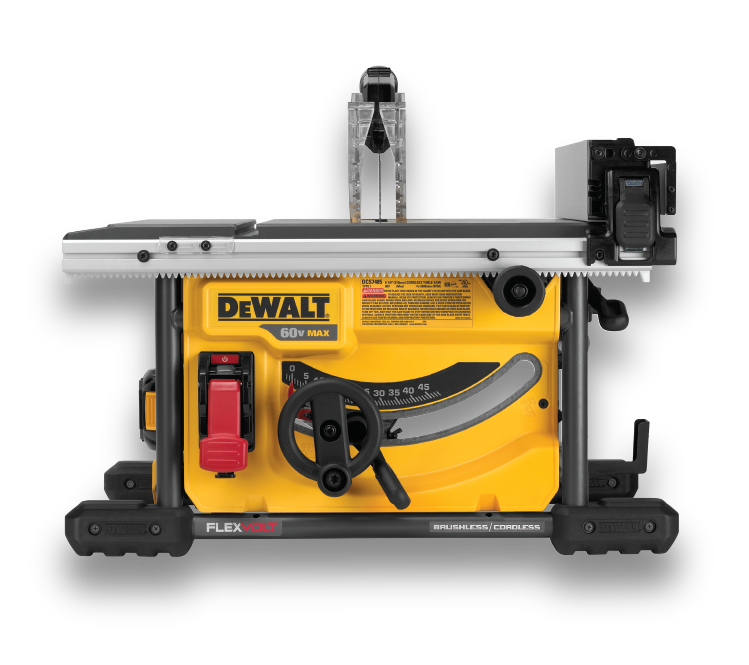 60V MAX* 8-1/4 TABLE SAW DCS7485T1
24-inch rip capacity
depth of cut at 90 degrees: 2-1/2″
depth of cut at 45 degrees: 1-3/4″
no load speed 5800 RPM
arbor size: 5/8″
Cordless convenience with the power of a corded tool
Rack and pinion telescoping fence system
Site-Pro™ Modular Guarding System allows for tool free adjustments
Material support allows for narrow rip cuts
On-board storage for components included with saw
UP TO 302 LINEAR FEET PER CHARGE IN 3/4″ OSB**
The new 12″ sliding miter saw may be the star out of the new Flexvolt cordless power tools, but to me the most interesting of the bunch is the new 60V Max 8-1/4″ table saw. We have quite a few cordless miter saws on the market to choose from and certainly more to come but at the moment there are no cordless table saws to choose from. Sure Metabo teased us with their cordless table saw but I haven't heard anything else of it. Here in the USA we can expect this Dewalt cordless table saw to become a reality sooner than later.
Many corded table saws are labeled as portable but this new cordless model is portable in more ways than one. Dewalt claims this has the power of a corded tool but interestingly it uses a 8-1/4″ blade when traditional table saws use 10″ blades. I wonder if it will have the full 3-1/8″ capacity found on most corded table saws? (EDIT: I have confirmed that it has a 2-1/2″ cut capacity at 90 degrees). Either way, this is huge news to anyone that's used a table saw on a jobsite where there was no power nearby and had to resort to using generators to get to work. This Dewalt cordless table saw has all the features you've come to expect from their corded table saws such as a rack and pinion telescoping fence system, their modular guarding system, and the flip over fence design for long material support or thin narrow cuts. I also like their metal tubing roll cage design. Users will have on board storage for all the included accessories and this brushless table saw is expected to be able to cut up to 302 linear feet of 3/4″ OSB per charge.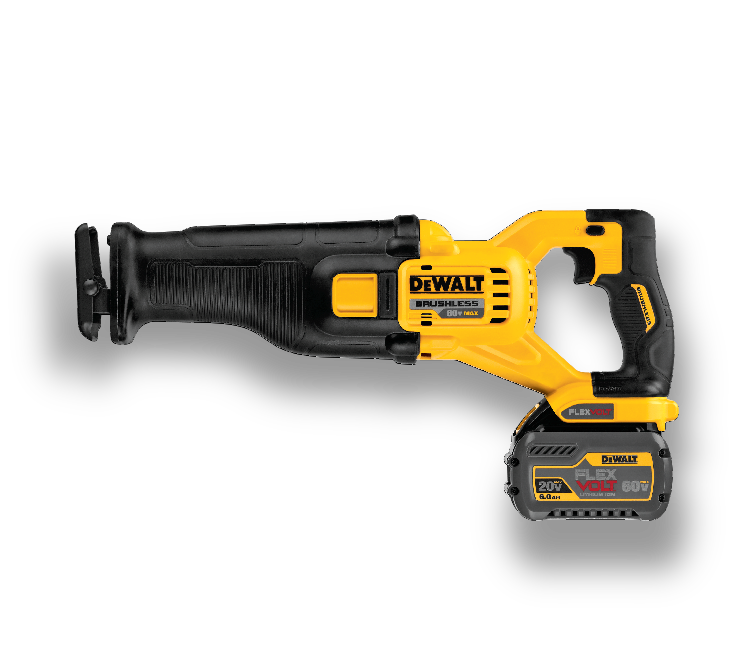 60V MAX* RECIPROCATING SAW DCS388T2
More power than a 13amp corded reciprocating saw (DW311)
Up to 2x faster †
Brushless motor for extended run time and durability
Keyless lever-action blade clamp allows for quick and easy blade changes
0-3000 SPM and a 1-1/8″ stroke length deliver fast cutting speed
LED light helps to illuminate dark work areas
UP TO 158 CUTS PER CHARGE IN 2X4**
I was also wondering when Dewalt would release a brushless 20V reciprocating saw to compete with Milwaukee's M18 Fuel model and they seem to have skipped 20V in favor of 60V. Dewalt claims that this reciprocating saw has more power than their own 13 amp corded model DW311 and users can expect up to 158 cuts in 2×4 per charge.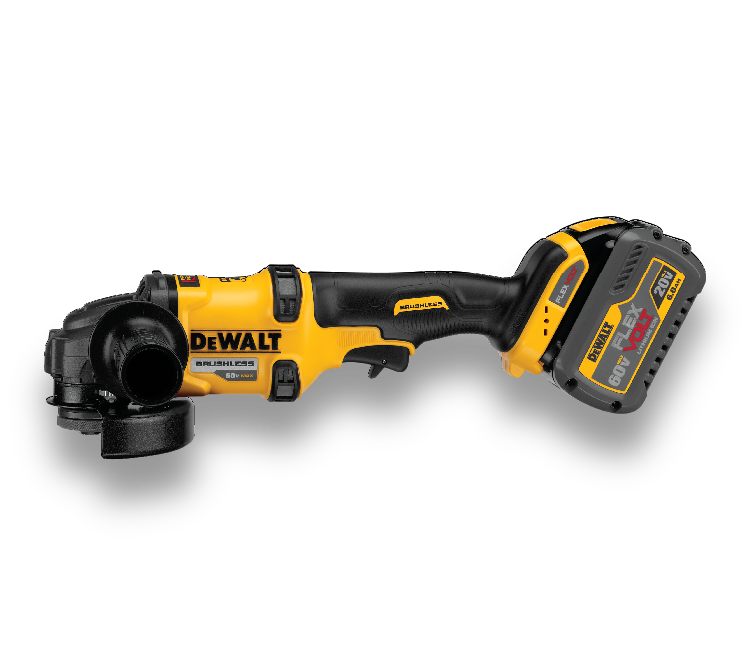 60V MAX* 4-1/2″ – 6″ GRINDER WITH KICKBACK BRAKE DCG414T2
13 Amp Equivalent Power as compared to D28144
Power to Cut and Grind
Kickback Brake engages when a pinch, stall, or bind-up event is sensed and the electronic brake engages with maximum force to quickly stop the wheel, reduce the movement of the grinder, and shut the grinder off
Brake slows wheel to a stop when trigger is released
Brushless Motor designed to deliver the run time and performance for demanding applications
Two Stage Trigger helps to reduce accidental startup
4-1/2″ to 6″ Wheel Capacity
UP TO 126 CUTS PER CHARGE IN 1/2″ REBAR**
I don't want to sound like I'm repeating myself but yet again this is another power tool I was wondering when Dewalt would make a brushless version of for their 20V max platform to compete with existing 18V brushless angle grinders from the likes of Milwaukee, Makita, and Hitachi. What makes existing 18V brushless angle grinders so special is that unlike their brushed counterparts, the 18V brushless models have the power to keep up with corded models. I can attest to that as I've tried out both Milwaukee and Makita 18V brushless grinders and they do indeed have power similar to corded. Not high amp corded but similar to 5.8 amp corded models which is impressive for 18V. On the other hand, this Dewalt 60V cordless brushless model is said to have power similar to their own 13 amp angle grinder D28144. That's a pretty big difference in power! To match it's power output, it can accept 4-1/2″ discs all the way up to 6″ wheels. This brushless model also encorporates an electric brake to stop the blade very quickly after releasing the paddle switch. This model uses a paddle switch with safety lock to prevent unintentional starts or to stop the motor in case of dropping the grinder while in use. This grinder is capable of making 126 cuts in 1/2″ rebar per charge.
New Dewalt Flexvolt power tool accessories
Also part of the new Flexvolt system of batteries and power tools, are newly developed Dewalt power tool accessories to increase runtime on these Flexvolt cordless power tools or any other cordless or corded power tool for that matter. With new Flexvolt circular, table, and miter saw blades with thin kerf design and body slots for less vibration, new Flexvolt reciprocating saw blades with a True Coat finish that helps reduce heat build-up for fast, efficient cuts, new Flexvolt abrasive cutting and grinding wheels and discs for angle grinders that are made of high performance ceramic grain for fast cutting and grinding action, and new Flexvolt carbide hole saws featuring a new self-feed pilot bit for fast easy cuts that all lead to more cuts per charge according to Dewalt.