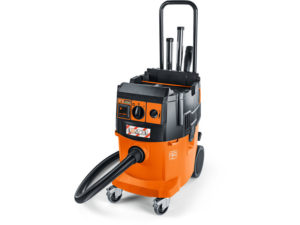 2014 was a big year for Fein as they came out with all new models that year, mainly their newly designed Multimaster FMM 350Q and also debuted new Turbo Vacs with the Turbo I and the Turbo II series. Now in 2017 they have come out with 2 new models the Turbo X and the Turbo X AC.
Both are basically the same unit with similar dimensions, specs and features but with one main difference. The Turbo X AC has automatic filter cleaning while the Turbo X model does not.
The Fein Turbo I and II models were great as they had strong suction, solid construction, an integrated autostart outlet, and were very quiet for vacuums but they didn't have self cleaning meaning you had to manually clean the filter yourself. Luckily using disposable vacuum bags made it so the filter wouldn't get dirty as often, it would have still been nice to have automatic filter cleaning.
The automatic filter cleaning function on the Turbo X AC model is set to on right out of the factory and the flat-fold filter is automatically cleaned every 15 seconds through several air blasts. You can also turn it off to use when wet vacuuming.
Both models appear to be the step up from the Turbo II models as they are slightly larger with an internal capacity of 9.3 gallons. Both models are wet dry vacs meaning they can pick up both wet and dry messes with a 153 cfm suction capacity and 98.8 static water lift. Both models come as sets only which means they include the optional accessories as standard such as the two stainless steel extensions, 1 combination tool with interchangeable inserts, 1 crevice nozzle, 1 dusting brush, 1 elbow. Also new to the Turbo X models is a new airflow regulator variable switch to control the amount of suction to the machine.
A new large grip handle bar is included along with beefed up casters in the front with large wheels in the back which lets you know these new vacs are serious about cleaning. A feature from the previous Turbo I and II models is back where it has a recessed flat top for the placement of tools and accessories. I liked this feature on the Turbo I model I reviewed as it works great for temporary storage as I'm working. This recessed flat top has now been made better on both Turbo X models as it's now deeper it seems and is said to accept Tool cases from various systems to be placed on the vacuum lid and secured.
Also just like the Turbo I and II models, the Turbo X models have a special sensor that stops the motor when the water reaches a certain lever when sucking up liquids. This is so that you don't have to replace the filter with a foam lined filter. They also have the integrated auto start outlet which lets you connect a tool that makes dust to the vac and have the tool start the vac when the tool is powered on.
Pricing for the new Turbo X models are $499 for the Turbo X and $549 for the Turbo X AC model with self cleaning filter.



Powerful, dust class L, professional wet / dry vacuum cleaner with fully automatic filter cleaning, for attachment of various case systems, includes extensive accessories.
Tool cases from various systems can be placed on the vacuum lid and secured.
Ergonomic transport of the complete unit, consisting of part tool and vacuum, thanks to push handle, case and accessory fastening.
Fully automatic filter cleaning (AC) for uninterrupted work thanks to the longer service life of the flat pleated filter. (Turbo X AC model only)
Reliable vacuuming of all types of dirt from liquids to fine dusts.
Approval for dust class L.
With PES flat pleated filter and electronic shutdown for outstanding wet vacuuming performance.
Autostart outlet with power-on delay to prevent current spikes.
25 ft [7.5 m] power cable and 13 ft [4 m] suction hose provide a large operating radius.
Maximum power input 1,380 Watts
Suction capacity 153 cfm
Static water lift 98.8 in
Capacity 9.3 gal
Weight according to EPTA 31.1 lbs
Cable with plug 25 ft
Sound pressure level 69