Harbor Freight is also making new cordless tools under the Earthquake XT Extreme Torque brand name and this time with a 12V 3/8 Inch Ratchet Wrench. For info on the Earthquake XT 20V impact wrenches also sold at Harbor Freight, click here.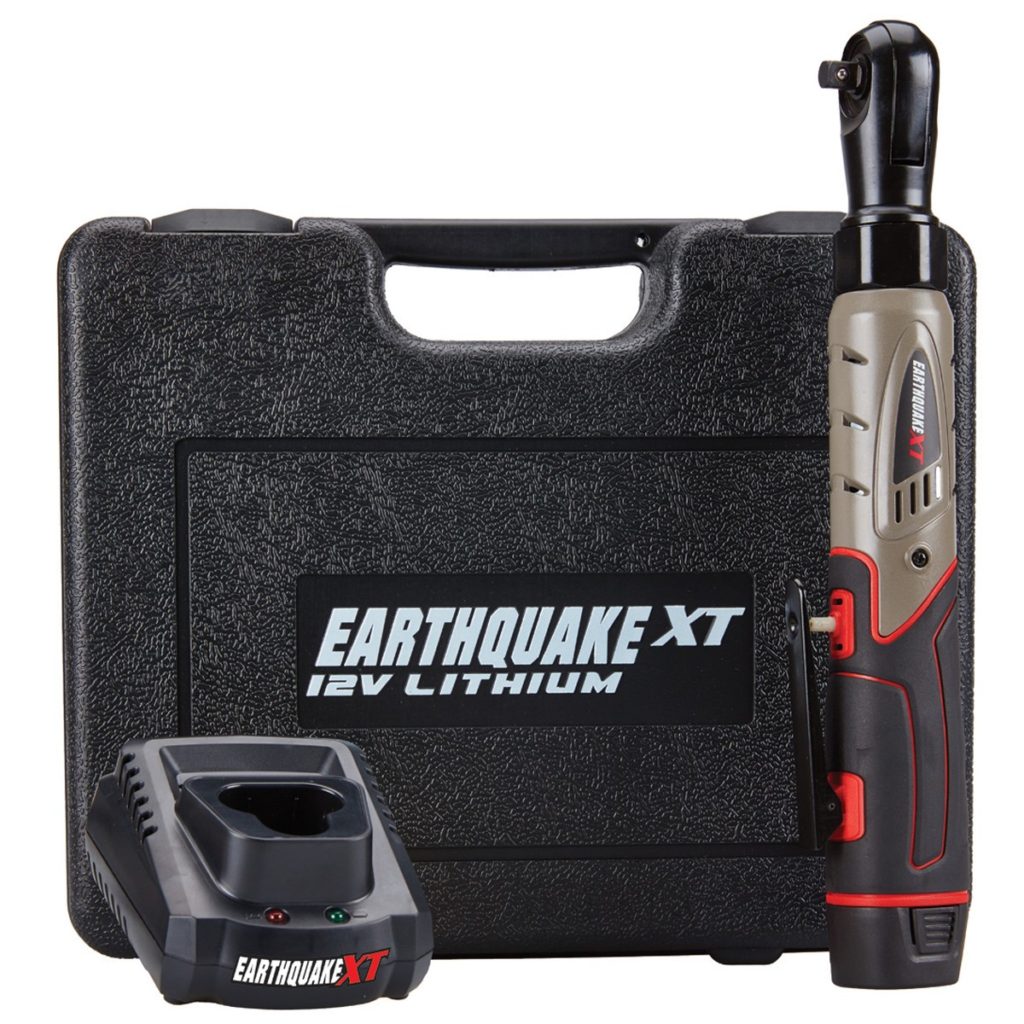 Description from the manufacturer:
This versatile cordless ratchet delivers 60 ft. lbs. of torque for easy access to fasteners in tight engine bays. The die cast aluminum gearbox makes this tool extremely durable and the convenient paddle switch gives you precise control. Long lasting 2.0 Ah battery included is impact resistant and has temperature control to prevent overheating.
Powerful 12V motor delivers 60 ft. lbs. of max torque for fast removal
Superior fastening speed with 170 RPM to handle a variety of jobs
Variable speed paddle with electronic brake for control and versatility
Compact head design for use in tight spaces
Reinforced aluminum housing improves durability
Slim body with non-slip grip for comfort and control
FWD/REV switch provides easy directional changes
2.0 Ah battery included for long run time
90 minute charge time
0-170 RPM
length 12.6 in.
weight 3.0 lbs.
includes (1) 3/8 in. 12V MAX Earthquake™XT ratchet wrench,(1)12V MAX 2.0 Ah lithium battery, (1) 12V MAX lithium charger,(1) Kit box
My thoughts:
We'll this wouldn't be Harbor Freights first 12V tools as they currently have two other 12V tools that also use lithium ion batteries, a drill and an impact driver both from the Chicago Electric brand. Although the new Earthquake XT 12V ratchet also uses 12V lithium batteries, they are not the same shape although similar looking. This leads me to believe that they are not compatible with the Chicago Electric 12V tools. It's a shame though as it would be great if they were all compatible.
The Earthquake XT 12V ratchet looks great and has nice specs too with a claimed 60 ft-lbs max torque. The only other mainstream 12V brand that has a 12V ratchet is Milwaukee but theirs is only 35 ft-lbs. Ingersol Rand also makes a 12V ratchet and theirs is 30 ft-lbs which leads me to question the validity of Earthquakes 60 ft-lbs torque rating. I wonder if it's correct or if they over inflated it?
The pricing seems right as it's priced at $99 with a one battery and charger kit with hard case. Additional batteries are extremely affordable at $19.99 a pop and additional chargers are $17.99.
At first glance you might think the Earthquake XT 12V ratchet is probably based on the Milwaukee 12V ratchet, I thought so too but after doing some digging around I found out that the Earthquake ratchet is a clone of the AC Delco 12V 3/8″ ratchet as you can see from the below pics, the Earthquake on the left and the AC Delco 12V on the right. Basically the same unit except for the color scheme and cosmetics.
The Earthquake ratchet uses a brushed motor. This may sound a bit lame as most new tools are brushless but if you look at all the other 12V ratchets up to this point, they've all been using brushed motors. Although Milwaukee just announced new M12 Fuel 12V brushless ratchets that will be coming out soon.
The Earthquake XT batteries are 2.0 ah batteries which is larger in capacity than 1.5ah batteries. The charger can charge the batteries in 90 minutes which is not the slowest but nowhere near the fastest either.
I'd say that Harbor Frights model is very appealing as the only other 12V ratchet options are from Milwaukee, AC Delco, and Ingersol Rand but at higher price points. You can even get the Earthquake 12V ratchet and an extra battery and it would still be less money than the other brands. The only downside of the Earthquake XT 12V ratchet that I can think of has nothing to do with the ratchet itself as it looks great, but the problem is the fact that it sits by itself with no other compatible 12V tools to add to the line. At least with the Milwaukee M12 ratchet or the AC Delco, or Ingersol Rand 12V models, you can always add additional 12V tools that are fully compatible with those batteries, but not with the Earthquake model. Having only one tool in the Earthquake XT 12V line basically cripples the system as there is no upgrade path for users. If you buy into the Earthquake 12V line you won't be able to add a drill or impact driver or any other tool for that matter because they currently don't exist on the Earthquake 12V line. Hopefully Harbor Freight adds new tools to this line soon to make it more interesting.
A big thanks to Joshua B. for sharing this info with us.
Stay tuned for more Harbor Freight cordless tool news, as more info is coming soon!
DISCLOSURE:
Tool Craze does not sell this product or any product on the Tool Craze website. Tool Craze does not handle the sale of any item in any way. If you purchase something through a post on the Tool Craze site, Tool Craze may get a small share of the sale. Please refer to the About section for more info.