Spotted in several areas outside of the US are a new line of ultra compact 12 volt power tools from Hilti with a Drill / Driver, Screwdriver, and Impact Driver. These new 12V tools all feature lithium ion 12V batteries with 2.6 ah of capacity. This is impressive considering how compact they are roughly about the size of DeWALT 12V Max compact batteries and look to have only 3 cells instead of extra capacity 12V packs that use 6 cells. The Hilti 12V batteries slide on and are a pancake style similar to modern 18V/20V slide pack batteries and all feature fuel gauges built into the left side of the batteries themselves. They all feature dual led lights right above the battery pack in front below the handle. And one of my favorite features on cordless tools which are belt clips are included on each Hilti 12V power tool. I can't stand having to place a compact power tool on the floor and have to bend to pick it up.
These all have great torque numbers from what I can see on paper with 24 Nm of max torque for the Drill Driver & Screwdriver which translates into roughly 212.42 in-lbs max torque, and 110 Nm of max torque for the Impact Driver which translates into roughly 973.58 in-lbs max torque. It's not record breaking torque for 12V territory but this is plenty of power for 12V. What users look for in 12V power tools is the ultra compact form factor and weight and these Hilti 12V power tools deliver just that with very compact size and short length and low weight of  0.9 – 1.1 kg which translates into 1.98 – 2.42 lbs. This makes these very tiny and compact while being very light.
Ofcourse these were spotted in UK and other parts of Europe so no word on if or when these will make their way to US shores.

Specifications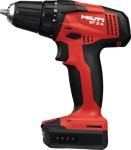 SF 2-A Cordless Drill Driver
3/8″ chuck
1.0 kg (2.2 lbs) weight
175 mm (6.88″) length
24 Nm (212.42 in-lbs) max hard torque
2 speed transmission
0-400 / 0-1,500 no load RPM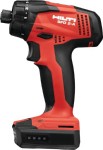 SFD 2-A Cordless ScrewDriver
1/4″ hex chuck
0.9 kg (1.98 lbs) weight
144 mm (5.66″) length
24 Nm (212.42 in-lbs) max hard torque
2 speed transmission
0-400 / 0-1,500 no load RPM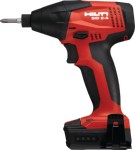 SID 2-A Cordless Impact Driver
1/4″ hex chuck
1.1 kg (2.42 lbs) weight
157 mm (6.18″) length
110 Nm (973.58 in-lbs) max hard torque
0-2,500 no load RPM
0-3,410 IPM