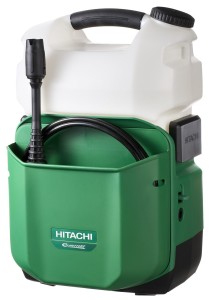 Before you had to choose between an electric plug in or a gas engine pressure washer. Now you have a third option of battery powered cordless with Hitachi's newest cordless power tool, their cordless 18V pressure washer AW18DBL. This unit runs off their 18V lithium ion slide pack batteries and they also offer a 14V version AW14DBL.
Instead of hooking up to your water hose or water faucet, it includes a water tank with a small capacity of 8 liters. This makes it very portable and should be able to go anywhere at the cost of a limited water supply. Don't expect too much power as it only produces 2.0 MPa of pressure which translates to 290 psi. It will shoot a stream of water alright and plenty more power than blocking the end of your water hose with your thumb but isn't the kind of power from a more traditional pressure washer. Although I feel its water jet should be plenty for "portable" needs.
These pressure washers have been spotted in Japan, it is unknown when or if they will arrive here in the USA.

Try Amazon Prime 30-Day Free Trial
Specifications for 18V AW18DBL
Discharge pressure: 0.5 ~ 2.0MPa (290 psi)

Discharge water: 0.5 ~ 1.2L / min

Allowable water temperature: 40 ℃ or less (tap water only)

Water supply method: tank water supply / optional parts used water connection, the reservoir water supply possible

Tank capacity: 8L

1 the amount of work per charge: [working time] about 35-180 minutes, and [the discharge water] about 42 ~ 90L

Mass: 5.2kg (when the rechargeable battery installed)