January 24, 2017
Comments Off

on New Jet Drum Sander JWDS-1836
JET EXPANDS DRUM SANDER LINE WITH NEW JWDS-1836 MODEL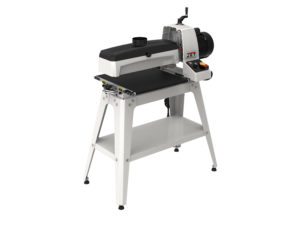 La Vergne, TN – After reintroducing JET's stalwart JWDS-1632 Drum Sander with Stand last fall, JET ® has announced plans to expand the popular woodworking machine category by adding the JET JWDS-1836 Drum Sander. A mirror image of the JWDS- 1632 drum sander's features, the JWDS-1836 sander provides greater capacity to handle larger workpieces.
The mid-size drum sander boasts features of a tool-less conveyor belt parallelism adjustment, depth scale on the drum height adjustment handwheel and an advanced dust hood design.
Like JET's JWDS-1632 model, attention is focused on the conveyor belt. Parallelism adjustments of the precision-flattened, steel table re made without tools by simply turning a dial conveniently located on the left side of the conveyor. The conveyor system pulls the work piece through the sander instead of pushing it to minimize stress on the belt. The conveyor belt provides a generous 18-3/4" L x 17-3/8" W surface area to move wood beneath the sanding drum.
The drum sander's large handwheel features a depth adjustment scale to determine the rate of material removal. The scale enables the operator to reset and measure the depth setting of each project. Each full rotation of the handle adjusts the drum height's removal rate by 1/16". Adjusting the drum's height and downward pressure helps alleviate snipe.
Dust collection features a redesigned hood with an integrated channel that mirrors the shape of the drum. The channel directs dust, chips and debris to the 4"-diameter dust port on top of the sander's hinged hood.
The sander's open-ended design allows the JET JWDS-1836 to sand work pieces up to 36" wide by making two passes. The machine sands material from 1/32" to 3" thick and can safely handle pieces as short as 2-3/8". A convenient camber adjustment makes it easy to avoid "witness marks" on wide boards.
The JET JWDS-1836 Drum Sander incorporates a 1-3/4 hp, TEFC single- phase, 115V, 15-amp motor that turns the sanding drum at 1720 rpm. The conveyor belt is driven separately by a direct-drive, dc motor with 43 in.-lbs. of torque. This combination provides both consistent sanding power and fine control of conveyor speed.
Infinite variable control produces conveyor feed rates of 0 to 10 fpm. JET's SandSmart TM control monitors the load on the drum motor and automatically regulates conveyor speed to maintain the highest feed rate. A red indicator light warns when the depth of cut is too great or the feed rate is too fast. A safety-keyed on/off switch with built-in overload protection is mounted on the control box next to the SandSmart control.
The patented conveyor belt Trackers TM significantly reduce the need for manual belt adjustments. If tracking adjustments become necessary, independent tracking adjusters on either side of the conveyor can make the adjustment.
Measuring 5" in diameter by 18" long, the sanding drum is designed for smooth running and heat dissipation. The precision-machined and balanced, extruded aluminum drum is self-cooling to prevent heat damage to the work piece or abrasive sleeve. Sealed and permanently lubricated, 1"-diameter ball bearings provide smooth operation and long life. Patented abrasive take-up clips make changing abrasive sleeves quick and easy. The drum is easily removable.
The JET JWDS-1836 sander's steel stand has a 20" x 37" footprint for stability and includes a storage shelf and pre-drilled holes for casters (optional). Optional accessories include a set of infeed/outfeed tables, each measuring 16-3/4" W x 10" D, which expands the sander's total support surface to more than 42". The tables are equipped with easily installed brackets. A set of four, full- swivel, locking casters with polyurethane-covered wheels also are available.
The JET JWDS-1836 Drum Sander with Stand is covered by a 5-year warranty, as well as JET's RED Assurance TM , the industry's most dependable service and support guarantee program.
Visit www.jettools.com for more information or to locate a dealer for the new JET JWDS-1836 Drum Sander with Stand, Model JWDS-1836 (723530K, $1,397); Infeed/Outfeed Tables for Model JWDS-1836 (723521, $129.99); and Casters, Set of 4 (98-0130, $133.99). JET Adds JWDS-1836 Drum Sander
Specifications
JET JWDS-1836 Drum Sander
Stock Number 723530K
Model Number JWDS-1836
Maximum Board Width (in.) 36 (two passes)
Maximum Board Thickness (in.) 3
Maximum Board Length (in.) 2-3/8
Minimum Board Thickness (in.) 1/32
Drum Diameter (in.) 5
Drum Length (in.) 18
Drum Speed (RPM) 1,720
Drum Bearing Diameter (in.) 1
Conveyor Motor 43 in./lbs. torque,
direct drive, dc
Conveyor Speed (FPM) 0-10
Dust Port Outside Diameter (in.) 4
Style (Type) Open Stand
Motor Amps 15
Motor Power (HP) 1-3/4
Motor Phase (PH) 1
Motor Voltage (V) 115
Net Weight (lbs.) 163



About JPW Industries, Inc.
Headquartered in La Vergne, Tennessee, JPW Industries, Inc. ® manufactures and markets a wide range of machinery and equipment under the JET, Powermatic and Wilton brands. In addition to its La Vergne headquarters, the company has operations in Switzerland, Germany, Russia, France, Taiwan, and China. It sells through a vast network of distributor partners worldwide. Visit JET Tools at www.jettools.com, Powermatic at www.powermatic.com or Wilton at www.wiltontools.com.