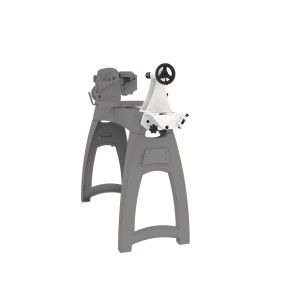 La Vergne, TN – The new JET® Tailstock Swing Away eliminates the need for heavy lifting to remove the tailstock for turning work pieces off the end of a woodworking lathe. The handy accessory is designed to fit the new JET 16" x 40" Electronic Variable Speed Woodworking Lathe (JWL-1640EVS), as well as JET 1440VS, 1442VS and 1642EVS lathe models.
"The new JET Tailstock Swing Away quickly and easily clears the lathe bed to make room for end-turning operations," said Katie Davidson, JET's Product Manager.
With the tailstock locked on the swing away, simply loosen a knob and lower the tailstock out of the way. The tailstock can be replaced by swinging it back into position on the bed and tightening the knob. The JET Tailstock Swing Away will not interfere with a bed extension mounted in the lower position.
Visit www.jettools.com for more information or to locate a dealer for the new JET Tailstock Swing Away (Model JWL-SA, Stock Number 719001, $289.99). The JET Tailstock Swing Away has a 1-year limited warranty.
About JPW Industries, Inc.
Headquartered in La Vergne, Tennessee, JPW Industries, Inc.® manufactures and markets a wide range of machinery and equipment under the JET, Wilton, and Powermatic brands. In addition to its La Vergne headquarters, the company has operations in Switzerland, Germany, Russia, France, Taiwan, and China. It sells through a vast network of distributor partners worldwide. Visit JET Tools at www.jettools.com