Over in Japan, Makita has released a new 18V miter saw that uses a 165mm blade which is 6-1/2 inches and uses a brushless motor. This new Makita 18V miter saw model name LS600D is a non sliding model. The question is – what is a miter saw with a small 6-1/2″ blade that doesn't slide good for? Well this small blade and non sliding combo is to make a tiny extremely portable miter saw. It's so tiny and portable that it's even shown being carried on the shoulder via a strap.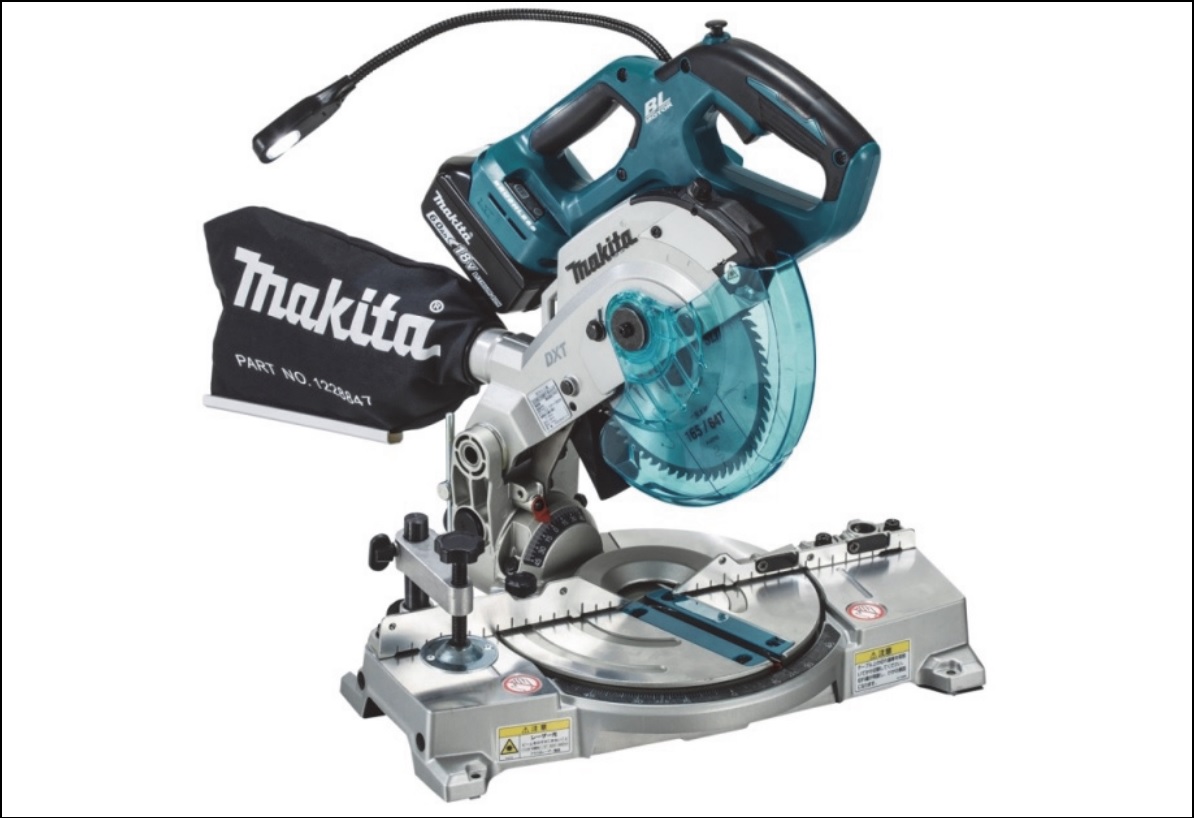 At first glance, it reminds me a lot of the Ryobi/Craftsman 18/19.2 Volt models as they are both non sliding portable battery powered miter saws using small blades. That and the Makita 18V Brushless 6-1/2″ Miter Saw LS600D also has removed the lever on the front of the saw to change miter angles and moved it elsewhere like the Ryobi/Craftsman variants. Although the Ryobi/Craftsman variants use larger 7-1/4″ blades while the Makita 18V Brushless 6-1/2″ Miter Saw LS600D uses a smaller blade. Not a problem since the Makita has one trick up it's sleeve which is the ability to bevel both ways making it a double bevel miter saw. It can barely cut a 2×4 with a 90 degree cut capacity of 3.6 inches. With only 2.5 inch cut capacity don't expect it to cut 2×4 material at 45 degrees miter angle.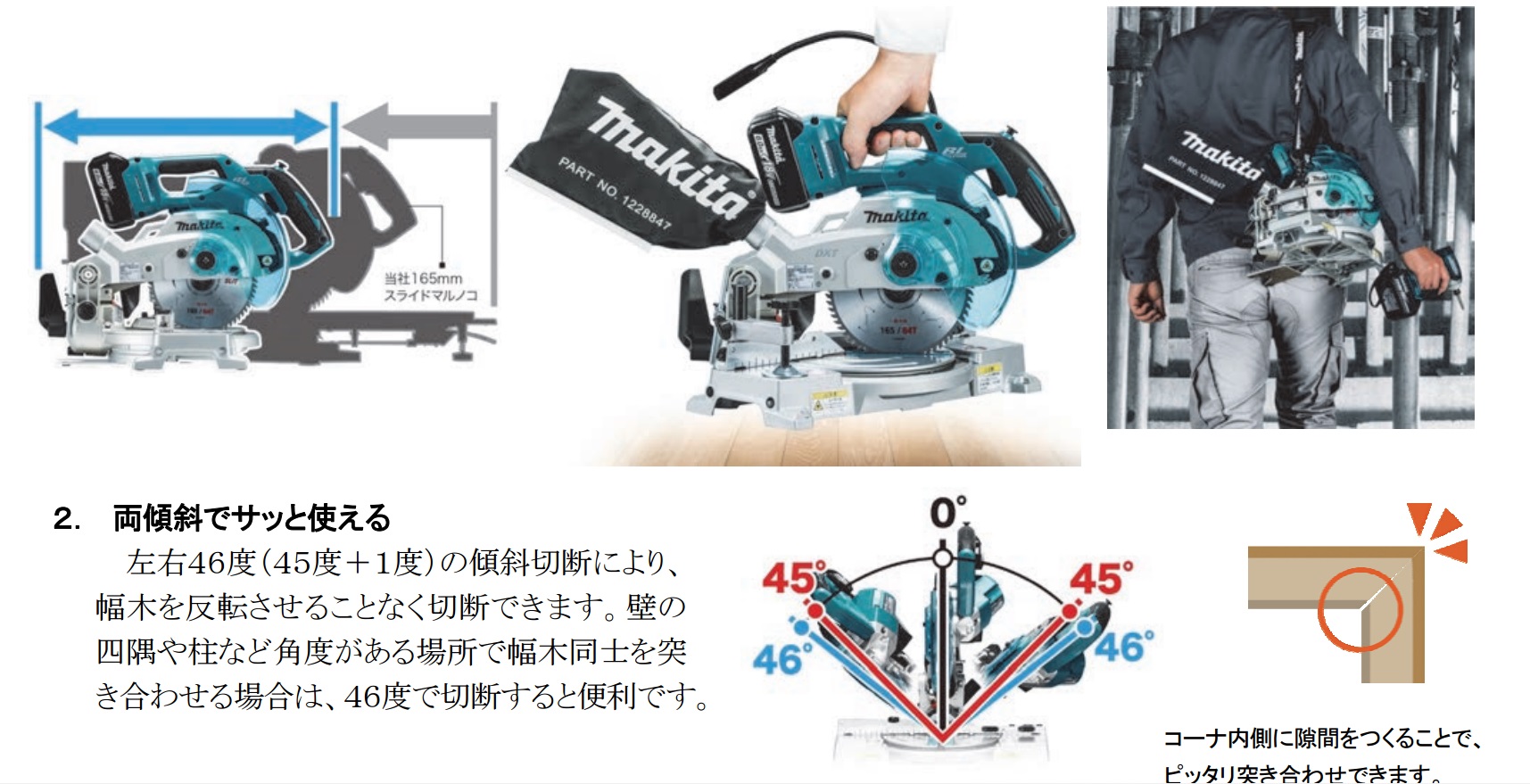 Another interesting is the orientation of the motor which is in a diagonal position as opposed to the usual horizontal position. There's plenty of writing in Japanese that I can't understand or translate because of the source info is in PDF format but I'm assuming the advantage of the motor in a diagonal angle helps give the miter saw extra clearance for items standing up such as molding. This saw comes with the usual material clamp & dust bag and an odd flexible LED light – like the kind you'd find on a bandsaw. The reason I find this flexible light odd, is because miter saws usually have lasers to show where the cut line will be or the more modern LED light system we've come to love on Dewalt saws that cast a shadow marking the cut line. The included flexible LED light on this saw can aid making cuts in poor light but will in no way provide a precise way of monitoring where the blade will cut with precision.
Although the new Makita LXT 18V batteries are coming out with built in fuel gauges, this new Makita 18V Brushless 6-1/2″ Miter Saw LS600D helps out those of you with older non fuel gauge batteries as this saw has a battery fuel gauge built in right next to the battery compartment to monitor the remaining battery charge.
You guys reading this just keep in mind that this Makita 18V Brushless 6-1/2″ Miter Saw LS600D has been spotted over in Japan and nothing is known at this point when or if we will ever see this make it's way here to the USA.
Specifications:
165mm blade diameter (6-1/2″)
18V
Brushless motor
double bevel
5,000 RPM no load speed
3.6″ cut capacity at 90 degrees
2.5″ cut capacity at 45 degrees
weight 5.9kg baretool
weight 6.2kg with battery