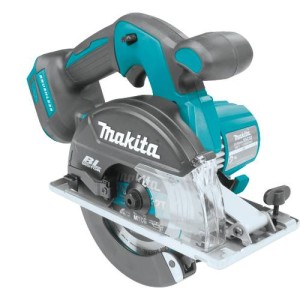 With brushless being all the rage at the moment and for various good reasons, we're seeing an influx of new brushless power tools. Makita just introduced a new brushless cordless 18V metal cutting saw, the 5-7/8″ XSC02Z. This isn't their first cordless 18V metal cutting saw, so it's not a new tool for them. It's a new model featuring their BL branding which stands for brushless.
Besides the brushless motor there are a few tweaks, updates, and new features over the previous brushed model. It features a slightly larger blade diameter at 5-7/8 inches which brings up the cutting capacity up to a large 2-1/4″ inches. The new motor bumps up the RPM up to 3,900 rpm over the previous 3,600 rpm and features Makita's automatic speed change technology. I was able to try out this feature last year when I reviewed the Makita 18V brushles 4-1/2″ angle grinder and was very pleased as it operates the tool very efficiently and gives the tool full power when needed. And like many of Makita's new cordless power tools, it features dual LED lights to illuminate the cutting path. With the brushless motor, larger capacity, and increased RPM, I think it's safe to say this will have increased power along with increased runtime compared to the previous brushed model.
The great thing about metal cutting saws is that they are far better suited at cutting metal than angle grinders. Although a metal cutting circular saw is a specialty tool, I find this to be great news and let's us know Makita is committed in satisfying our craving for more brushless power tools. At the moment they are the first to come out with a brushless 18V metal cutting saw and I look forward to see what other brushless power tools they develop in the near future.

Specifications:
Blade Diameter 5-7/8″
Arbor 5/8″
Max. Cutting Depth 2-1/4″
No Load Speed 3,900 RPM
Overall Length 13-1/8″
Net Weight 6.4 lbs