Lots of new tools are always showcased at the yearly World of Concrete event. This year was no different as Makita showed off several cordless offerings. Many of which are for their XGT 40V and 80V power tools. An 18V tool also made an appearance as well as power tool accessories. Let's check them out below.
Disclosure: This is tool news. Tool Craze cannot guarantee the accuracy of the information of any tool listed in this article. Manufacturer marketing claims may not always meet expectations. Tool Craze is not responsible if products do not live up to claimed expectations. Please do your full research before buying any products. Tool Craze is an Amazon Associate. Also an affiliate with the Home Depot, Acme Tools, Ohio Power Tool, Tool Nut. As well as an affiliate with Lowe's, Ebay, and Walmart and places affiliate links to these retailers. If you purchase through a link on this site, we may get a share of the sale.
NEW Makita 40V max XGT® 18" Chain Saws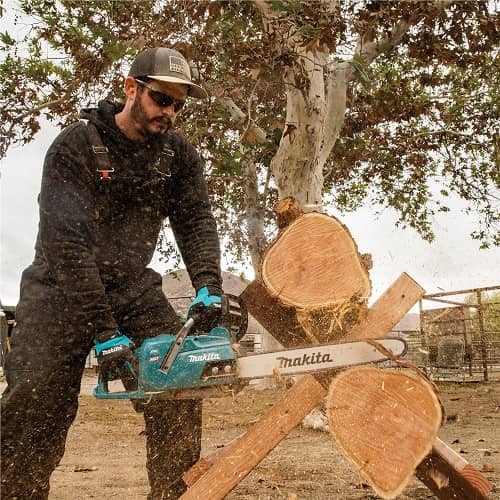 Makita is determined to replace gas OPE with battery powered solutions. That's why they created 3 new 40V XGT brushless chain saws with performance comparable to 42cc gas saws. This means less noise, maintenance, no pull starts, and zero emissions compared to gas models. These 3 include two 18″ chainsaw models. A GCU04 with locking bar nuts, and GCU6 with tool-less chain adjustment. The third model is a 16″ model GCU05. The GCU04 model is said to get good runtime with up to 40 cuts in 12″ diameter cedar when paired with a 40V 4.0ah battery.

NEW Makita 40V max XGT® AVT® Rotary Hammer with Dust Extractor (GRH08M1W)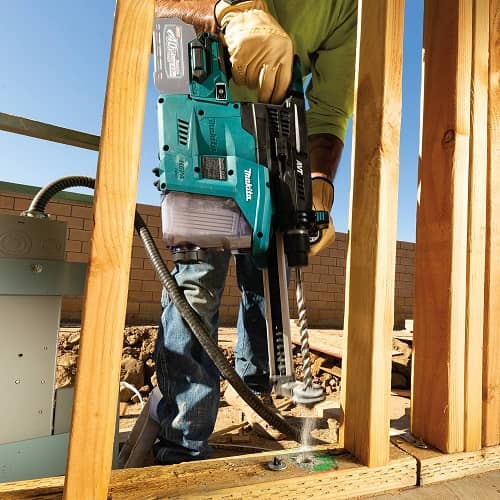 This 40V XGT rotary hammer comes with an included HEPA dust extractor to reduce the amount of dust created. Its when equipped with a 40V 4.0ah battery, it can get up to 135 3/8″ holes. the brushless motor helps it to get good runtime.

NEW Makita 40V max XGT® Concrete Vibrators (5-1/2', GRV01; 8', GRV02)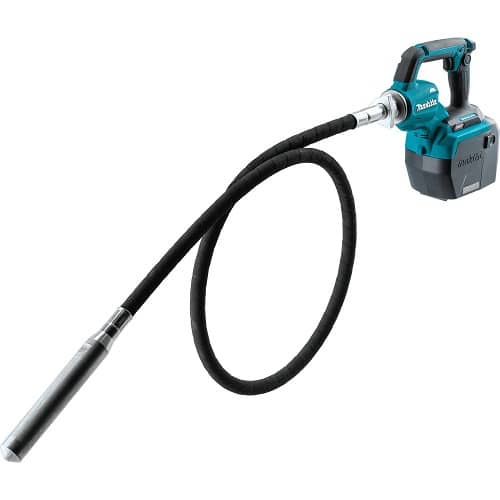 Concrete vibrators vibrate poured concrete so that it settles well and bubbles may make their way up and out to help make for a stronger slab. Being battery powered means no gas, cords, generators and instead ultimate portability. These two 40V models come in an 8' (GRV02) and a 5-1/2' (GRV01) model. Both deliver up to 15,000 vibrations per minute. Both have two power settings and can get up to 60 mintus of runtime on normal mode with a 8.0ah battery.

NEW Makita 40V max XGT® 4-1/2"/5" X-LOCK Angle Grinder (GAG11)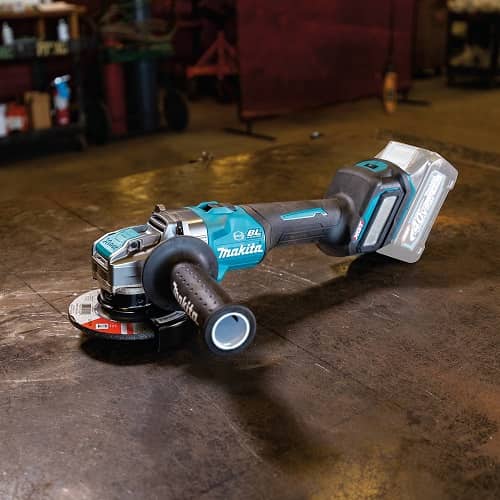 Their 18V brushless grinders were excellent and now they have them on their 40V system as well. This model features the tool-free X-Lock mount for ultimate speed and simplicity in swapping wheels. They say this model has 60% faster cutting speed than their 18V XAG04 model. It features a variable speed control dial.

NEW Makita 18V LXT® Deep Capacity Rebar Tying Tool (XRT02)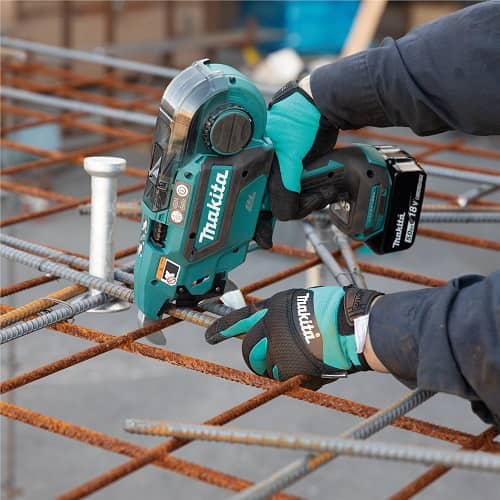 By using an 18V power tool rather than by hand, this rebar tying tool makes you work smarter not harder. It can tie up to #8 x #7 rebar. With a 5ah battery, it can tie up to 4,000 ties of #4 x #4 rebar.

Makita 80V max (40V max X2) XGT® 14" Power Cutter (GEC01)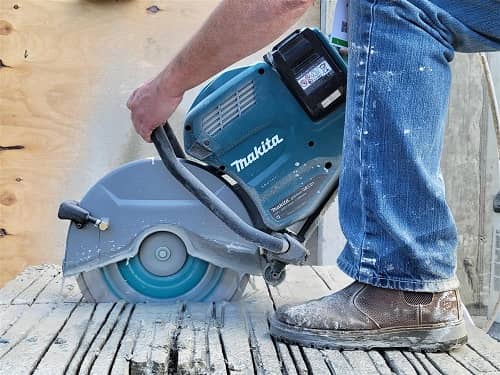 Here's another power tool normally seen as a gas powered model. This 40V model only requires one battery and powers a 14 inch cutting blade with full 5 inch cut capacity. Cutting power is said to be comparable to a 75.6cc gas model (*Makita EK7651H).

Makita 40V max XGT® 8.0Ah Battery (BL4080F)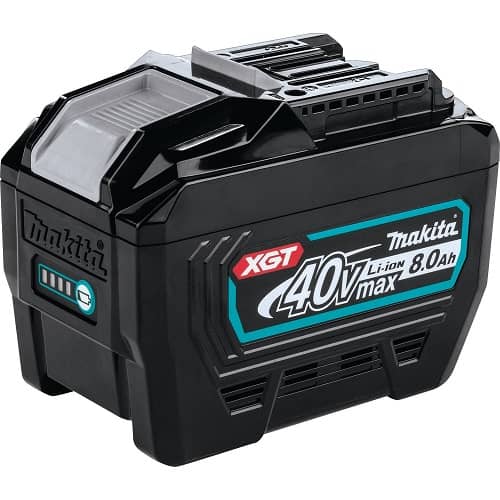 The XGT 8.0ah is currently their largest capacity 40V battery to give your XGT power tools longer runtime.

Makita 80V max (40V max X2) XGT® 28 lb. AVT Demo Hammer (GMH02)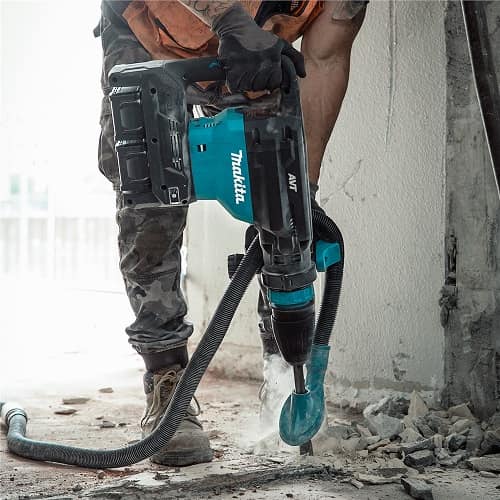 Once again, the XGT platform makes a cordless tool usually found as a gas or corded model. This demo hammer is actually 80V max by using two 40V batteries. Paired with its brushless motor, it puts out a full 27.5 joules of impact energy which is said to be more than a similar corded unit. Comes with AVT anti-vibration-technology for significantly less vibration without impacting performance says Makita.

Makita 40V max XGT® 10-1/4" Rear Handle Circular Saw (GSR02)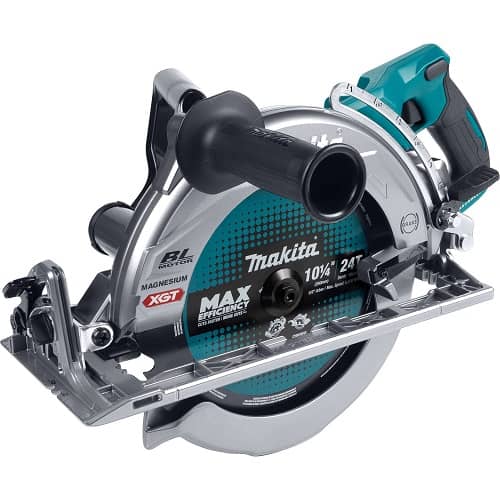 This massive beast of a cordless circular saw uses a single 40V Max battery to power its 10-1/4″ blade. It has a full 3-3/4″ cutting capacity and can cut a 4×4 in one pass. The brushless motor helps for good runtime with up to 150 cuts in 4x SPF lumber – no word on what capacity battery though.

Makita 40V max XGT® 7-1/4" Rear Handle Circular Saw (GSR01)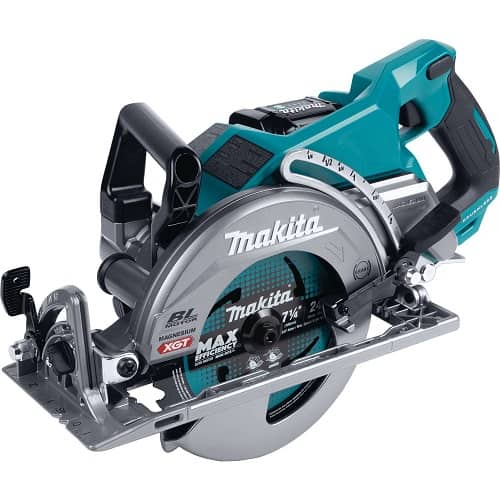 Makita was the first in 2017 to come out with the first cordless 7-1/4″ rear handle circular saw and now they are making a 40V version. It has a full 2-9/16″ cutting capacity and can cut 3x lumber in one pass.

Makita Premium Accessories: 3-Cutter SDS-PLUS Bits
Makita's premium line of carbide bits include 3-cutter bits for efficient drilling in reinforced and un-reinforced concrete. They are engineered for faster drilling, rounder holes, and more efficient material removal than commonly-used 4-cutter bits.

Makita Premium Accessories: Rebar Cutting SDS-PLUS Bits
Drilling through rebar is a time-consuming task, and Makita rebar cutting bits feature an alternating cutter teeth design for faster drilling. The reliable drilling/cutting performance allows contractors to cut through rebar in concrete instead of re-locating the hole: a big time saver.

Makita Premium Diamond Blades
Makita's expanded range of premium diamond blades feature a new bond formulation and increased segment heights (from 7mm to 13mm) for faster cuts and longer performance life.


DISCLOSURE:
Tool Craze does not sell this product or any product on the Tool Craze website. Also Tool Craze does not handle the sale of any item in any way. Please refer to the About section for more info.