Milwaukee Introduces Chalk Reels with Longest Gear Life
MILWAUKEE, WI- Milwaukee Tool continues to expand their Hand Tool offering with the introduction of Bold Line and Precision Line Chalk Reels. Featuring the industry's first planetary gear system and integrated STRIPGUARD™ clutch, the new chalk reels have been designed from the ground up to deliver the longest gear life in the industry.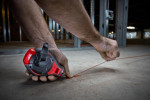 "Current chalk reels available lack the durability that's expected on the jobsite.  Throughout our research, we saw countless broken chalk reels on jobsites – namely broken gears and ripped lines. Users repeatedly buy new chalk reels, leading to an immense amount of downtime and cost." said Bobby Shaw, Director of Product Marketing for Milwaukee Tool. "Chalk reels are so widely used on the jobsite that they shouldn't be looked at as a disposable tool. Through a never-before-seen gear system and proprietary clutch, we've set out to completely change the way users can expect to use their chalk reels, giving them the long-lasting durability they need to tackle all of their projects."
Unlike most chalk reels with a spur gear system, Milwaukee's new chalk reels feature a planetary gear system that distributes forces evenly over three gears, putting less stress on internal components to prolong life. A proprietary StripGuard™ Clutch protects gears when the line is snagged or excessive force is applied, while a premium 6:1 gear ratio ensures the chalk line is quickly returned to the reel housing. The combination of these features leads to an even more efficient reel, and less need for frequent replacement units.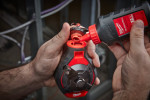 Both Bold Line and Precision Line Chalk Reels are designed with braided lines for increased strength and a sharper line. The 1.5mm braided line of the Bold Line Chalk Reels allows the user to snap multiple bold, clear lines; while the Fine Line Chalk Reels' tightly-braided .9mm line minimizes chalk spill and creates a clean, crisp line.
To protect internal components, and for even more added durability, all chalk reels boast reinforced reel housing for increased jobsite protection. A flush folding handle prevents the handles of the reels from moving when not in use or during storage.
Available in February 2016, the new chalk reels confirm Milwaukee's unrelenting commitment to providing solutions that solve key industry frustrations, while increasing jobsite productivity.
Chalk Reel Options
Bold
48-22-3982 Bold Line Kit w/ Blue Chalk
48-22-3986 Bold Line Kit w/ Red Chalk
*Also available without chalk (48-22-3980)
**Bold Replacement Line available (48-22-3989)
Precision
48-22-3992 Precision Line Kit w/ Blue Chalk
*Also available without chalk (48-22-3990)
**Precision Replacement Line available (48-22-3999)
Available: February 2016


About Milwaukee Tool
Since the company began in 1924, Milwaukee Tool has led the industry in both durability and performance by providing the best in professional, heavy-duty tools and accessories. With an unwavering commitment to the trades, Milwaukee continues to lead with a focus on providing innovative, trade-specific solutions.  Whether it is through their leadership in LITHIUM-ION technology, as seen in the M12™, M18™ & M28™ Systems, time-saving accessories or innovative hand tool products,  Milwaukee is dedicated to delivering a steady stream of advanced solutions for the trades that offer increased productivity and unmatched durability. Milwaukee Tool is a Brookfield, Wisconsin-based subsidiary of Techtronic Industries Co. Ltd. (TTI) (HKEx stock code: 669, ADR symbol: TTNDY). For more information on the full line of Milwaukee® products, please call 1-800-SAWDUST or visit www.milwaukeetool.com.