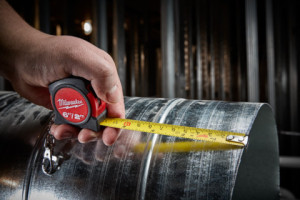 If you're a Milwaukee fan and you like miniature tools, you're going to enjoy this new hand tool from Milwaukee. They just introduced a new puny tape measure, a keychain tape measure destined to inhabit your pant's pockets.
I will admit that it's hard for me to get excited over hand tools, although they are essential and I couldn't tackle most jobs without them, but I do enjoy me some mini keychain hand tools. I currently have an assortment of tools on my keychain that are ready at all times. I have a keychain light, keychain multi-tool, keychain tape measure, and keychain utility knife. I will go over these in a future post but one of these tools that gets regular use is my keychain tape measure. So it's nice to see Milwaukee has their own keychain tape measure.
Back to it's features, it's blade extends out 6 feet and is nylon coated. It has a 5 point reinforced frame to withstand abuse and drops, and it's keychain has a built in clip at the end for easy on and off attachment to an existing keychain or belt, etc. At this point, they've just announced it so I can't comment any further but it does appear to be around the same size more or less to the Stanley Fatmax 6′ keychain tape measure. It looks similarly equipped with with similar blade coating and length although no word on blade width and standout. One thing that the Milwaukee one ups the Stanley Fatmax model is with the added clip on the keychain otherwise they appear similarly featured.
We can expect these to hit the stores soon just around the corner in February 2016 with a price tag of $4.97