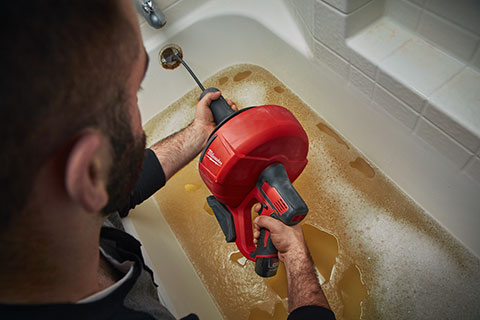 Milwaukee just announced a new cordless drain snake solution for plumbers, their M12 Drain Snake 2571-21. Designed for portability with a small compact size and low weight which we've all come to expect from M12 power tools. This new cordless auger will run on Milwaukee's popular 12 volt M12 batteries to free users from the hassles of hunting down electrical outlets and no more dealing with extension cords. With a 25 foot line this cordless drain auger will tackle smaller drain cleaning jobs such as cleaning sinks, tubs, and other small drain lines up to 25' long.
This new Milwaukee M12 Auger reminds me a lot of the new cordless drain auger from Ryobi that came out a few months ago last year although the Ryobi is running on 18V batteries, this new Milwaukee cordless model runs on 12V batteries. This Milwaukee model appears to be around the same size, possibly a bit smaller due to the use of smaller M12 batteries. Motor placement on the Milwaukee is above the handle vs under the handle location on the Ryobi making the Milwaukee a bit more similar to holding a power drill. Like the Ryobi cordless auger, this Milwaukee drain snake can also be hand held or placed on a flat surface. When placed on a flat surface it can stand upright on it's own making it easy to use for one handed operation.
One of it's interesting features is that the drain auger includes a fixed drum shield over the drum so the spinning drum is not exposed to the user. Also the drain auger will come with 5/16″ drain cable and the cable itself is replaceable. Milwaukee will also sell replacement 25 foot drain cables in 5/16″ and 1/4″ sizes in either bulb head or drop head cables and can be purchased as cables only or cable and drum combos.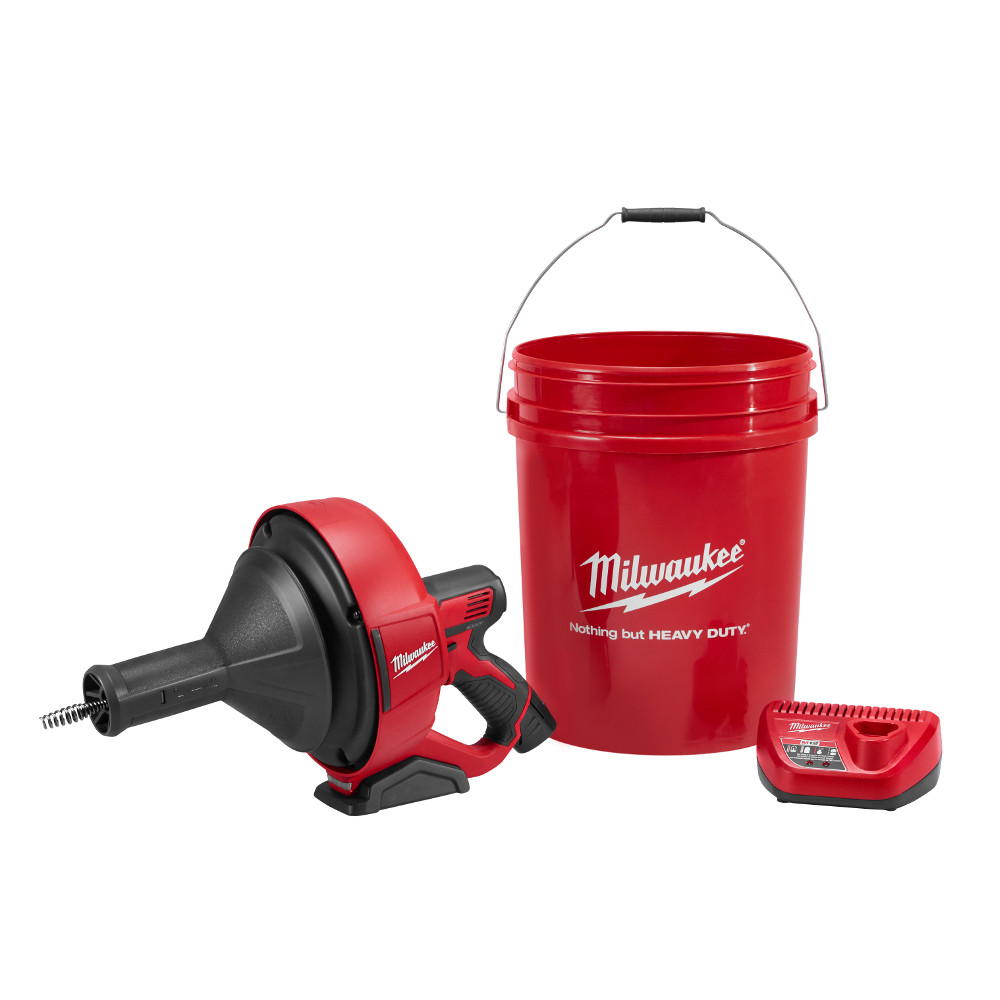 These new Milwaukee M12 Drain Augers will be sold as kit form 2571-21 and will come with the M12 Drain Snake with 5/16" x 25' Inner Core Bulb Head Cable with Inner Drum, a 5 Gallon Drain Snake Storage Bucket, one M12 REDLITHIUM compact battery and charger. This kit will be available in June 2016 for around $249.
Specifications
M12™ Drain Snake (2571-21)
Capacity: 25' of ¼" or 5/16" Cable
Speed: 0 – 500RPM
Removable Inner Drum: YES
LED Light: YES
Weight: 10.6 lbs. (with cable and battery)
Includes: Tool, 5/16" x 25' Inner Core Bulb Head Cable with Inner Drum, 5 Gallon Drain Snake Storage Bucket, M12™ REDLITHIUM Compact Battery Pack and Charger
Cables Sizes:
5/16" x 25' Bulb Head Cable (48-53-2571)
5/16" x 25' Drop Head Cable (48-53-2572)
1/4" x 25' Bulb Head Cable (48-53-2573)
1/4" x 25' Drop Head Cable (48-53-2574)
5/16" x 25' Bulb Head Cable w/Drum (48-53-2581)
5/16" x 25' Drop Head Cable w/Drum (48-53-2582)
1/4" x 25' Bulb Head Cable w/Drum (48-53-2583)
1/4" x 25' Drop Head Cable w/Drum (48-53-2584)