Milwaukee just announced yet another high output light that blows away anything they currently have with a new cordless Milwaukee M18 RADIUS LED compact site light. The new Milwaukee M18 RADIUS LED compact site light features an impressive 4400 lumens of light output, yes you heard right 4400 lumens of light output! You also get 3 selectable light outputs high, medium, and low (4400/2100/1000 lumens) to fit the job demands and or to get more runtime on lower light settings.
"This new-to-world design will fundamentally change temporary lighting on job sites. Just one of these high output lights is able to accomplish the same job as several larger, corded products," said Jason Isaacs, Product Manager for Milwaukee Tool. "With the launch of the M18 RADIUS™ LED Compact Site Light, our users will no longer have to rely on extensions cords and outdated light technology, such as halogen or metal halide, to light their jobsites."
What's neat about the light besides the impressive light output is that it has the ability to broadcast light 360 degrees so the whole area near and around the Milwaukee M18 RADIUS LED compact site light gets illuminated. To give off a full range of light, it uses Electronic Bay Switches that can be turned off individually so the user can use all for 360 degree light or can turn them off individually so light is focused. Turning off individual Electronic Bay Switches also allows for increased runtime.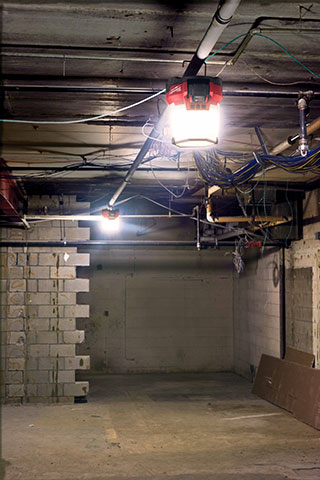 Just like the rest of Milwaukee's cordless LED lights, the Site Light features TRUEVIEW technology, which utilizes the most advanced LED technology and optical designs to deliver a consistent beam, optimized color temperature, and true representation of colors and detail leading to a more productive work area, according to Milwaukee.
Next on the features list are a large carry handle on top, and a hook on the bottom so you can hang the light upside down overhead. The high power LED is covered by a polycarbonate lens which is said to be very durable so it can survive in harsh jobsite conditions. These Milwaukee M18 RADIUS LED compact site lights are IP54 rated for dust and water protection. One feature listed that I also found to be very interesting was that it comes with a 3.5 foot aluminum cable which can be used to secure the light to a fixed location. The press release article doesn't go any further on this so I wonder if this is simply to secure the light onto a fixed location so it doesn't slide or fall if on an incline or if this is for theft/loss security reasons. Makes sense for theft/loss prevention as this Milwaukee M18 RADIUS LED compact site light is not inexpensive. An AC input and output is included with each light and it allows the user the option of stringing multiple lights together through the use of extension cords.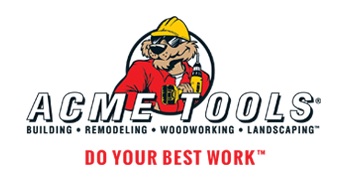 MILWAUKEE-2145-20 – $299.00
from: Acme Tools
Milwaukee claims you can get hours of runtime with these new Milwaukee M18 RADIUS LED compact site lights and you can get up to 8 hours of runtime on low, 4 hours of runtime on medium, and up to 2 hours on high.
Pricing for these new lights will be $299 and you can expect to get your hands on them soon in July 2016.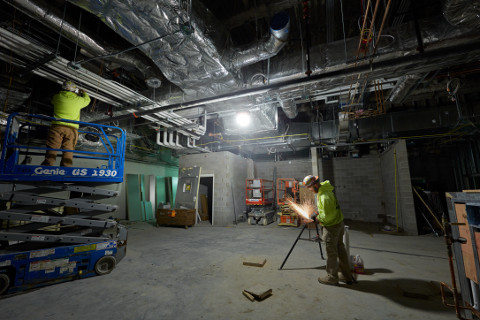 4400 Lumens on high (2 hours of runtime)
2100 Lumens on Medium (4 hours of runtime)
1000 Lumens on Low (8 hours of runtime)
10.7 lbs.