Need to measure very long distances? Anything longer than 35 feet and regular measuring tapes become useless. Anything over 100-300 ft and reel long tapes become useless. Lasers are great for long distances but they become hard to use if there is nothing upright to point at and they also max out after a certain distance. What you need are measuring wheels and Milwaukee has got a couple of them to fit your needs.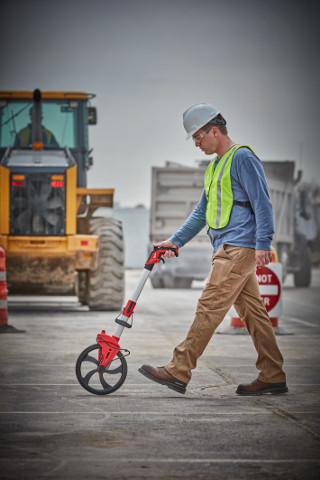 Measuring wheels are very easy to use over long distances as you roll what's basically a wheel on a stick with a built in counter that adds distance as you roll the wheel over the ground. Measuring wheels are also great for short distances as they don't require to be hooked onto corners like tapes do.
Milwaukee offers a 6 inch and 12 inch model, with the 6″ model great for rolling over smooth flat paved surfaces while the 12″ model is great for rolling over rugged terrain.
Constructed of reinforced aluminum frames and reinforced folding joints, the new measuring wheels are able to withstand the toughest jobsite conditions. Durable locking pivot points help quickly fold the units for transportation and storage. To prevent build-up of dirt and grime that could potentially jam the wheel, the 12" Measuring Wheel has also been designed with a Debris-Cleaning Wheel Flap that easily clears away contamination while rolling. In addition, the 12" measuring wheel also includes a reinforced kick stand.

Both feature ergonomic pistol grip handles, designed to provide similar ergonomics to that of a power tool handle, fitting the hand of the user better than other wheels on the market. These handles feature a top brake function that can be used to 'lock' the wheel and the reading, increasing accuracy. The 12" Measuring Wheel is also designed with a top handle clearing function for easier use, allowing the user to reset for each measurement without bending over.

For added utility, the 12" features a carrying handle, while the 6" can be easily folded down to a compact 18" which allows for easier transport and versatility.
These Milwaukee Measuring wheels will be available October 2016 and will retail for $49.99 or the 6″ measuring wheel and $69.99 for the 12″ measuring wheel 6″.
Measuring Wheel Options
12" Measuring Wheel              48-22-5012
6" Measuring Wheel                48-22-5006
Top Handle Clearing Function
Top Break Function
Wheel Debris Cleaning Flap
Reinforced Locking Pivot Point
Zero Point Indicator
Kickstand