Milwaukee adds 20 new pliers and clamps to their existing hand tool line with 9 new locking pliers (7 new Torque Lock models & 2 new Max Bite models) along with 7 new Torque Lock C-Clamps. These are in addition to their existing line of Pliers and Clamps.
According to Milwaukee, they noticed users were customizing their locking pliers by welding on a metal loop to the thumb screw so they could use a screwdriver to add more tightening force. Milwaukee noticed what the users needs were and took the users ideas and built them into their Torque Lock locking pliers with a special "thumb screw with a more convenient geometry for hand force and a unique screwdriver through-hole design to produce maximum locking force."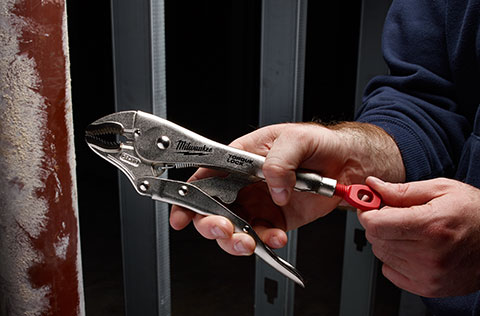 In addition to the unique thumbscrew design, "each tool also features hardened jaws for more gripping power on jobsite material, and is made from chrome plated forged alloy steel for maximum durability and rust protection. A traditional release lever design provides further jobsite functionality and convenience for increased productivity."
Pricing will be as follows:
Pliers: $10.99 – $27.99
Clamps: $14.99 – $31.99
Specialty: $17.99 – $27.99
They will be available July 2016.

New Locking Pliers:
48-22- 3421 7" TORQUE LOCK™ Curved Jaw
48-22- 3422 5" TORQUE LOCK™ Curved Jaw
48-22- 3423 4" TORQUE LOCK™ Curved Jaw
48-22- 3810 10" TORQUE LOCK™ Straight Jaw Gripped
48-22- 3807 7" TORQUE LOCK™ Straight Jaw Gripped
48-22- 3509 9" TORQUE LOCK™ Long Nose
48-22- 3504 4" TORQUE LOCK™ Long Nose
48-22- 3710 10" MAX BITE™ Gripped
48-22- 3707 7" MAX BITE™ Gripped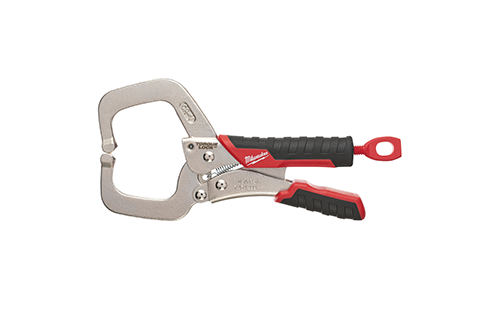 New C-Clamps:
48-22- 3529 18" TORQUE LOCK™ Deep Reach Reg Jaws
48-22- 3520 18" TORQUE LOCK™ Swivel Jaws
48-22- 3530 18" TORQUE LOCK™ Reg Jaws
48-22- 3523 9" TORQUE LOCK™ Deep Reach Swivel
48-22- 3533 9" TORQUE LOCK™ Deep Reach Reg Jaws
48-22- 3631 11" TORQUE LOCK™ Reg Jaws Gripped
48-22- 3632 6" TORQUE LOCK™ Reg Jaws Gripped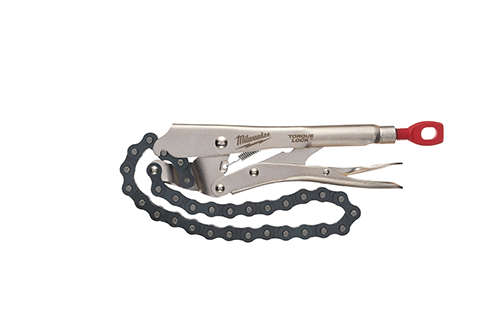 There is also 4 new specialty clamps:
48-22- 3540 8" TORQUE LOCK™ Locking Seamer
48-22- 3541 TORQUE LOCK™ Large Jaw
48-22- 3542 TORQUE LOCK™ Chain Wrench
48-22- 3543 TORQUE LOCK™ Welder's Clamp