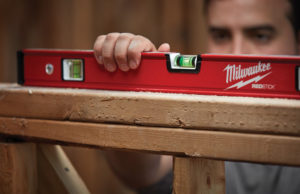 Milwaukee is coming out with several new Box levels in both Magnetic and non Magnetic options and also Compact models.
According to Milwaukee, the Milwaukee REDSTICK box and compact levels are a premium level solution providing industry-leading performance that users demand. The REDSTICK box levels feature the BACKBONE core that provides up to 30% increased frame strength and ensures long-life level accuracy. The levels feature SHARPSITE vials that provide best vial visibility and amplified rare earth magnets for superior magnet strength. The full line of levels range from 16" to 96" in both magnetic and non-magnetic options.
For users who require a smaller profile box level, Milwaukee will also introduce REDSTICK Compact Levels. Built on a compact box level frame, the levels are designed for tight access use or jobsite installation applications with smaller working surfaces.
All new REDSTICK Levels are designed to meet the needs on the jobsite and backed by a Limited Lifetime Warranty. Milwaukee will continue to grow in the layout & measurement space by providing premium, pro-driven solutions that offer industry-leading performance, innovative features and increased durability.
All-Metal Backbone reinforces frame – strongest frame in the industry!
New-to-world SHARPSITE Vial Technology
Accuracy within 0.029 degrees
Milwaukee will introduce a Lifetime Accuracy Guarantee with these levels
Magnetic models include amplified rare-earth magnets
Also introducing REDSTICK Compact Levels
Available: January 2017
Available Models
Non-Magnetic
16" REDSTICK™ Box Level (MLBX16) – $59.99
24" REDSTICK™ Box Level (MLBX24) – $79.99
32" REDSTICK™ Box Level (MLBX32) – $94.99
36" REDSTICK™ Box Level (MLBX36) – $99.99
48" REDSTICK™ Box Level (MLBX48) – $129.00
59" REDSTICK™ Box Level (MLBX59) – $159.00
72" REDSTICK™ Box Level (MLBX72) – $189.00
78" REDSTICK™ Box Level (MLBX78) – $209.00
96" REDSTICK™ Box Level (MLBX96) – $249.00
24"/48" REDSTICK™ Box Level Set (MLBXS48) – $169.00
78"/32" REDSTICK™ Box Level Jamb Set (MLBXJB) – $249.00
Magnetic
16" REDSTICK™ Magnetic Box Level (MLBXM16) – $69.99
24" REDSTICK™ Magnetic Box Level (MLBXM24) – $89.99
32" REDSTICK™ Magnetic Box Level (MLBXM32) – $109.99
36" REDSTICK™ Magnetic Box Level (MLBXM36) – $114.00
48" REDSTICK™ Magnetic Box Level (MLBXM48) – $139.00
59" REDSTICK™ Magnetic Box Level (MLBXM59) – $169.00
72" REDSTICK™ Magnetic Box Level (MLBXM72) – $229.00
78" REDSTICK™ Magnetic Box Level (MLBXM78) – $229.00
96" REDSTICK™ Magnetic Box Level (MLBXM96) – $279.00
24"/48" REDSTICK™ Box Level Set (MLBXSM48) – $179.00
78"/32" REDSTICK™ Box Level Jamb Set (MLBXJBM) – $279.00
Compact
24" REDSTICK™ Compact Box Level (MLCM24) – $49.99
24" REDSTICK™ Magnetic Compact Box Level (MLCMM24) – $64.99
48" REDSTICK™ Compact Box Level (MLCM48) – $69.99
48" REDSTICK™ Magnetic Compact Box Level (MLCMM48) – $89.99
72" REDSTICK™ Compact Box Level (MLCM72) – $99.99
72" REDSTICK™ Magnetic Compact Box Level (MLCMM72) – $119.00
24"/48" REDSTICK™ Compact Box Level Set (MLCMS48) – $129.00
24"/48" REDSTICK™ Magnetic Compact Box Level Set (MLCMSM48) – $139.00