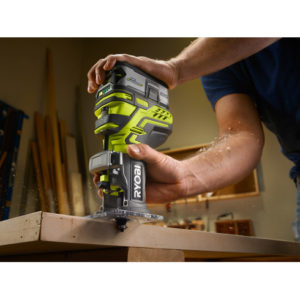 Back in August I wrote about Ryobi's current cordless 18V trim router the P600G. It's the green version of their previosly blue P600 model. Now I have word that a completely new cordless trim router is coming out from Ryobi with the P601 model.
The biggest update is the cosmetic overhaul of the new cordless router. Now it has styling that matches Ryobi's newest cordless power tools and adds a bit of good looks to the mix instead of purely functional based looks. But it wasn't purely a cosmetic upgrade as the base gets an upgrade in materials with a new die cast metal base that adds extra durability. It looks to be based off of the one they used on the Ridgid 18V cordless trim router.
Not only does the base have added durability but if it's anything like the Ridgid model, it should be easy to adjust with easy to use dial for micro adjustments and to remove.
Unlike the Ridgid 18V router that features a brushless motor, this new Ryobi model is still sporting a brushed motor just like the previous model. But a feature that the new Ryobi model shares with the Ridgid model is a built in LED light that illuminates the router bit for better visibility.
Just like the previous Ryobi model, the new model is also a single speed router that tops out at 29,000 no load RPM so no adjustability if you need slower speeds.
Currently I am not sure what the pricing is for the new Ryobi 18V Trim Router P601 will be but according to Ryobi, it will be released in spring 2017.
Features:
Cuts over 600 linear feet per charge
Up to 29,000 RPM
features micro-adjustment for precise depth control
die-cast base for maximum durability
quick-release lever for easy base adjustment and removal
LED light
GRIPZONE overmold with micro texture for optimum grip and user comfort
collet accepts all standard 1/4″ shank router bits