I love snapblade utility knives because when the blade get's dull, you just snap the dull part to expose a fresh new sharp edge. OLFA which is one of the largest names in the snapblade industry just announced their latest X-Design Series of snap blade utility knives.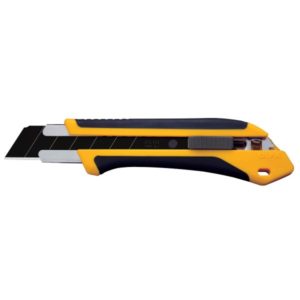 The X-Design Pro Series of knives feature the OLFA Ultra-Sharp Black Premium blades, which are double-honed to a 59-degree edge angle to be 25 percent sharper than OLFA standard silver blades. The X-Design Series breaks down into three knives: XA-1 (9mm), LA-X (18mm) and the XH-AL (25 mm). OLFA designed each knife at a size that's specific to certain materials/applications:
XA-1 (9mm)– Use this knife to for skilled cuts like vinyl, window film, and wallpaper as well as shrink-wrap, caulking, foam board or other materials.
LA-X (18mm)– Use this utility knife for any heavy-duty cutting applications such as construction, drywall, carpet, flooring, and more.
XH-AL (25mm)– Use this utility knife for cutting industrial materials such as gaskets, flexible conduit, belt synthetics, rope, leather, laminates, plastics, fiberglass, rubber and textiles.
All three new OLFA X-Design series utility knives and individually sold snap blades are available now.


Free 2 day shipping – Try Amazon Prime 30-Day Free Trial

DISCLOSURE:
Tool Craze does not sell this product or any product on the Tool Craze website. Tool Craze does not handle the sale of any item in any way. If you purchase something through a post on the Tool Craze site, Tool Craze may get a small share of the sale. Please refer to the About section for more info.